Last week, Gary James, the owner of Oklahoma City restaurant Gary's Chicaros, made national headlines when he told a local TV station that he refused to serve "f**gots" and other assorted "freaks."
"I really don't want gays around," James said. "Any man that would compromise his own body would comprise anything."
While James very well might not want "gays" to patronize his establishment, thanks to a bunch of tongue-in-cheek Yelp and Facebook commenters, they might be heading there anyway. 
To retaliate against James's homophobic remarks, Yelp commenters are waging an online campaign to make Gary's Chicaro's seem like the kind of wild, raunchy, uber-sex-positive, ultra-kinky establishment SNL's Stefon would frequent. For the past week, commenters have been flooding the restaurant's Yelp and Facebook pages with reviews praising James' role as proprietor of the sparkliest, sweatiest, sluttiest, and all-around most fab gay bar this side of the Ozarks.
Here's a sampling of some of Gary's finest reviews (note: after reading them, you might be depressed that this place doesn't actually exist). 


Screengrabs via Gary's Chicaros/Facebook
"People are flying in from all over to witness this #epicenter of #Gayness."


"I'm a little concerned about the size of the glory holes in the men's restroom."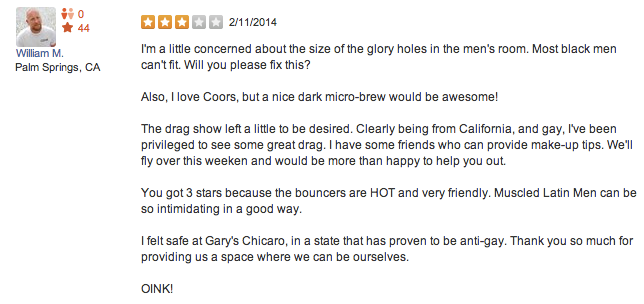 "The alcohol flowed like the hot bodies, free and wild."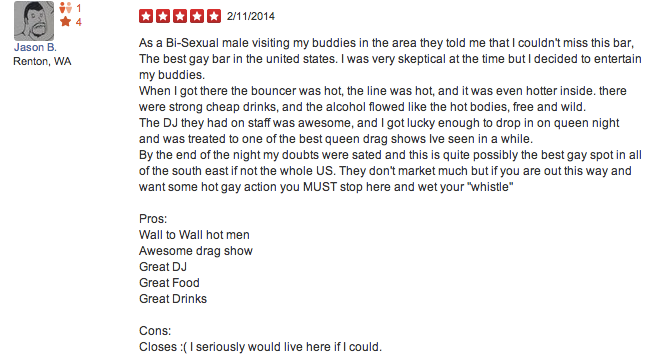 Screengrabs via Chicaro Club/Yelp
Not all of Gary's reviews were glowing, however: 
H/T Raw Story | Photo by RenoTahoe/Flickr  (CC BY NC-ND 2.0)