It started on a men's rights website called Return of Kings: a push-back against the fat-acceptance movement. The author, a writer and pick-up artist known as Roosh, called it Fat Shaming Week.
It spread from there.
Although sizes and beauty standards regarding weight have always fluctuated, Roosh argued that we're allowing fat people to change the definition of beauty. "There is no prominent politician or media figure who uses their influence to say, 'Hey now, fat people are decreasing life spans and burdening our healthcare system,'" he wrote. 
Return of Kings is described in its About page as "a blog for heterosexual, masculine men. It's meant for a small but vocal collection of men in America today who believe men should be masculine and women should be feminine."
This week, the site featured articles on how to better shame fat women: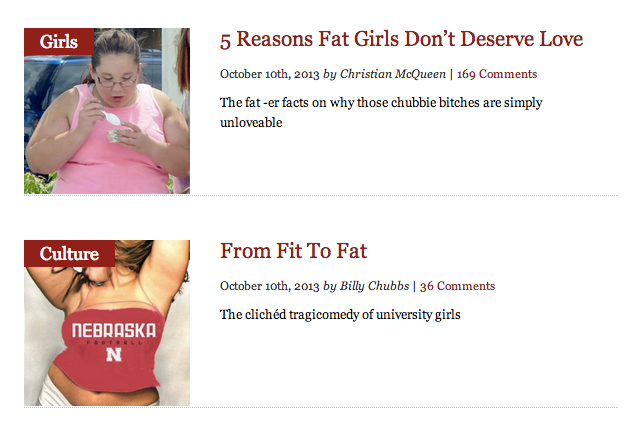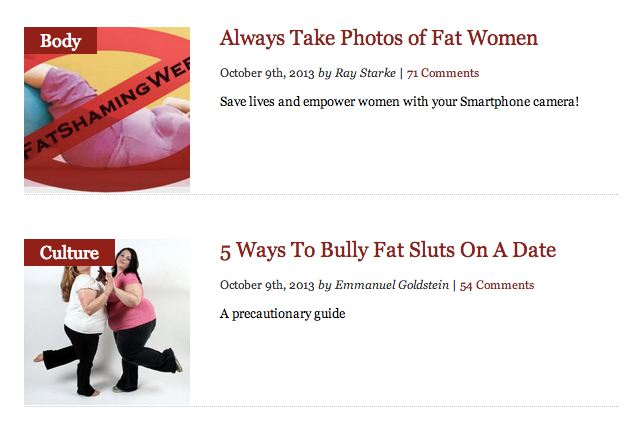 Among the tenets of the site is the assertion that women who sleep around are sluts, but men who do are not; that a woman's value is in her fertility and beauty; and that feminism causes the decline of societies by destroying the family unit.
The post on ROK birthed #FatShamingWeek, an actual "celebration" that quickly spread on Twitter and beyond. It will run until Oct. 14.
"No matter how many ads Dove makes featuring morbidly obese women in bikinis, most men will simply not find fat women attractive. No matter how many feminists tell you to stop being "sexist" for having a natural and biological preference for fit women, most men would rather jerk off with their left hand than try to find the vaginal entry point of a fat woman."
There's even a separate Twitter account for Fat Shaming Week, though it currently has about 120 followers. Here are some examples: 
#FatShamingWeek Here's a tip for the ladies. You will not be as fat as you are if you eat less and exercise more. You're welcome.

— Kanamit (@Kanamit2) October 7, 2013
Most fat bitches on here have cleavage showing in their avi to distract you from the fact they're big as hell. So deceitful

— FJay Trill ♛ (@fjaystaytrill) October 11, 2013
@JoeTaylor8 @Kanamit2 Jesus christ man, cut off your penis while youre at it. These white knights are even worse then the fatties.

— Vato (@maranzano1989) October 11, 2013
The moment I have to pay for your healthcare costs, I get to say what you do with your body. #fatshamingweek

— The Observer (@ObserverWatches) October 11, 2013
We had an obese patient who couldn't bathe. She had staphylococcus boils in her rolls that smelled like rotting flesh. #FatShamingWeek

— FeistyWoman (@Feisty_Woman) October 8, 2013
Not a lot of women participating in #FatShamingWeek. Because women are the bigger part of the problem (pun intended). They condone being fat

— FeistyWoman (@Feisty_Woman) October 8, 2013
@PlayDangerously @sugarclw she claims she perfect 'just they way she is'. Have fun with your lonely miserable life.

— Fat Shamer (@fatshamingweek) October 11, 2013
Naturally, there's been a lot of push-back from the feminist community. Twitter users have tried to co-opt the hashtag to promote body acceptance instead—and to express their disgust at ROK's idea.
Roosh writes: "The brightest masculine minds are currently at work to bring you a delicious buffet of  fat shaming analysis and literature. During fat shaming week, I implore you not to whine and nag about wanting a wider selection of posting matter. If you don't like fat shaming—and we don't see why that would be the case—come back next Monday when we return to our regular program. We have decided as a group that fat shaming is essential in creating a society of thin, beautiful women who are ashamed for being ugly. Let the fat shaming begin!"
The sad part is, every week is fat-shaming week on the Internet. 
Photo via Great Beyond/Flickr