You'd be forgiven for thinking that the haughty Miranda Priestly in The Devil Wears Prada, choosing between two shades of blue, is how fashion trends are created. Today, however, the world of fashion is forced to play a different game as tastes are broadcasted on Twitter, on Facebook pages, pinned to Pinterest boards, and shared over Tumblr. Brand names like Asos and Gap are using this information to decide next season's trends.
At London Fashion Week this year, bomber jackets, '90s throwbacks, and "functional" wear were all spotted on the catwalk. Fashion aficionados and the people who aspire after the fashionista lifestyle will either be donning these clothes, or looking for their imitations in big retailers.
Fashion, along with almost every other consumer market, is adapting to the digital marketplace. Indeed, retailers like Asos and smaller online stores have gained customers by conquering the Internet, taking advantage of being able to market and distribute globally. Now, almost inevitably, these stores and plenty of others are taking what the customer is saying very seriously, even when it's not being said directly to them.
In some cases, retailers are paying closer attention now to data analysts than fashion experts. These analysts can use Twitter data, for example, to see what fashion items are trending and whether the feedback is positive or negative.
"If Rihanna wears a red-leather suit, it might be really hot on Twitter, but are they saying she looks good or bad? asked Katie Smith, the senior fashion retail analysts for Editd, a small company based in London that specialises in acquiring data on fashion trends. "We don't know until we look at the responses themselves."
Companies pay to use Editd's software, and it supplies them with information on trends in fashion online and what their competitors are up to.
"There are two aspects to the data we collect," Smith said. "The first is social listening, like on Twitter or blogs. The second is commercial data, which we take from retailer websites around the world. It's surface-level information, the stuff you see. So, for example, let's say Asos has just brought in eight new backpacks: in X sizes, Y colours, and Z prices. We update that data in real-time."
Screenshot via Editd
To gather information on fashion trends, Editd was on-deck during London Fashion Week to provide the latest information on what was hot or not. A team of analysts attended the shows in person, harvesting images of the runway models. They then compared those images with what was popular online and used this information to identify trends.
Communications Director Laura Grigerova describes a more "colourful" part of the process: "We also use software which looks at every single runway outfit," she said. " It takes out face colour, eye colour etcetera and it creates a fashion wheel, so we can see what's appearing on the runaway. The centre of the colour wheel shows what prominent shades will appear in the next season."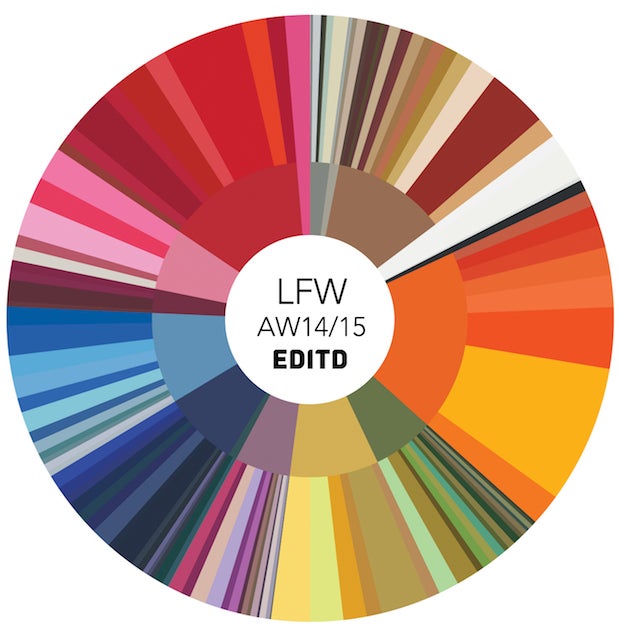 Color chart via Editd
This information allows strategists to decide which products to release when, and helps key answers questions, such as, "If one red sweater is $10 more expensive than an identical one in a different store, will people still buy it?"
Editd's format for finding out what people like seems to work. It created headlines at the end of last year when its client, the online retailing giant Asos, reported a 37 percent increase in revenue last quarter, partly due to Editd's analytic software. It's not just Asos: Gap and Missguided also use Editd to stay one step ahead.
These companies aren't the only brands investing in their Internet presence. Burberry, which over the last decade has come out of obscurity to become one the most sought-after British fashion brands, has an imposing digital presence. Since 2010, it has been livestreaming its fashion shows, including a "Tweetwalk." Then there's their ancillary website artofthetrench.com, "a living document of the trench and the people who wear it," and also a handy way of marketing their line of trench coats.
Despite Burberry's willingness to experiment with how it markets itself online, the brand hasn't dived as deep into the data as its competitors. But while Burberry might not be watching Twitter, Twitter is definitely watching Burberry. Editd declared it the hottest brand, according to online reviews. Topshop, meanwhile, lost out due to its summer dresses not fitting the needs of casual daywear. Burberry's partnership with Apple and iPhone 5S probably didn't hurt either.
This information is part of a larger trend in the industry. Designers, product and visual merchandisers, marketers, strategists, CFOs, and COOs: They all are using this data to shape how companies will develop.
But, as with so many things, when culture and tech collide, it's either boom or bust. Prioritising an analytical over an instinctual fashion culture may put us all in the emperor's new clothes.
It was current Vogue Editor-in-Chief Anna Wintour, the very same fashion journalist who inspired the demonic editor from The Devil Wears Prada, who said "You either know fashion, or you don't." She was speaking of the classical idea that people with good taste are born with it, and that it can't be taught.
Can a new breed of data analysts prove her wrong?
Photo by David Shankbone/Flickr (CC BY 2.0)