Karen Bowersox knew little about Down syndrome until her granddaughter Maggie was born. As Maggie grew and she learned more, one of the things she realized was that the girl had problems finding clothes that actually fit her. Then when her granddaughter was four, Maggie's mother challenged Bowersox: Why not start a clothing line for people with Down syndrome?
"I laughed at the idea at the time because I knew nothing about clothes. I spent months thinking about how I would start a business of this nature and talked to lots of people about making this type of clothing. I called the local design school and they suggested I hire a designer, so in January of 2010 I hired a young designer and Downs Designs was born," Bowersox tells the Daily Dot.
What Bowersox lacked in a fashion background, she compensated for with her entrepreneurship experience. In the '80s she started her own housekeeping service and in 2000 helped her husband set up his own medical practice which she helped run for 10 years. Bowersox and her designer worked together for two and a half years on models to create jeans that would fit the unique body shapes of people with Down syndrome. She said they started with jeans since they are a popular clothing item that are very difficult for people with Down syndrome to wear.
"People with Down syndrome typically have a short thigh bone and upper arm bone which makes sleeves and pants too long and pants and shirts sleeves don't break properly where they bend. They often have small, slanting shoulders and thicker necks. With low muscle tone, they often develop larger tummies and may gain weight due to thyroid problems. Clothes off the rack generally don't fit well at all," she says.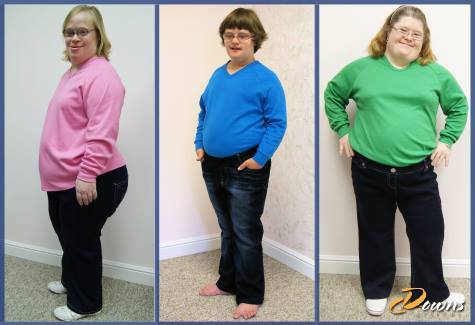 Another challenge people with Down syndrome face is dealing with buttons and zippers, since many have dexterity problems. This means that many people resort to wearing sweat pants since they're easier for them to take on and off by themselves—but of course, they aren't the most fashionable items. Downs Designs' uniquely shaped jeans allow people to be independent and dress by themselves while being stylish.
Downs Designs offers jeans for men, women, youth, and children. They also sell shirts, capris, and shorts. The unique sizing means customers have to measure the wearer in a specific way. Their unique "Try On" service helps customers find just the right fit. Bowersox calls each customer after receiving their order to review how they measured. Several pairs of unhemmed jeans in different sizes and styles are then sent to customers for them to try on. She does this to make sure each pair fits properly before being hemmed. Customers can mark the hem length and any other needed alterations before returning them to the company to be finished. Downs Designs provides all the shipping back and forth, which alleviates extra costs for the customer. They ship across the country and even accept international orders via email and phone.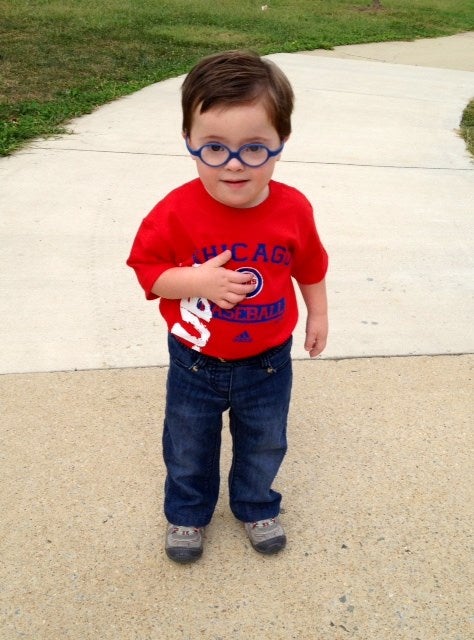 Bowersox says she enjoys meeting each parent or caregiver this way. She even sometimes video chats with the customers and gets to see how the jeans fit for herself. The Facebook posts, emails, and photos she receives from customers often bring her to tears.
"People have been so grateful that someone has taken on this task that that is what has kept me going during my most difficult times," she says.
The website's Testimonials page is home to a wealth of gratitude. One woman named Viktoria wrote: "I love Downs Designs and how much this has helped my sister's confidence. Thank you for what you do. It means a lot to a lot of people. Who knew something as simple as jeans would make such a difference!"
Seeing the impact Downs Designs has on this community it's hard to believe no one has tried to help in this area before, but Bowersox thinks this area of fashion has been overlooked because the number of Down syndrome people are too small for big businesses to consider developing clothes for them. She wants to expand her business and create an entire clothing line of items for those with Down syndrome, since almost everything they wear needs to be designed to fit their unique shapes.
A contest the company won last summer may help her reach this goal: Downs Designs received $50,000 worth of digital marketing when they won Staples national "Push It Forward" contest.
Until then, Bowersox will continue to make a difference for Down syndrome individuals and their families, more than living up to the company tagline "Special Clothes for Special People."
"Having a stylish pair of jeans that is comfortable, fits properly and allows independent dressing gives the wearer a sense of self worth," Bowersox says. "All that in a pair of jeans is so inspiring to me that I can't imagine my life without this business now."
Photo via Downs Designs/Facebook