Every woman knows that the best response to a guy who won't stop pestering you for your digits is to grab his phone and hurl it into the nearest body of water. If you're really cornered, though, you can give him the number for the Feminist Phone Intervention hotline.
When he dials or texts (669) 221-6251, that bro who wouldn't take "no" for an answer will be greeted by an automated quote from feminist scholar and activist bell hooks. "Whenever domination is present, love is lacking," a robotic voice informed me when I called.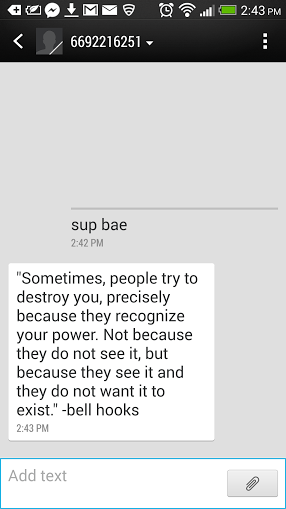 Whether or not the unwanted "suitor" can fully process truth-bombs of this magnitude, there are plenty of compelling reasons for such a service to exist, with a few listed by the anonymous creators:
because we're raised to know it's safer to give a fake phone number than to directly reject an aggressive guy.

because we're raised to know that evasion or rejection can be met with violence.

because women are still threatened and punished for rejecting advances.

because (669) UGH-ASIF, WTF-DUDE, and MAJR-SHADE were taken.

because why give any old fake number, when you can have bell hooks screen your calls?

so next time, just give out this number: (669) 221-6251

tech to protect.
As many women on Tumblr have pointed out, it's terrible that anyone might need to give out this number but comforting to have it available for emergencies. Be safe out there!
Photo by Sam Carpenter/Flickr (CC BY-NC-ND 2.0)