There remains, as always, plenty of disagreement in the scientific community about what "living forever" would actually entail. One thing we're pretty sure human immortality isn't, though, would be leaving behind an artificial intelligence with your personality so that loved ones can chat with "you" online when you're gone.
Anyway, Eterni.me aims to provide exactly that service.

The startup, part of the MIT Entrepreneurship Development Program, won't let you take their technology for a test drive just yet—what, are you in a hurry to die?—so all we've done is signed onto a waiting list for "early access," i.e., subscribed to an email list. Still, we can get a sense of what the project's all about: "The moments and emotions in our lifetime define how we are seen by our family and friends. All these slowly fade away after we die—until one day… we are all forgottten [sic]," we're told. Bit depressing, no? Then, the turn: "But what if you could be remembered forever?" Now we're talking! I'd love to know how best to preserve my legacy—preferably against someone else's will.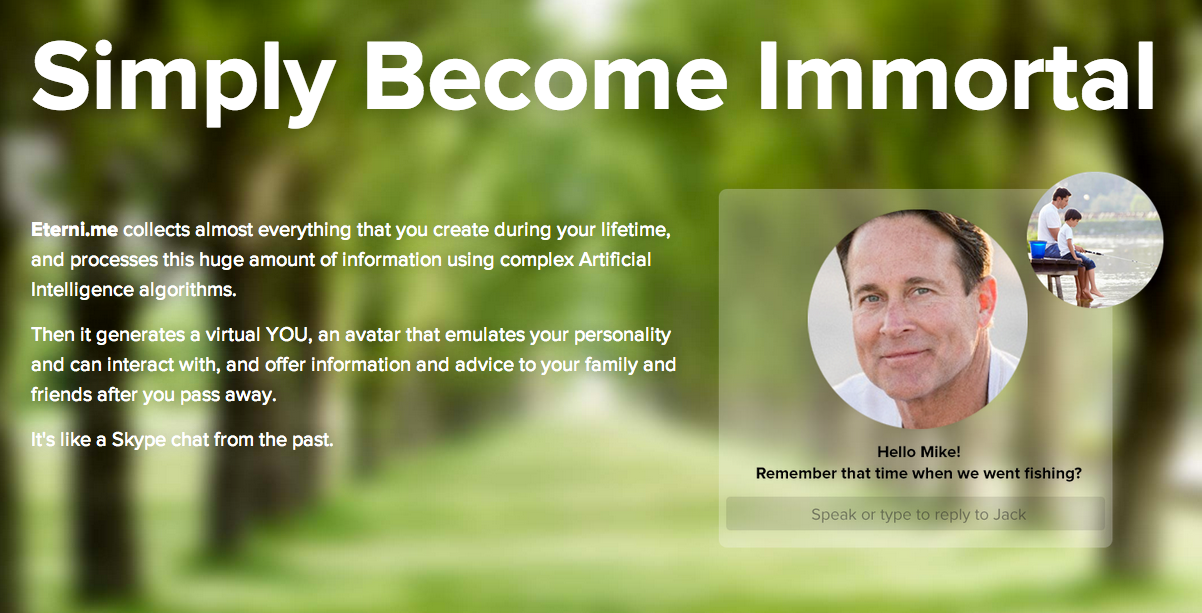 Yes, it's like a Skype chat from the past … from a robot ghost. I know I can't wait to have conversations with an algorithmic projection of a deceased loved one that fails the Turing test. It'll bring up something from years ago, then we'll laugh about it—well, not really, because all this avatar can manage is to recall certain data points. "We're very aware we're not creating a digital clone or anything creepy," Eterni.me CEO Marius Ursache told Fast Company, "but an interface for accessing memories." Phew! My brain was really exhausted from having to do that itself.
H/T Fast Company | Photo by Paul Smith/Flickr