Getting body-policed for dress codes as a teen is gut-wrenching. Being told your shoulders are too sexy, or that your knees distracting, feels like a violation of your bodily autonomy—especially at a time when puberty is already messing with your confidence in the first place.
Which is exactly why 18-year-old Isabella Villegas stepped in when her 13-year-old sister Grace received off-putting looks from her teachers for her clothing choice. The sisters, who live in Kansas, shared their story with BuzzFeed News.
On Monday Grace wore an off-the-shoulder top from Charlotte Russe to school.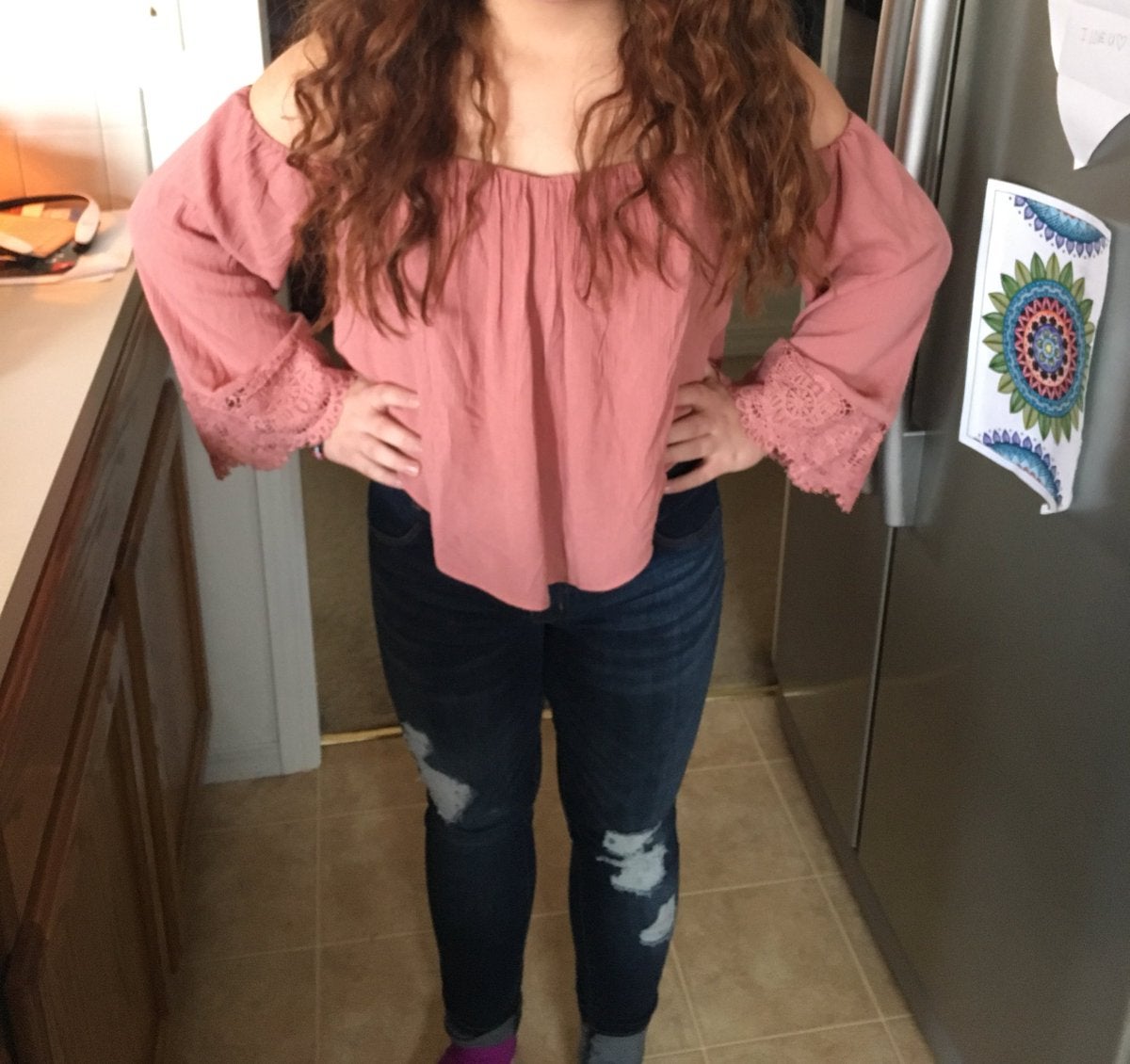 "The day before I had bought it with my own money and I was excited about it and so I just wore it," Grace told the publication. "I went into school and I received some looks from teachers, just not nice looks… Instantly I was like, 'OK, I'm going to get dress-coded,' and I felt the need to change."
Though Grace said she didn't actually get in trouble for the top, several teachers made negative comments about it, so she changed into an extra shirt she brought in the case she was written up.
When Isabella found out what happened she was "extremely angry," and said "nothing about [Grace's] top was inappropriate."
So she went ahead and made her younger sister a real extra T-shirt in the case she was told to change again. Sneakily enough, it's an honest but tongue-in-cheek shirt on exactly why strict dress codes are so unnecessary and harmful for young girls and women.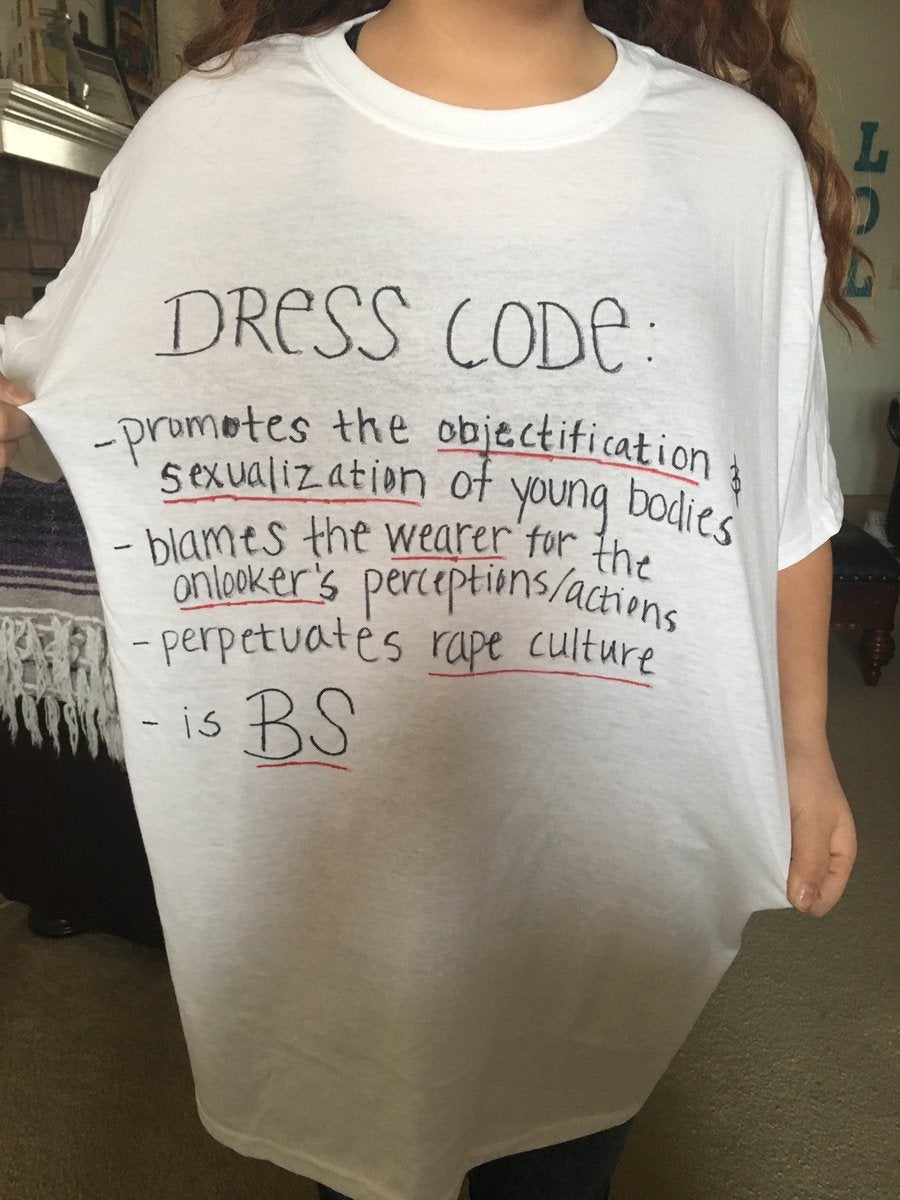 The shirt reads:
Dress Code:
– Promotes the objectification and sexualization of young bodies
– Blames the wearer for the onlooker's perceptions/actions
– Perpetuares rape culture
– Is BS
That afternoon Isabella shared her creation on Twitter, where it garnered quite the mixed response.
my 13 year old sister was dress coded for her shirt today for "revealing too much chest and shoulder" so i made her a shirt to change into pic.twitter.com/NdRQws91HB

— bella (@bellavillegas_) March 13, 2017
https://twitter.com/eeverafterr/status/842793362457423872
https://twitter.com/BrileyMiraya/status/841425874113175553
Great Job Big Sis! She looks amazing in that top and its not revealing anything inappropriate anyhow! Way to be a GREAT Rolemodel! #KEEPITUP

— Jen (@Vandejl13) March 17, 2017
https://twitter.com/mrsrockford/status/842780586641047553
such a brilliant response to the endless sexist attitude of dress codes.

— BethanyAlice (@BethanyyyAlice) March 17, 2017
https://twitter.com/htdwx/status/842591437317328896
Some people are already looking forward to purchasing the shirts, too.
are you selling these on etsy yet??

— Chutzpah&High Heels (@JessicaSFishman) March 16, 2017
https://twitter.com/_maurielle_/status/842505699095646209
https://twitter.com/isabel_segal/status/842494603546845185
https://twitter.com/_Makayla13_/status/842528155411931136
Isabella has announced they'll be making an order of shirts for people who are interested in purchasing, and Grace said her new shirt is in her locker for the next time she get harped on for dress codes.
H/T BuzzFeed News