Some people go on Tinder looking for sex; others, for love; others, for material they can put on their Tumblr. Robert Townley, however, doesn't want any of these things. He's on Tinder looking to make your dreams come true.
As part of his DTF (Down To Fun) project, Townley, a non-profit founder from New York City (and, full disclosure, a friend of a friend) is asking his Tinder matches to come up with ideas for "platonic adventures," or something they'd like to do with him that they've never done before, like making a souffle or walking up and down the length of Manhattan. There are just a few ground rules: The date can't be expensive (it needs to be under $30), illegal, last more than five hours, or be romantic or sexual in any way.
The project, says Townley, is part social experiment, part an attempt to subvert the hormone-driven, dick pic-filled aspects of the Tinder user experience. "Tinder has made it so we're used to dating strangers, but we're not used to being friends with them," he recently told the Daily Dot. "I wanted to see if it was possible to do that by eliminating the possibility for romantic or sexual tension."
Townley started his project last week,  when he logged onto Tinder and changed his default to six signs outlining the rules of the experiment. (He previously did a similar social media experiment with On the Townley, a weekly project where Townley asked his Facebook friends to come up with ideas for activities for him to do.)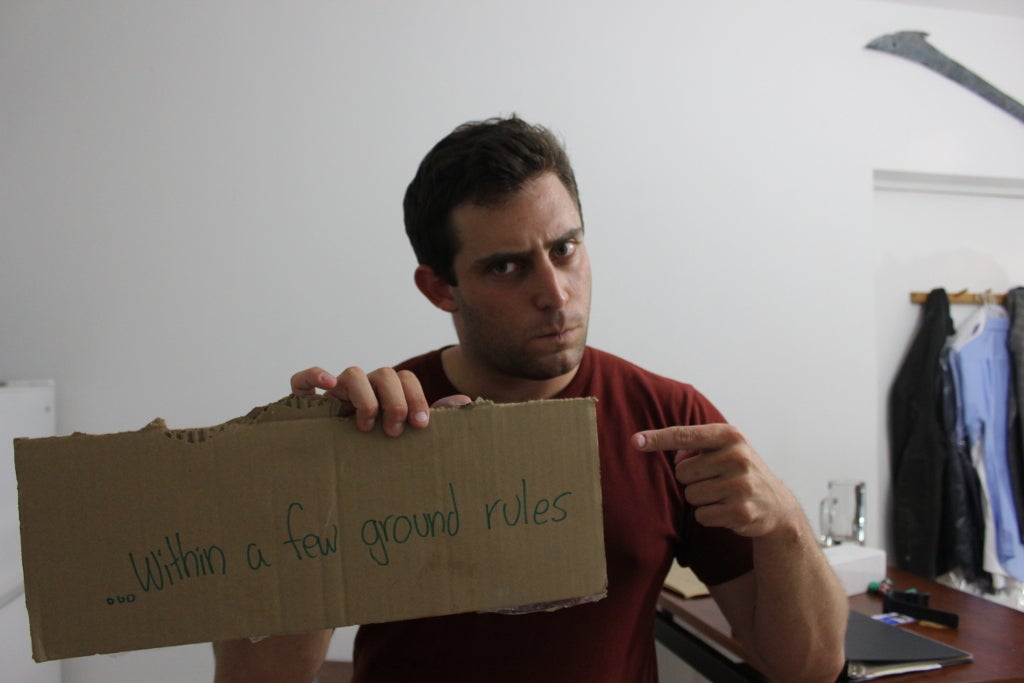 Previously, Townley had only had limited success on Tinder, going on a few dates with matches to no avail. He was also frustrated by the general creep factor most of the men elicited on Tinder. "Tinder has such a reputation for being such a sleazy online dating platform," he says. "I thought I could do a little bit of good by saying, 'I will not be the one sleazy person you meet over your course of time on Tinder.'"
After launching his project, Townley saw his Tinder stock skyrocket. Although he previously got only four matches a day, now he says he gets 100 to 200 matches and dozens of messages inquiring about his project.
While some of his matches are skeptical about his intentions—"they think I hope to get into their pants, or that I'm a journalist running a human study on them"—the response has overall been quite positive. So far, he's gone on 10 dates in a week. he's gone ballroom dancing on the Hudson, hiked the 18-mile length of Manhattan, and successfully killed a fly in a match's Bushwick apartment. (He's only gotten one date request he's had to turn down: sleeping in a cemetery overnight, on the grounds that it's illegal.) "It's funny, because if I was actually using Tinder for its intended purpose, I'd be very successful," he says.
By Tinder's "intended purpose," Townley clearly means finding romance or sex, or at least the possibilities thereof. And it's true that there's something about his meet-cute project that seems like it creates the potential for unexpected romance to flourish. In a sense, Townley's project sounds like the premise of an early-aughts Matthew McConaughey rom-com: Jaded guy goes on hookup app looking for strictly platonic friendships; jaded guy gets more what he bargained for, falls in love with one of his dates.
But on his blog, Townley makes it very clear that he's not interested in any of this, and that he doesn't foresee himself falling for or sleeping with any of the women he's going on dates with. (Although he self-identifies as heterosexual, he's also started matching with men on Tinder to underscore the platonic nature of this project.) In fact, he doesn't even see himself forging any lasting friendships with these people either. To do so, he says, would contradict the underlying thesis of his project.
"There have been a bunch of Tinder dates where I found them physically attractive, but I like the idea of being a data point saying that people are using this app to make friends, rather than take up the off-chance shot of having some sex," he says. "The basic premise is that people who could feasibly be attracted to each other [in some context] can put that aside for a minute and say, 'OK, this is a fun adventure.'"
This week, Townley's schedule is already filling up fast: Today, he's meeting a girl at a coffee shop to teach her how to code, and tomorrow, he's going to Coney Island with another date. But he's got a deadline for his project: He's going to the Model U.N. camp he founded next week.
Although he plans to take it up again when he gets back, so far he says the primary lesson he's learned from his project is that he's not the only person frustrated with Tinder and online dating in general. While he acknowledges that Tinder is a great app if you're just looking for sex, it's not so great if you're a woman looking for a romantic (or even, in his case, platonic) relationship on the app, where you'll be forced to sift through the muck and mire  of dick pics and creepy come-ons.
"If I can do my part and make things seem a little less creepy, then I can alleviate some of the frustration people have with Tinder by saying, 'Hey, the realm of strangers in public spaces on the Internet can be a good thing,'" he says. "'You're not just gonna run into creepy assholes.'"
H/T Robert Townley | Photo via Robert Townley/Facebook