After a year of living through a deadly pandemic, we can finally see a light at the end of the tunnel. Vaccines are finally being distributed and the world may be going back to normal sooner than we think. But just because safety is just around the corner doesn't mean you should slouch on wearing your mask. In fact, double masking may be the way to go.
Dr. Anthony Fauci says wearing a double mask is likely "more effective" than wearing just one. Since then, the CDC has added the recommendation to its official guidelines. Many people are wondering if the masks they already wear are not enough to protect them anymore.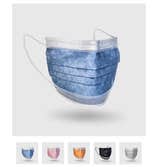 FDA-listed • 50 Pack • Multiple Colors
FDA-listed • 50 Pack • Multiple Colors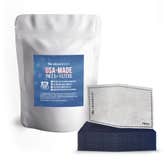 30 Pack • 99.2% Particulate Filtration
So why a double mask? For starters, it can help improve the two most important features of any mask option. These are secure fit and high filtration. Many masks may not be form fitting, and wearing a mask improperly only increases the risk of exposure. In this case, wearing a cloth mask over your surgical mask can seal off gaps you may have missed. However, it doesn't necessarily mean you'll be getting better filtration.
The study the CDC cites in its recent recommendation found that test dummies' exposure to potentially infectious aerosols saw a 95 percent decrease in exposure when both wore tightly fitted masks. For the tests, one dummy wore a cloth mask over a medical procedure mask. The other one simply wore the medical procedure mask properly, with knotted ear loops and tucked in sides.
So the second mask can help plug any gaps from wearing a looser-fitting mask. However, your best bet is to simply wear your mask correctly.
And there lies the rub: are you wearing your mask correctly? When worn properly, your mask should be snug around your nose and mouth without any openings. You can knot the ear loops and then tuck and flatten the extra material on the sides to close gaps.
Of course, wearing your mask properly may be enough, especially if you're wearing an Armbrust Mask. You can't beat an N95 for filtration purposes, but those are harder to come by. Your next best bet is an FDA-listed surgical mask. Texas-based retailer Armbrust USA produces masks that have the coveted ASTM Level 3 rating (the highest rating a surgical mask can get). With 99.2% bacterial and particle filtration, you can rest easy knowing you have the protection you need to brave the end of the pandemic.
Still worried that your mask may not be on properly? In the end, doubling up with a cloth mask can't hurt–especially as far as the CDC is concerned. And one last tip if you're going to layer masks: don't do it with two disposable ones. Doing so, especially with poor quality options found on Amazon, could actually make it harder to breathe through the filtration portion of the mask, negating the benefits. You'll get a better overall fit if you wear the cloth one over the surgical mask, so that's the way to go.
The Daily Dot receives payment for sponsored content. Interested in promoting your brand or product? Email us at bazaar@dailydot.com to learn more.