Admit it, everyone: It's Friday afternoon, time to coast. And if you can think of a better way to slack off than spreading this heart-exploding YouTube clip around the office, we'd love to hear it.
Couples who bring a baby into a home that already has a dog or two are usually worried about how the pets will adjust to a new pecking order—but most find that canines have a highly developed sense of emotion as well as a keen nose. That gentleness and empathy is on full display here as two fluffy huskies try to imitate the halting crawl of their new infant friend.
Reddit, of course, has come through with the GIF.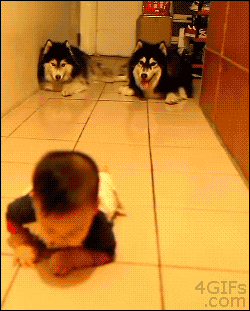 Try to be productive now and you may notice that your fingers have gone numb, your body slack. Not to worry: dying of exposure to absolute cuteness isn't such a bad way to go.
H/T: Gawker | Photo via Kenji Chen/YouTube