Do you shudder at things that go bump in the night? Do you believe in ghosts and phantoms and poltergeists, and can you tell the difference between the three? Do you view the Disney ride The Haunted Mansion (and its 2002 cinematic counterpart) as a sober historical documentary? 
If so, you might want to check out Diedinhouse.com, which touts itself as the only place on the Internet where you can find out if someone once shuffled off the mortal coil in your home.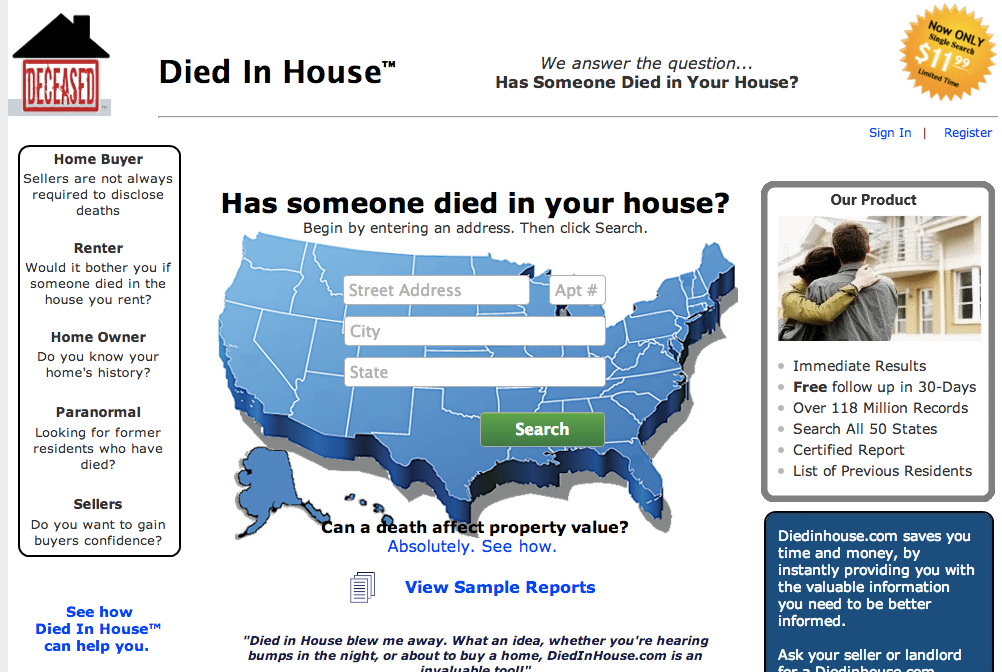 Created by a software development company from Charleston, S.C,, Died In House provides users with a "certified report" on whether or not a death occurred within their walls by combing through the death records associated with a given address.
For a mere $11.99 (the fee for first-time DIH users), the site will search 118 million records from 50 states to assure you that your current residence is poltergeist-free (or, alternatively, that it was a former Indian burial ground/orphanage/mental hospital/meth lab and the walls are resounding with the tortured cries of past inhabitants).
Although the site was ostensibly created to help home buyers assess a potential abode's property value (not all states require real estate agents to disclose a death on the property), it seems like the makers of Died In House are more interested in catering to good old-fashioned morbid curiosity. 
Sample reports on a house in Thornton, Penn., for instance, indicate that its previous owners, Georgia and Konstantinos Komboulis, died in a murder-suicide in February 2006, which the real estate agents failed to disclose to the home's buyers. Another report reveals that a house in Seattle was the site where Kurt Cobain committed suicide in 1994.
Of course, the folks at Died In House warn us to take all of this with a grain of salt: Despite its official-sounding "certified reports" and sexy house-with-a-"deceased"-stamp-on-it logo, the disclaimer for the site says that DIH "makes no representation, implied or expressed, that all information placed on any DIH web site or application is accurate" and that it "does not guarantee to have all deaths that have occurred in or at a specific address."
Still, if you're the kind of person that regularly googles things like "Died in house," "how do you know if someone died at your house," or "OMG I think there is a spooky spooky ghost at [my address]," it might be wise to avail yourself of DIH's services.