As the chief product officer at LOVELAND Technologies—a company whose mission is to "gather and present public information about properties" in the interest of "foreclosure prevention, blight identification and reduction, the reuse of vacant space, and the preservation of community assets"—Alex Alsup wades through data on the troubled city of Detroit every day. Luckily for us, he's been sharing what he sees on a fascinating Tumblr.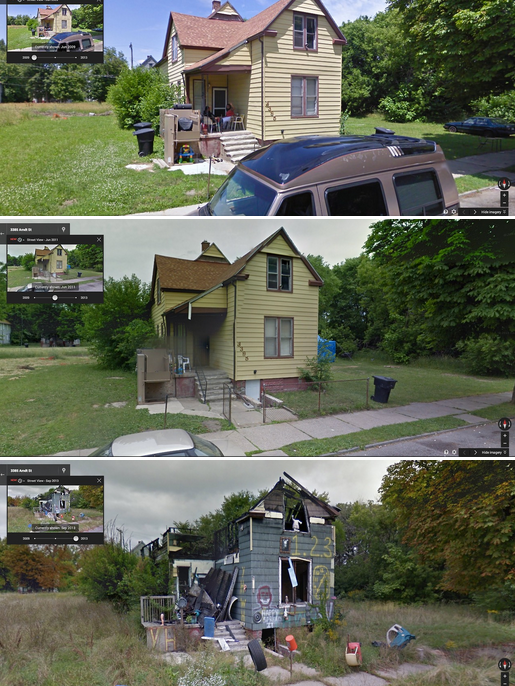 "GooBing Detroit," as the name hints, originally featured comparisons of local properties as they appeared on Google Street View (c. 2009) and Bing Streetside (c. 2012). Now Alsup can use Google's Time Machine feature to collect his images, but the results are no less striking. In just a few short years, abandoned houses crumble to pieces, while fully demolished buildings give way to wild overgrowth and trash-strewn fields.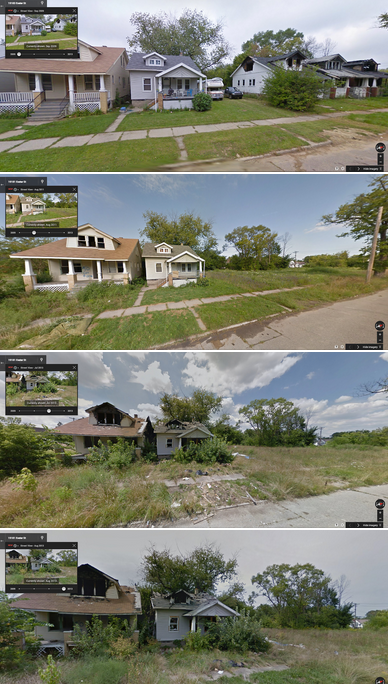 But the project goes beyond what's come to be known, at least online, as "ruin porn." Wide-eyed rubbernecking is certainly part of the appeal here, though there's a bigger point to be made, as Alsup noted in a recent post titled "A Hurricane Without Water":
"Detroit's getting better—sure, there are neighborhoods that have problems, but they've been that way for 30 or 40 years." I've heard statements like this a number of times in conversation and online. The idea that problems with Detroit's property issues are decades old. Some of the root causes are certainly buried that far back, but this idea distorts what I think is still a little understood fact: The 2008-9 financial crisis had a devastating impact on the state of property in Detroit. … [the city] has faced decline for decades, but there is an untold story about the impact the financial crisis had on the city. This blog is cataloging just a bit of that evidence.
Indeed, with few of Alsup's photos dating back more than five years, it becomes impossible to deny how drastic the area's recent economic tailspin has been.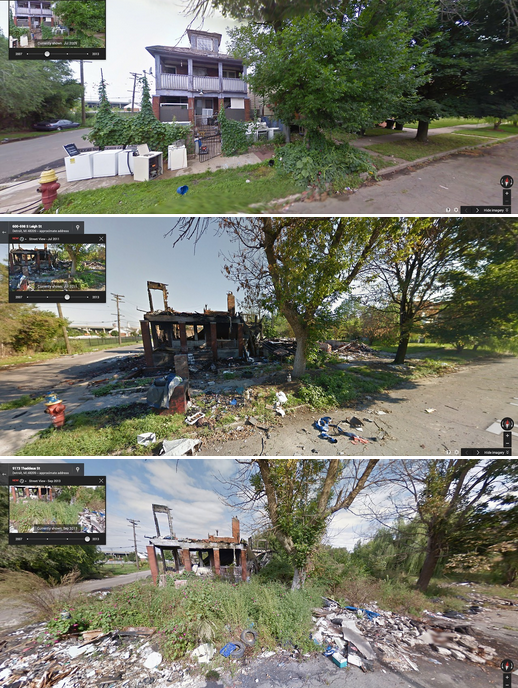 It's nice to think that sometime in the future, we'll get to watch Detroit rise anew from the ashes and weeds. For the moment, however, we're stuck with Dubai.
Photo by Bob Jagendorf/Flickr (CC BY 2.0)