Thanks to a request made under the Freedom of Information Law, there's a hypnotizing data visualization using taxi trip data from 2013 (provided by New York City's Taxi and Limousine Commission). The animation follows a cab, plotting its travels throughout the course of a day, picking up passengers and dropping them off, traveling around the five boroughs—and even, sometimes, New Jersey.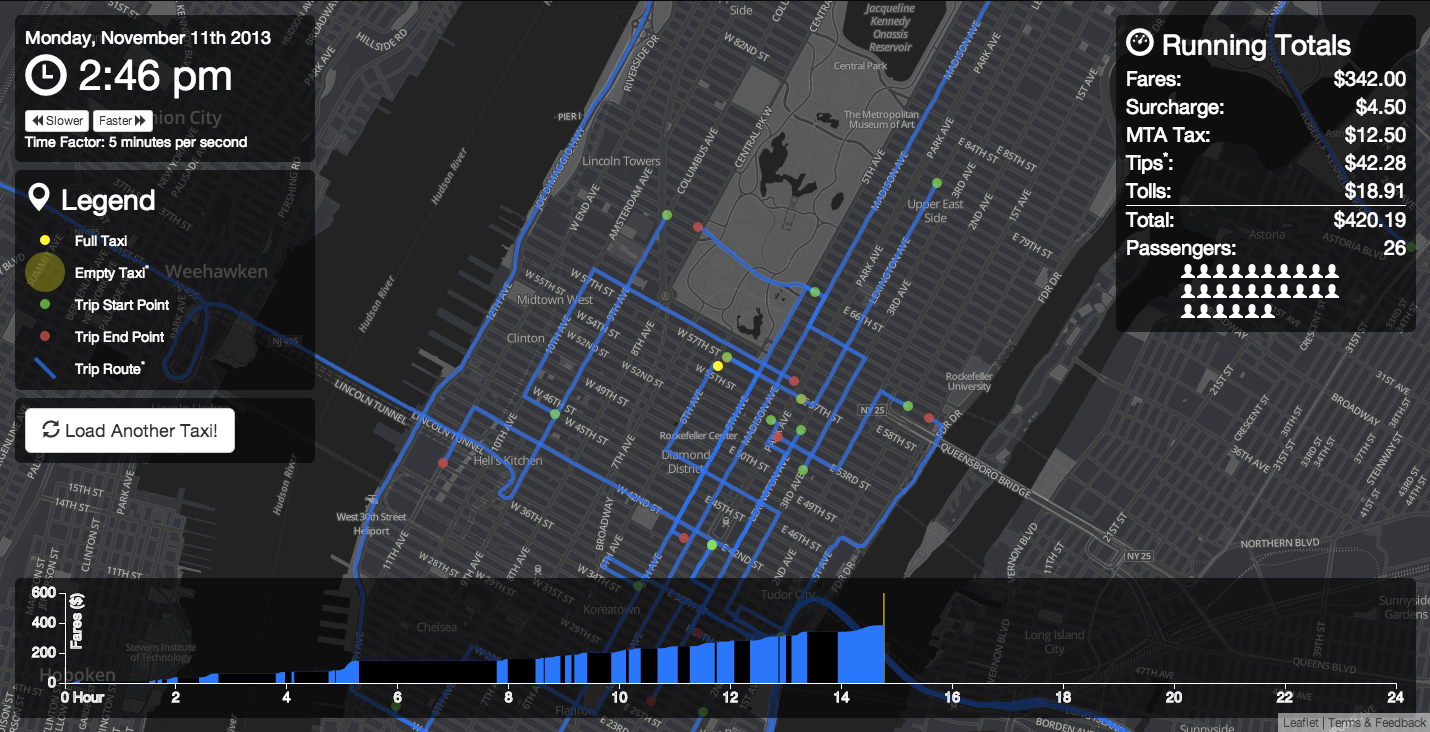 Chris Whong, who submitted the FOIL request, received data on almost 170 million trips. (Hosted here.) "Of these, 30 cab/days were queried at random for inclusion in this project," the site explains. Whong is a part of BetaNYC, a group of so-called "civic hackers" working to use technology to create a more connected city and more open government.
The paths that the taxis take in the visualizations are not necessarily accurate, of course: "Trip Routes are a result of passing the start and end locations to the Google Directions API. They are a possible route that the taxi took, but should not be assumed to be accurate."
"Empty Taxis also follow the 'best route' between a dropoff and the next pickup. Just as with the trips, this is just an effective way to move the marker around, but doesn't reflect the reality of where the taxi traveled."
The data isn't just good for mesmerizing animations, however. Password-sharing service Mitro's founder Vijay Pandurangan found that the data was improperly anonymized before being shared.
"These data are a veritable trove for people who love cities, transit, and data visualization," Pandurangan wrote in a post on Medium. "But there's a big problem: The personally identifiable information (the driver's licence number and taxi number) hasn't been anonymized properly — what's worse, it's trivial to undo, and with other publicly available data, one can even figure out which person drove each trip."
So while you stare into this beautiful data-vis project, just know that it's also sort of an affront to personal information. 
H/T PJ Vogt | Image via Damianos Chronakis/Flickr (CC BY-SA 2.0)