When Ryan Green's son, Joel, was just one year old, he was diagnosed with an atypical teratoid rhabdoid tumor. Such a tumor is often fatal. As a way to deal with his son's diagnosis and his own feelings of helplessness and frustration, Green created a video game called That Dragon, Cancer. 
But there are no levels to beat; there's no kill shot, no enemy combatant. Instead, the player inserts her or himself into Green's life, from the hospital to the home he shares with his wife, Amy. On the game's website, he explains a deeper level:
"Players relive memories, share heartache, and discover the overwhelming hope that can be found in the face of death."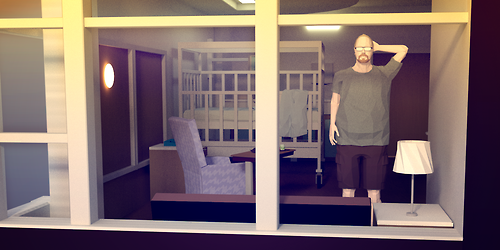 The game, which Green, a programmer, co-created with with developer Josh Larson, will be released on the Android-based OUYA game console next year. It's the latest in a growing field of "empathy games," which forgo gameplay and strategy and instead draw players into an emotional realm. In creating and playing games dealing with illness or mental health, there's a shared experience, and the isolation that often comes with those battles is lessened. 
His son, who was initially given only a few months to live, is now 4. He's still battling the dragon. 
Screengrab via thatdragoncancer.com