For native New Yorkers, freaking out over fancy cupcakes is a bit like visiting the top floor of the Empire State Building. Everyone does it at some point, but they're too embarrassed to admit it. Although food blogs and Sex and the City popularized the cupcake trend in the mid-aughts, we've since moved on to higher-brow, more sophisticated pastries, like donuts or cronuts or churros wrapped in bacon and smothered in Cheez Whiz (please, no one actually make that last one).
But we still have a special place in our hearts for cupcakes.
When New York's first cupcake ATM opened at Sprinkles on the Upper East Side last Tuesday, everyone proceeded to flip the F out. When we found out the ATM held as many as 760 different cupcakes, cookies, and other assorted pastries—and that it was open 24 hours a day—we proceeded to flip the F out even more.
As an Upper East Side resident and a fan of cardiac-arrest-inducing foodstuffs, I had to check out the trend for myself.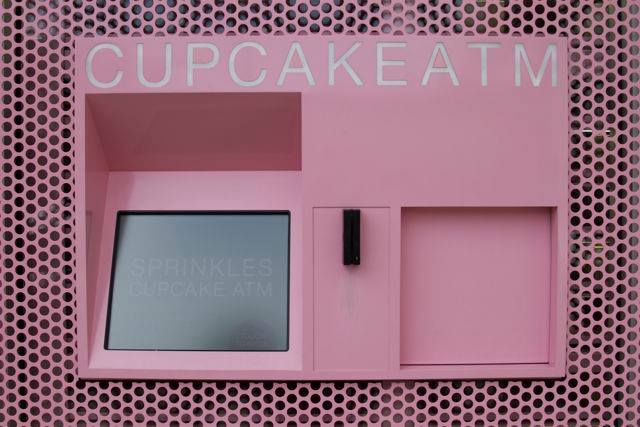 Photo via Sprinkles/Facebook
I hopped in a cab (Upper East Siders don't take trains, especially not to upscale cupcake shops) and made my way over to the Sprinkles on 61st and Lexington.
I wondered if I'd miss the ATM or wander around for a while trying to find it. Then I looked up and saw this pastel-hued monstrosity staring down at me: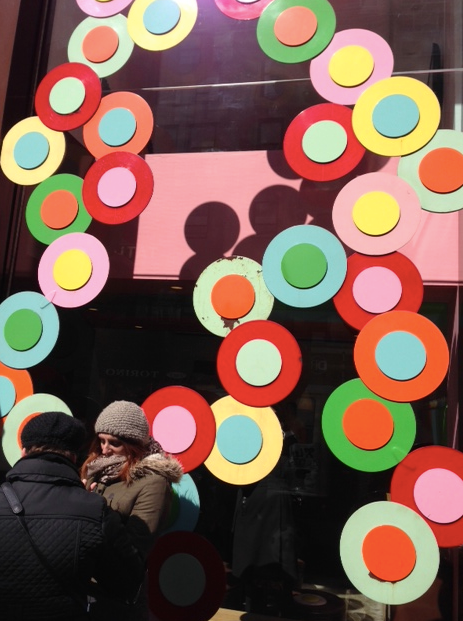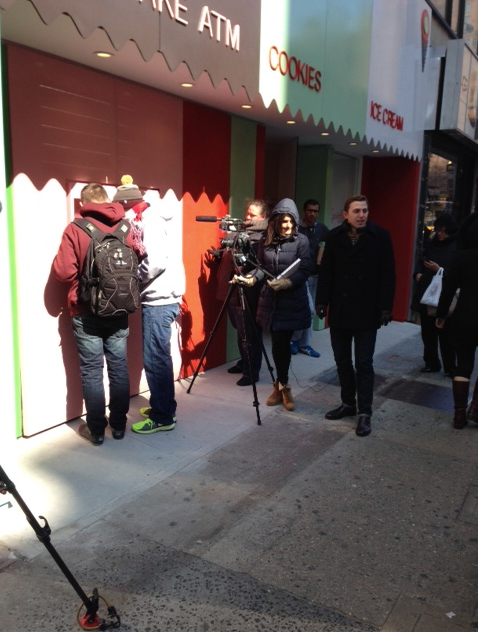 Throngs of reporters crowded around the hot-pink ATM. CBS was there. Columbia J-school students were there, along with a Venezuelan reporter from a TV news station whose name I couldn't understand. Clearly, a cupcake ATM in New York was the biggest news story since the Hindenburg. I half expected to see Charlie Rose strolling out of the store, gluten-free strawberry-vanilla cupcake in hand.
The second thing I noticed was how many bystanders were crowding around the throngs of reporters, none of whom seemed all that interested in buying a cupcake. There was no line; just a bunch of people who wanted to see the cupcake ATM in action (there are similar cupcake ATMs at Sprinkles franchises in Beverly Hills, Chicago, Atlanta, and Dallas).
Jay Chasman, a stay-at-home dad, had trekked all the way to the Upper East Side from Queens. He had clearly done his research. He told me all about the kind of cupcake he wanted (peanut butter) and how the employees managed to keep the ATM fully stocked ("they replace it with 76 new ones every few hours"). He was drawn to the cupcake ATM, he said, because he was always on the lookout for "new and cheap places to eat."
"Cheap," I thought, was an interesting choice of words: At $4.50 a pop, Sprinkles's cupcakes are exorbitantly priced by human standards, yet New Yorkers would probably consider them a bargain. But was the novelty of receiving a cupcake from an ATM worth the price?
It was my turn to find out. I confidently strode up to the machine. I swiped my card, selecting a red velvet cupcake for myself and a vanilla one for my editor. After a few seconds of waiting and awkward conversation with Columbia J-school students, the doors of the ATM lifted and my cupcakes were revealed, in elegantly packed boxes.
Though I was too slow to take them and almost got my hand off in the process, I walked away cupcakes in hand, (relatively) unscathed.
 
So now the $64,000 question: how did they actually taste? Not bad, actually, for something that came out of a machine. That seemed to be the consensus around the office, with everyone agreeing that while the cupcakes at Magnolia (the NYC bakery of Sex and the City fame) were superior, Sprinkles's were the "best cupcakes to ever come out of a vending machine." Not the most glowing endorsement imaginable, but still pretty good.
 
Photo via Sprinkles/Facebook