A Chinese city has asked for English speakers on the web to help correct wrong—and sometimes hilarious—translations. A lot of incorrect public signs in China are the result of direct translations without taking into account the differences in each language. (For example, "Santa" becomes "Christmas Old Man.")
Bad "Chingrish" translations are all over the Internet, and the embarrassed Chinese government's made many attempts (especially before the 2008 Beijing Olympics) to fix all the incorrect translations. These attempts didn't usually work.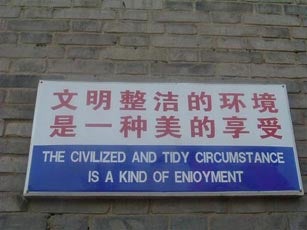 Starting this week, one city, Shenzhen, is giving it another try, by asking people online to take photos of bad translations and post them to hugely popular Chinese social networks Wechat and Weibo or email them to Shenzhen's Foreign Affairs Office. The emails should include the location of the sign and what needs to be fixed. 
People who help fix signs will be awarded with "certificates, a Chinese-English Dictionary and free English training classes." 
Shenzhen, a large city with a booming tourism market, put up signs for the campaign in schools and on Weibo, but enthusiasm is lacking, according to GlobalVoices. Comments on the campaign's posts on Weibo have been nil. 
Where are the English and Chinese speaking superheroes? China's government needs you!
H/T GlobalVoices | Photo via GlobalVoices