People online are speaking out against the so-called "chapstick challenge," a dangerous trend circulating on TikTok in which users say they plan to die by suicide after finishing a tube of chapstick.
Under the hashtag #chapstickchallenge, TikTokers are posting videos of newly bought chapstick tubes or marking the days since they have started using them. In other words, users say they'll use chapstick to count down the time until they die by suicide.
"This is all the chapstick I have left," TikTok user Ashley Solis said via text reader in a video with the challenge hashtag. The Daily Dot was unable to reach Solis for comment.
Other versions of the challenge involve people using chapstick to cover up self-harm wounds.
TikTok has been criticized in the past for inappropriate content and for promoting abuse or violence. Viral challenges on the platform have also led to the harm and death of users and have been criticized for retraumatizing people or trivializing serious issues.
The so-called "chapstick challenge" raises concerns about triggering impressionable audiences and promoting suicidal ideation. Some of the videos are tagged with hashtags meant to go viral, like #foryoupage or #blowup.
In response, concerned users created videos and left comments asking creators to stop the challenge from trending and to take mental health seriously.
"Please do not normalize something so heartbreaking," user @aloexrqre said.
Others urged people to consider the harm they are creating for younger audiences or those who may be easily triggered on the platform.
"I know you're struggling right now, but this isn't a trend," one user commented. "You're giving other kids the idea to start it."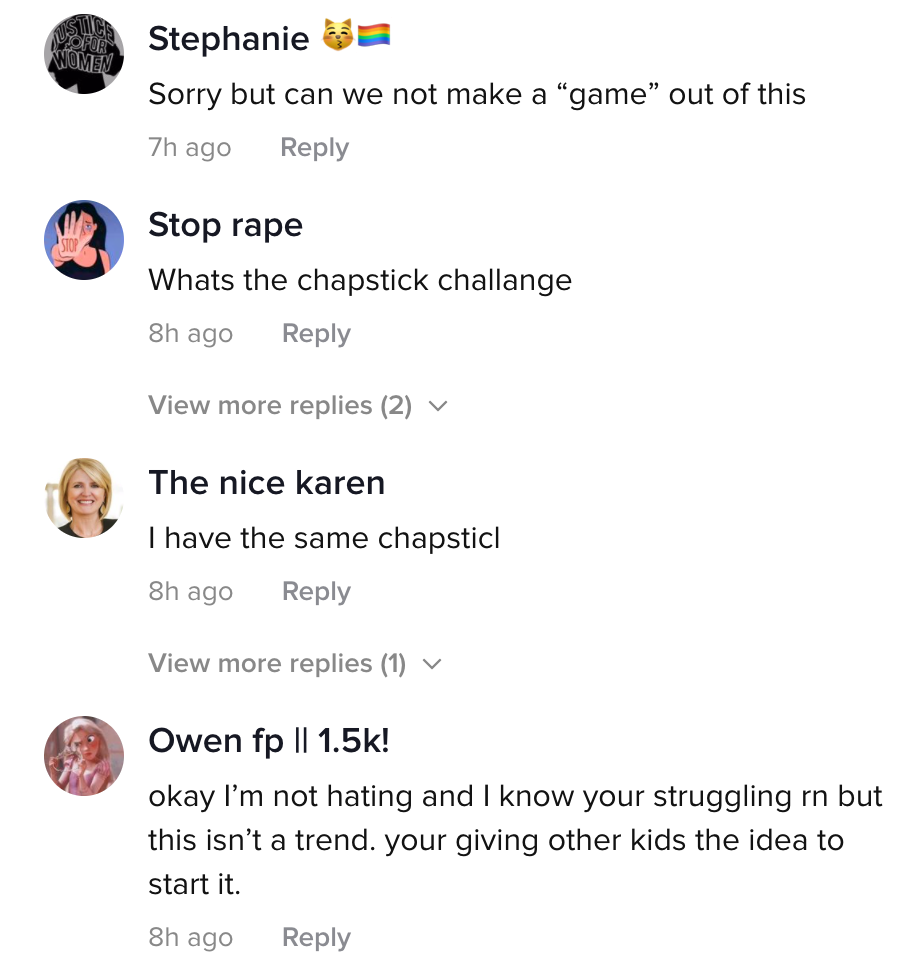 In response to a video that makes light of the challenge, critics said it's harmful for people to romanticize suicidal ideation as a "ploy for attention."
"Most people doing this challenge don't do it in the end and just want attention, but it's still wrong to encourage them to do it," one user commented.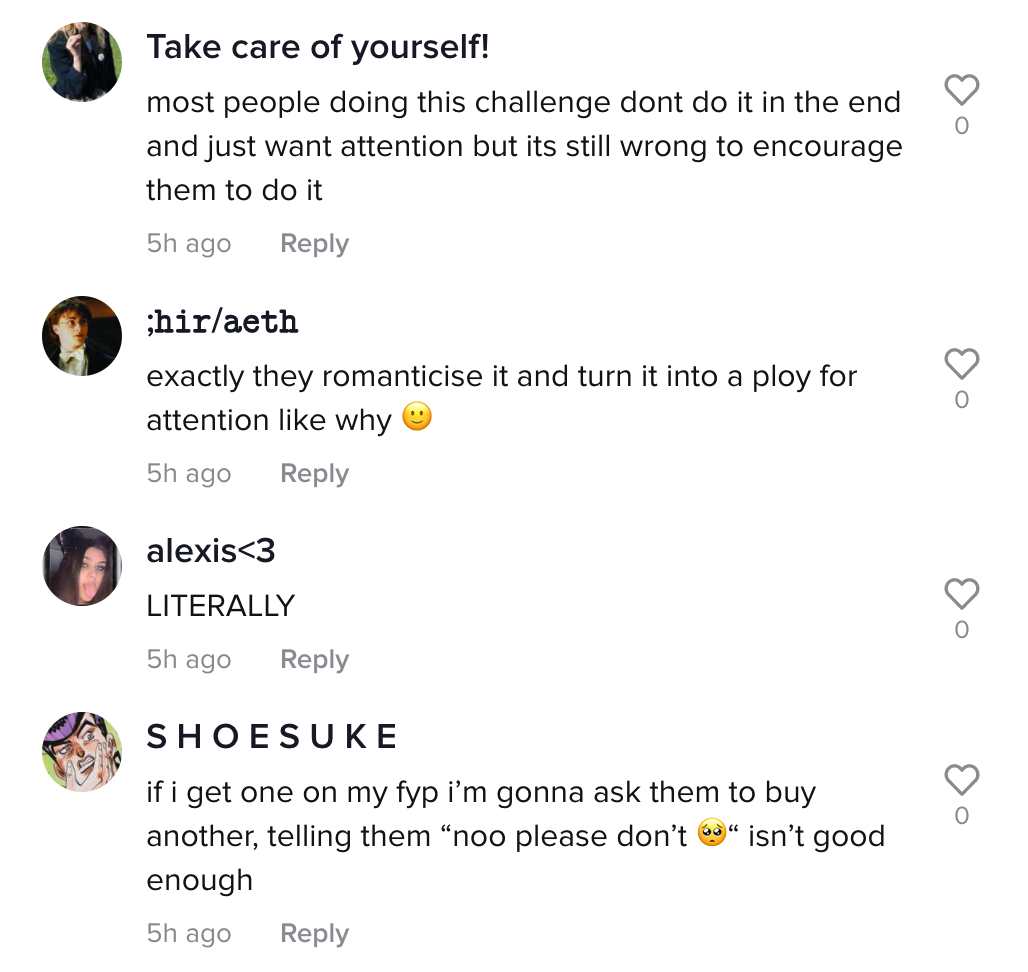 Videos of people allegedly participating in the challenge are filled with comments urging them to reach out for help.
"You are loved. Don't do this," one user commented. "I know life is hard, but it will get better."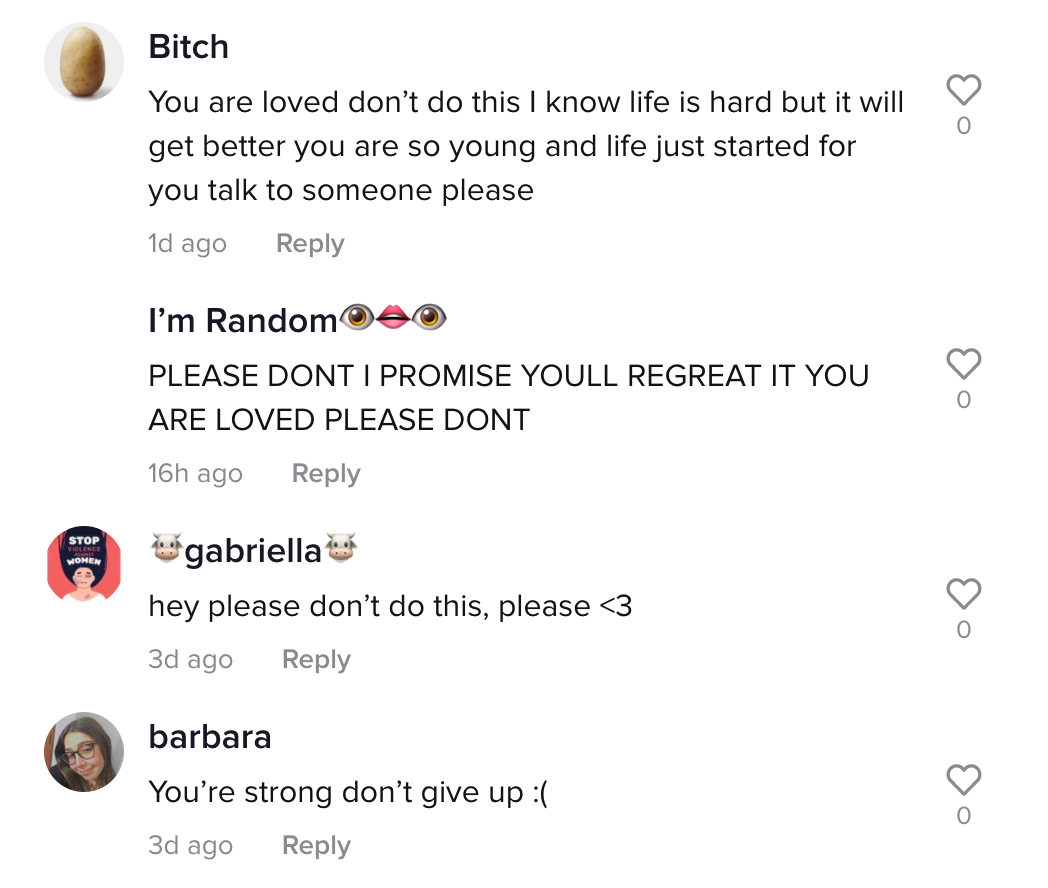 A user who posted a video "Chapstick challenge day 16" with the caption "I'm sorry" uploaded a video one day later saying they are no longer doing the challenge and recognize the harm of joking about suicide.
"It's a bad thing and shouldn't be posted as a challenge or trend," @save.me.sounds wrote. "It's hurtful."
For more information about suicide prevention or to speak with someone confidentially, contact the National Suicide Prevention Lifeline (U.S.) or Samaritans (U.K.).
---
Must-reads on the Daily Dot