Here's a thought: If you're thinking about hijacking a trending topic to promote a product, make sure you have some clue what it's about.
Along with a link to the item, fashion brand Celeb Boutique tweeted the following Friday afternoon: "#Aurora is trending, clearly about our Kim K inspired #Aurora dress ;) Shop:"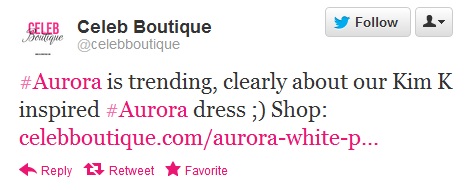 Aurora is the name of the Denver suburb where 12 people were killed in a mass shooting at a movie theater late Thursday night.
The tasteless tweet  has been retweeted more than 1,250 times. (It has since been deleted.) The Twitter community was quick to slam Celeb Boutique for the poor decision, with the term "celebboutique" tweeted more than 2,400 times within an hour of the tweet, according to Topsy.
"Someone is getting fired over this," Matt Patches wrote.
"Time to shut down http://celebboutique.com/," urged Stefan Becket.
Illustrator Sam Spratt called it "one of the most insensitive tweets you will see today."
Alex Burns of Politico asked if Kenneth Cole hacked the feed. Kenneth Cole posted a tweet many perceived as a way to cash in on last year's Arab Spring in Egypt.
It's the latest in a long, long line of Twitter brand mistakes, though it's perhaps the most ill-conceived of them all. Indeed, there are at least a few dozen people who've tweeted at Celeb Boutique claiming they won't be shopping with the brand ever again.
"I'll ensure that I NEVER buy a product from you, and anyone I know never does either, after that tweet," wrote @Spikeophant
"you should've found out why it was trending. I & everyone who sees this will never buy from this company, EVER" — Sara-Marissa Baker
An Anonymous-affiliated account, @YourAnonNews, weighed in as well, tweeting, "Dear Internet: Let's shut these insensitive fuckers down."
At 3pm ET, Celeb Boutique tweeted a short apology, but the damage it appears has already been done.
Photo via Celeb Boutique