There's an enormous difference between the way furniture is sold to us and the way we actually use it. Molly Erdman first noticed the disconnect two years ago, while flipping through a new West Elm catalog.
Paired with the nonsensical design tip ("take the indoors outdoors!") sits a comfortable poolside tableau of the likes you might encounter in Martha Stewart's backyard. Everything is perfectly thought out: carefully arranged throw pillows, a pair of trendy glasses with a pitcher of lemonade—and a plate of figs sneakily hidden under the table.
"I thought why?" she told the Daily Dot.
"Why did somebody think, 'Let's put a platter of figs on the ground outside?' I went to sleep thinking about starting a blog for my own amusement by adding captions to these photos. The fig platter was my very first post."
It was the start of Erdman's wildly popular blog, Catalog Living, a sardonic take on the strange places that well-intended marketers take our imaginations while trying to sell a product. Erdman gets that they're trying to create an environment that evokes luxury and comfort, but she's not quite sure where the bucket of rope and coverless paperbacks figure in.
The blog has received more than 4 million hits in two years and recently made the leap into a hardbound collection, Catalog Living at Its Most Absurd: Decorating Takes (Wicker) Balls, which came out this month.
It's a peculiar career shift for the Los Angeles resident. A former comedy improviser on the Second City Mainstage, Erdman is accustomed to getting an immediate reaction to her humor. Her acting style is visual and expressive; just check her portrayal of "Molly" in the Sonic commercials.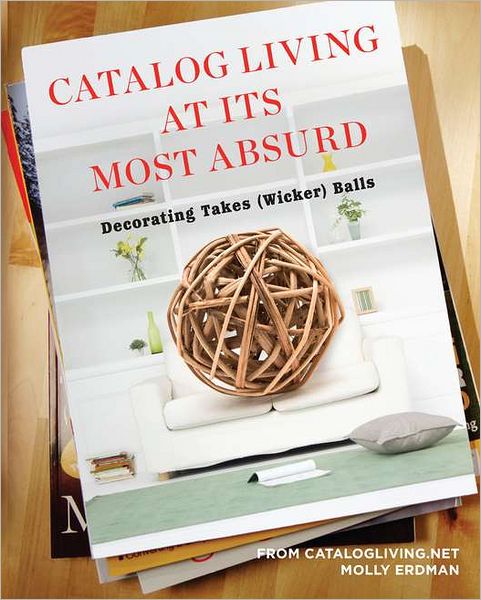 "There's not the same immediate gratification," she said. "When you tell a joke on a blog, you can't gauge immediately is somebody laughs or not. Since moving to L.A., I've been doing more writing instead of performing in front of an audience every night. I just have to put it out there and hope people find funny what I find funny."
The majority of Erdman's blogging humor centers around two main gags. First, there's inanimate objects behaving badly, where Erdman likes to imagine goofy scenarios, like a family's dining room chairs throwing a party or candles literally holding a candlelight vigil. How else to explain catalog spreads that show far more chairs or candles than any home would ever need?
Then there's Gary and Elaine, the fictional couple who resides between the catalog pages, amid essentials like clam shells stuffed with towels and pillow-laden boats.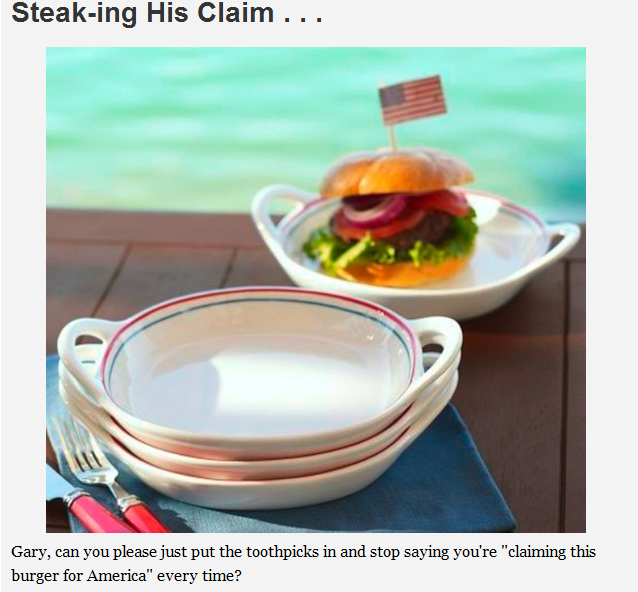 "In my mind, [Gary and Elaine] are probably in their late '40s or '50s, have done very well in life, and are the same archetype we've seen in sitcoms throughout time—the bumbling doofus of husband and the wife with her hands on hips, shaking her head, 'Oh Gary'."
Gary and Elaine feature heavily in Erdman's new book, but readers won't see any of their previous adventures rehashed here. The jokes for this book are exclusive to the medium.
"It's 100 percent new material," said Erdman, who got a literary agent within two months of launching the blog. "I couldn't use anything in the blog because I don't have rights to them. The photographers for Pottery Barn and other catalogs own their images, so I would have had to track each one down. The book photos are either from stock art or from smaller catalogues."
Erdman may be a published author now, but she doesn't plan to give up her blog so long as it's still fun to write. New content will be available on her Tumblr sporadically—and on the Daily Dot each week—well into the future.
"Catalog Living is a clean, family friendly bit of comedy," she said, "and sometimes I feel like I don't always reach a hipper audience."
Photo by Bridge Mihalik