Carlee Russell, 25, went missing for approximately 49 hours last week and reappeared over the weekend at her parents' home. She was taken to the University of Alabama at Birmingham (UAB) Hospital, where some internet users believe staff attempted to access her medical records without proper authorization.
Russell went missing last Thursday after calling 911 to report that she saw a toddler walking alone on the side of an Alabama highway. The Hoover Police Department said when officers arrived on the scene, Russell's car was abandoned along with her wig and cellphone.
On Saturday, Russell reappeared and was seen walking toward her parents' house on foot. She was taken to UAB Hospital to be evaluated.
Because of Russell's sudden reappearance and the lack of information surrounding why she went missing—her mother, Talitha Russell, claims Russell was abducted, and local police said Russell wasn't yet available to make a statement about her whereabouts—there has been widespread speculation surrounding her case online.
Much of that speculation involves claims that nurses and staff at UAB Hospital were fired for attempting to access Russell's medical records. Such allegations have popped up on Twitter, Facebook, and Lipstick Alley, a discussion forum frequented by majority Black users, and were posted starting on Monday.
"Carlee lied," Twitter user @0Creee tweeted on July 17. "She was never kidnapped and plenty of people from UAB hospital has been fired for letting people know wasn't nothing wrong w her axx."
"Playing with a girls chart tryna be messy now look at you!!!!!!" @_xoxoangg tweeted that same day. "Whoever got fired from UAB today deserved it!"
Facebook posts in "Carlethia 'Carlee' Russell Case Discussion," a public group, make similar claims.
"UAB hiring!!! Cause 50 people got fired for trying to view Carlee Russell hospital records," Joshua Williams posted in the Facebook group. "Y'all sad asf."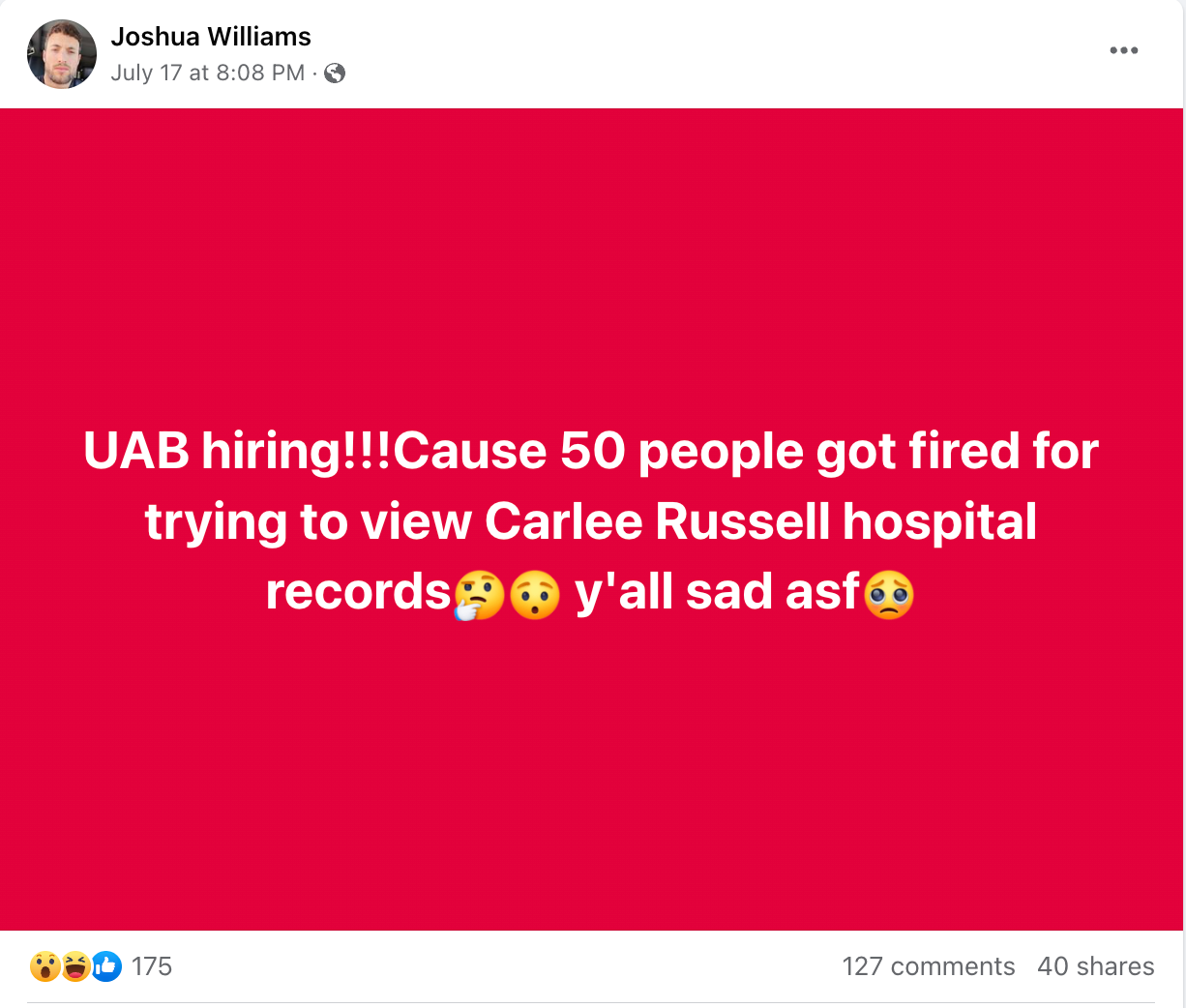 "Many of UAB personnel was fired today for looking in her files," an anonymous participant posted.
In a statement to the Daily Dot, UAB's Director of Public Relations Alicia Rohan said that she would not be commenting on "patient matters." When pressed with further questions, Rohan declined to provide comment.
"UAB takes patient privacy extremely seriously," Rohan told the Daily Dot. "And works with our patients, employees and appropriate regulatory entities to uphold the highest standards."
In contrast, continued discussions and dissections of Russell's case have struck some as racist.
"Doing all this to try to prove Carlee is lying goes to show y'all don't wanna believe Black women," @keatingssixth tweeted this morning. "Like that's truly y'all's first instinct."
"The fact that many of you are going to such lengths to try and prove Carlee is lying only confirms that you are unwilling to believe Black women," @nilanmorton tweeted this morning. "It seems like your initial instinct is to doubt us, unlike when the situation involves a white woman."


We crawl the web so you don't have to.
Sign up for the Daily Dot newsletter to get the best and worst of the internet in your inbox every day.