Horrifying surveillance footage has enraged New York City residents, and more than 95,000 supporters have pledged change. Count breakout rapper Cardi B among them, who signal-boosted a petition via Instagram Story late Monday.
Last week, 15-year-old Lesandro Guzman-Feliz was dragged out of Zesarina Grocery in the Bronx, New York, by gang members and stabbed with machetes outside. When the fatally wounded teen returned to Zesarina Grocery asking for help, he was kicked out. No one apparently called the police or intervened, even as Lesandro walked himself to a nearby hospital where he succumbed to his wounds.
The leader of the Trinitarios gang later reportedly apologized to Lesandro's family because his gang targeted the wrong person, according to the New York Post. A similar-looking young man had apparently made a sex tape with one of the gang member's relatives. Now an online petition wants the bodega closed for good, and Cardi B is leading the activism.
"The owner and employees of this store allowed for a 15-year old boy to be dragged out of their establishment by five individuals to his death! The 15-year old was stabbed to death and NO ONE did anything to help him. The employees did not call the police, they did not try to intervene to where they could have locked the the (sic) door and held him there for safety. This was someone's son, brother, cousin, nephew, grandchild, and friend," reads the Care 2 petition.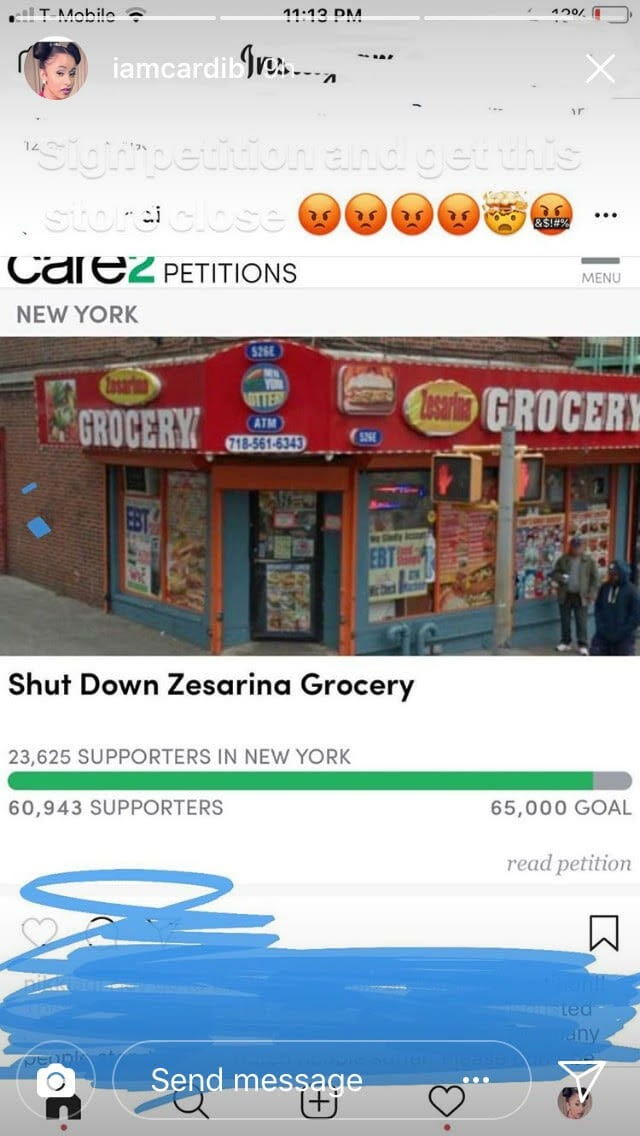 On Saturday, protesters swarmed the Zesarina Grocery because surveillance footage also showed no staffers coming to the aid of Lesandro has he was dragged out of the store. A #JusticeForJunior hashtag made the social media rounds and GoFundMe was set up for Lesandro's family. It has raised more than $240,000 on the strength of another Cardi B Instagram post.
"These Bronx streets are ruthless," she wrote in the caption.
New York police have arrested six suspects in connection with the murder. Thousands attended Lesandro's wake.