Back in the day, men could purchase women as their brides for the 19th-century equivalent of a mini iPod Touch and a bag of cool ranch Doritos. While few of us are nostalgic for those days, the folks behind the Nigerian app Bride Price apparently are.
The app calculates users' monetary worth in such categories as height and weight, skin tone, and leg shape. Do you have straight legs, or "sexy bow legs" like Beyonce? Depending on your answer, you could be out N20,000, or US $123. Users are also awarded "points" based on whether or not they have certain desirable physical traits, like light skin and straight teeth.
In Nigeria, a "bride price" is a symbolic amount of money given to the bride's parents by her fiance on her wedding day, and is not interpreted as a valuation of the bride herself.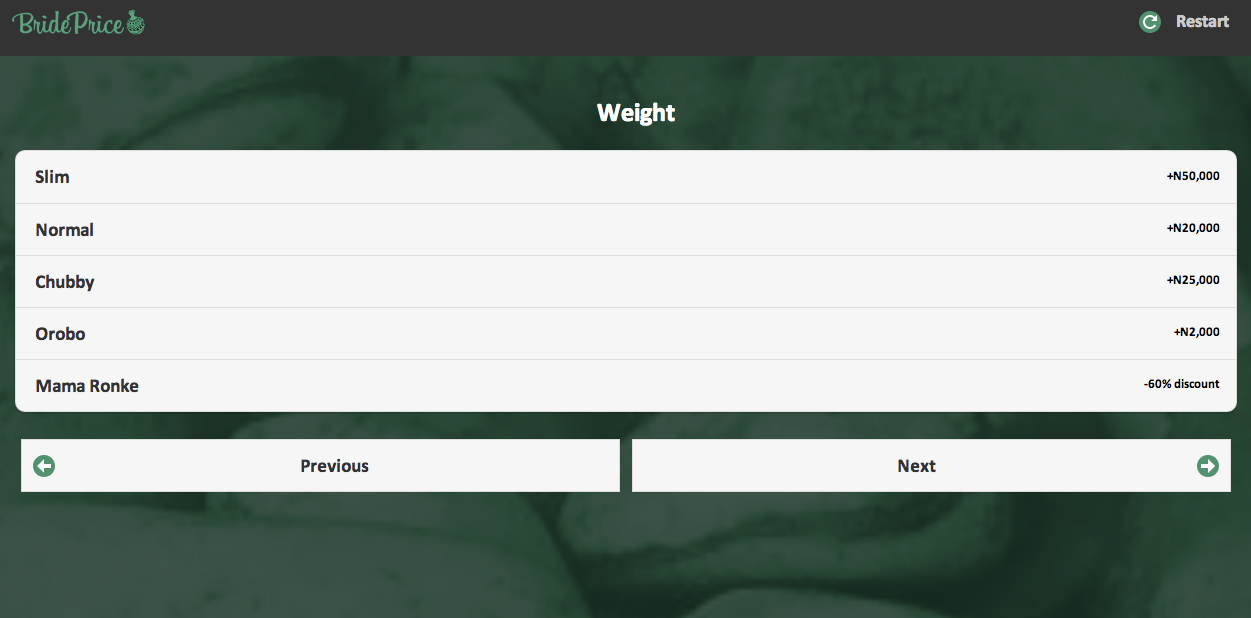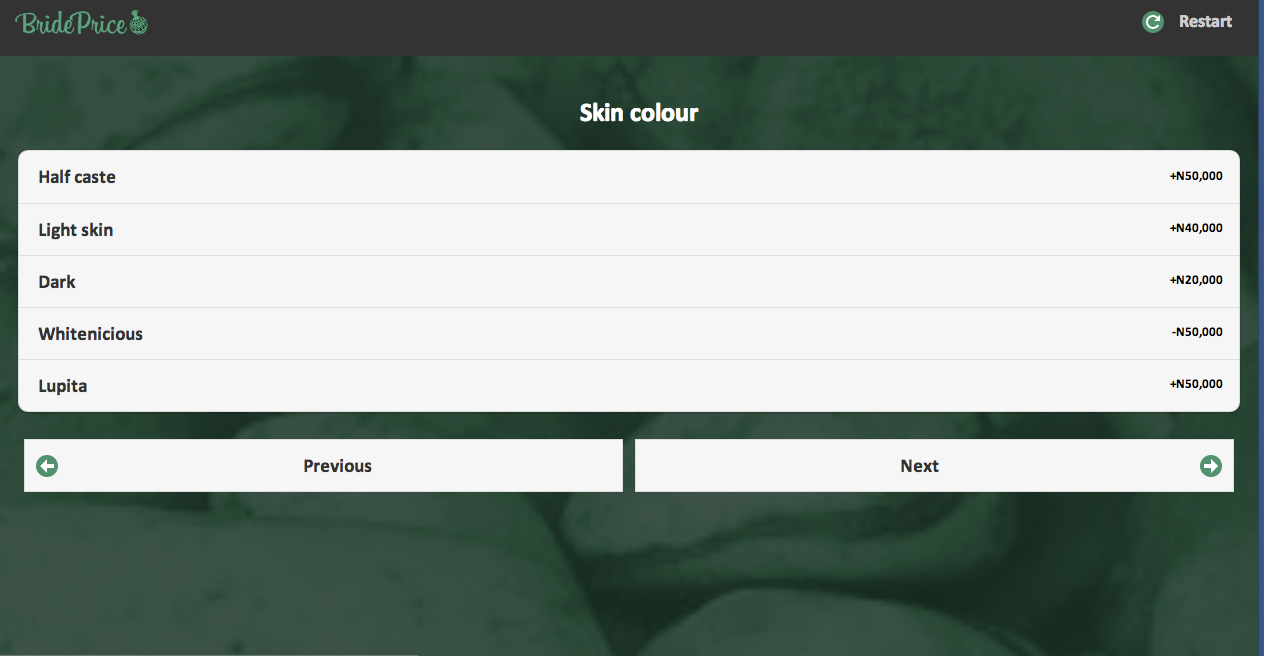 Screengrabs via Bride Price
Created by Nigerian digital agency Anakle, Bride Price is ostensibly intended to be comdic, rather than an actual calculation of how much a prospective wife is worth. But according to CNN International, some Nigerians aren't laughing about Bride Price.
The category relating to skin color, for instance, assigns decreased monetary value to users with dark skin. This is particularly controversial in Nigeria, where light skinned women are often deemed more desirable than dark-skinned women, leading to the creation of the thriving skin bleaching industry. Some Nigerians are also arguing that the app uses outdated, offensive terminology, such as the term "half caste" to describe someone of mixed race, which some apparently deem equivalent to labeling someone a "mulatto" in the United States.
For his part, app creator Editi Effiyong rebuffs the suggestion that Bride Price is offensive, arguing that he paid a (symbolic, 18-cent) bride price for his wife when he married her. "It may be hard for our foreign audience to understand, but I don't see why the scores on any app, joke or not, should affect the love I have for my wife, or her self-worth," he told CNN International.
That very well may be true. But from an outsider's perspective, in light of the thorny sociocultural context surrounding skin color in Nigeria, not to mention the recent Boko Haram kidnappings, there's very little that's funny about assigning monetary value to a woman based on how she looks. It seems, however, that the majority of the app's users disagree: Bride Price now has 2 million views in more than 40 different countries, and while there's a Change.org petition circulating to remove it, at the time of publication, it has a paltry 157 signatures.
H/T CNN International | Photo by purplevintagespaceprincess/Flickr (CC BY ND 2.0)