From burning fake money in the streets to smearing mud on people, China festival's have some unique traditions. Despite what Wikipedia might have once told you, touching breasts is not one of them.
After more than a year worth of fooling people, an entry in the encyclopedia for China's "Breast Touching Festival (Monai Jie)" was finally deleted this month. The entry provided details on the phony, three-day festival in July where "men enjoy touching breasts, and women gladly accept their touch as the gesture—called 'touching milk' and consider it good luck for both." It's been preserved for posterity in a screengrab thanks to Wikipedia criticism site Wikipediocracy. (Click to enlarge.)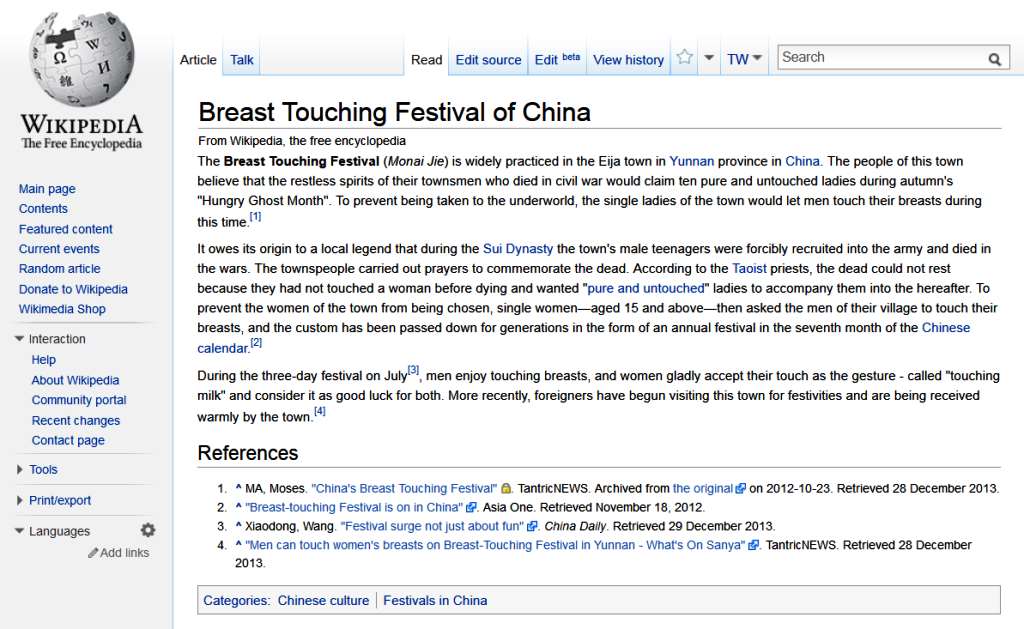 The entry was deleted earlier today, a few days after an editor found an article in China Daily faltly denying the festival's existence.
The history of this hoax dates back to the fall of 2011, where it was posted on a now defunct comedy site Daily Chilli. The entry was preserved on a blog called Xing Fu which stated that the festival dated back to the Sui Dynasty (AD 581 – 619).
That's when "most of the teenagers of the Yi tribe were forced into the army and died in war."
The people then carried out prayers to commemorate the dead, and it happened that the ceremony was held in the seventh month. According to the wizards, the dead were in a state of unrest because they had not touched a woman before. And so, they wanted 10 "pure and untouched" ladies to accompany them in the afterworld.
The following street sign was also posted on Xing Fu to help support the hoax.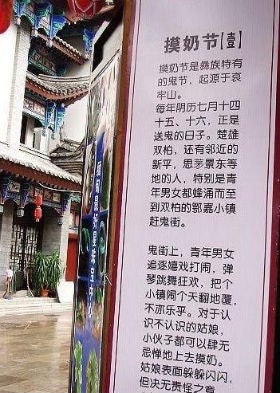 The "Breast Touching Festival (Monai Jie)" marks an end to a year of memorable Wikipedia hoaxes. In January the Bicholim Conflict, a 4,500 word entry on a battle between colonial Portugal and India's massive Maratha Empire, proved to be an elaborate hoax that fooled editors for more than five years. In April it was revealed that Russian director Yuri Gadyukin was a four-year old fake, made up as part of a viral marketing campaign by a couple of indie movie directors.
Photo by Arian Zwegers/Flickr