Not only are people dressing as slain Florida teenager Trayvon Martin and his killer, George Zimmerman, for Halloween, they're bragging about it on Facebook and Instagram.
Three Massachusetts youths, one of whom sported a Trayvon costume complete with blackface and fake blood, are facing a massive backlash across social media.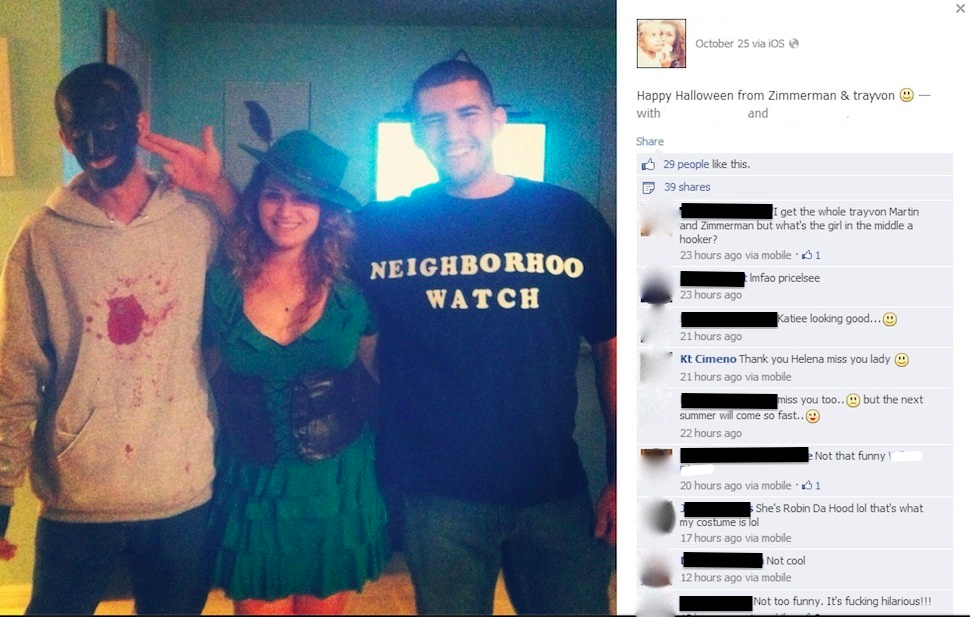 The trio, including a girl dressed as "Robyn' Da Hood," have been called out for racism on Facebook, social justice Tumblr, and Twitter since they shared the photos Saturday night.
The Internet was already fired up after photos emerged Friday night of actress Julianne Hough wearing blackface to dress as "Crazy Eyes" from Netflix's hit series Orange Is The New Black. The social media sphere was furious, asserting that blackface is not acceptable in 2013. Hough apologized for the costume, saying she is a huge fan of the show and of Uzo Aduba, who plays Crazy Eyes.
A Tumblr post about the Trayvon costume, decrying not only the use of blackface but also the cruelty of playing a murdered teen as a Halloween joke, has more than 12,000 notes. The post names the costumed teens and reveals the girl's workplace. Twitter users claim they've already started bombarding the business with phone calls and Facebook messages.
The girl in the photos has changed her Instagram name and made her account private, but her brother, who dressed as Zimmerman, remains active on Facebook despite a campaign to report him for abuse. 
Although they're at the center of the controversy, these three weren't the only ones who dressed as Martin and Zimmerman for Halloween 2013. In fact, dressing in blackface as a dead teenager looks disturbingly like a trend: