The #IowaCaucusDisaster has become a trending fixture on Twitter, and accounts of the politically-charged night continue to pour in online.
A recent tweet that has been gaining steam accuses the Pete Buttigieg campaign of "tokenism." Essenam Lamewona said she was asked three times to be placed behind Buttigieg, and "away from her friends," during a live telecast of Buttigieg's Iowa caucus speech. The Daily Dot has reached out to Lamewona.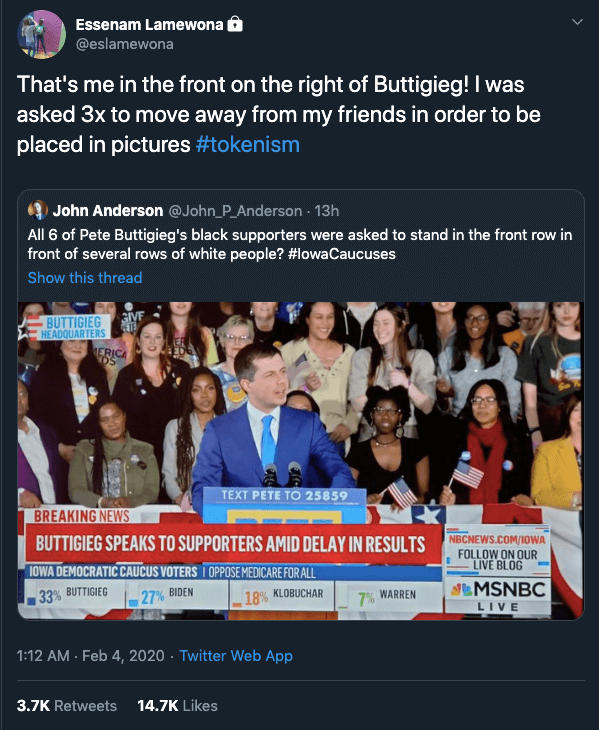 Lamewona's tweet was posted around 1am on Tuesday, as the caucus results continued to be delayed. Her tweet garnered almost 15,000 likes before she switched her account to private. She quote-tweeted a post from user John Anderson, who said he thinks the Buttigieg campaign was attempting to combat perceptions about Buttigieg's trouble with the Black voting bloc.
All 6 of Pete Buttigieg's black supporters were asked to stand in the front row in front of several rows of white people? #IowaCaucuses pic.twitter.com/dKc4wCM01A

— John Anderson (@John_P_Anderson) February 4, 2020
"It is obvious that there is something conveniently different in the photo with regard to gender and race (compared to) the makeup of his voters and of the voters in Iowa," Anderson told the Daily Dot. "It is constructed to convey an image, and that is what people are so objected to."
According to the U.S. Census Bureau, black Iowans make up about 4% of the state. Recent media reports have questioned Buttigieg's support among Black Americans. Only about 2% of Black Democratic registered voters support Buttigieg nationally, according to a January poll from the Washington Post.
The Buttigieg campaign has not responded to the Daily Dot's request for comment.
Monday night, Twitter users questioned if the optics of Black voters behind Buttigieg would do much to benefit the campaign.
I understand the value of the optics of placing more black voters behind Buttigieg given how he has struggled with the black vote. But putting six (more?) in a row on the first row — in Iowa — may just draw more questions & suspicions than change minds.

— Eugene Scott (@Eugene_Scott) February 4, 2020
Reigning Miss Black America, Ryann Richardson, tweeted in response to the speculation and criticism, saying that Black women voters have been entrenched throughout the Buttigieg campaign.
Black women (supporters, surrogates, senior staff, policy leaders) are all over this campaign, and media outlets have been deliberate in silencing our voices. Excuse us if we decide to step into the spotlight many keep trying to divert from us. https://t.co/shYj5GmuWv

— Ryann Richardson (@TheRyRichardson) February 4, 2020
Buttigieg caused confusion Monday night after claiming possible victory in Iowa despite official caucus results having yet to be released.
Iowa, you have shocked the nation.

By all indications, we are going on to New Hampshire victorious. #IowaCaucuses

— Pete Buttigieg (@PeteButtigieg) February 4, 2020
Tonight, Iowa chose a new path. #IowaCaucuses

— Pete Buttigieg (@PeteButtigieg) February 4, 2020
The Iowa Democratic Party Chair said a "coding issue," with the caucus' app could have been responsible for the delay in results.
READ MORE: