Thankfully most people are wearing some kind of mask these days to protect themselves. And that's a good thing, considering experts say we may have to wear them for years. But, if we're going to protect ourselves, what are the best face masks that you should be wearing? Because wearing one is just half the battle—not all masks are created equal.
This guide will go over every type of mask and what's important to consider when choosing one. We will break down the differences between reusable and disposable face masks, and help you understand which is best. (Spoiler: Our top mask pick is surgical masks, and we'll explain why below.)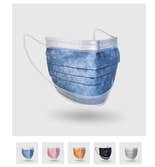 FDA-listed • 50 Pack • Multiple Colors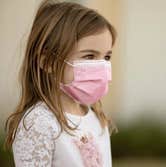 FDA-listed • 50 Pack • Multiple Colors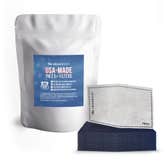 30 Pack • 99.2% Particulate Filtration
No one knows when COVID-19 will end, but with this face mask guide, you will hopefully come out the other side a little more informed and less overwhelmed.
The best face masks follow the 3 F's
1) Fit
Choose a face mask that creates a tight seal around your nose and mouth. Ideally, you want a nose clip of some sort to keep the mask in place. Not only is this the most protective option, it's also the most comfortable. You're less likely to be tugging your mask back down your face all day and you won't have leaks that could transmit particles. If you're able to breathe out of the sides of the mask, it is not doing its job. Adjust and try again.
2) Fabric
The fabric of your mask matters for a lot more than just comfort. Your mask's fabric must be tightly woven to offer solid protection. Polypropylene, which is made of plastic, is the best material because it holds an electrostatic charge that traps aerosol particles. This is what most medical PPE is made out of.

For reusable options, a study examining different cloth masks concluded that cotton is far superior to most synthetic fabrics. Cotton's natural fibers have a three-dimensional structure, while synthetic fibers are smoother. The three-dimensional structure is better at particle filtration than the synthetic fibers are. But cloth masks had 2 to 38% filter efficiency on their own, and are really only effective when you place a filter made with—yep, you guessed it—polypropylene.
3) Filter
As mentioned above, the filter is the most important part of the mask because it's what keeps particulate matter from traveling and COVID-19 is an airborne virus. It's also only .01 microns big, which means that even masks with 95 percent filtration rates aren't tight enough to totally block it.

There are two types of filtration systems that face masks offer: one-way or two-way barriers. Two-way barriers are most effective because they prevent particles from traveling either direction, meaning you're protecting yourself and others. Using a process called meltblown, the electrostatic charge in polypropylene is what traps particles in the filter of the mask. Most cloth masks and other non-medical masks have a one-way barrier, which means you're only protecting others and not yourself.

Earlier on in the pandemic people were making their own mask filters from everything from coffee filters to vacuum bags. You can still make your own (although they are not recommended if you enjoy breathing) and it may filter large droplets containing COVID particles. However, these materials do not trap aerosolized COVID particles because there is no electrostatic charge. Keep reading to find out why that's so important.
Every type of face mask, from worst to best
Gaiter mask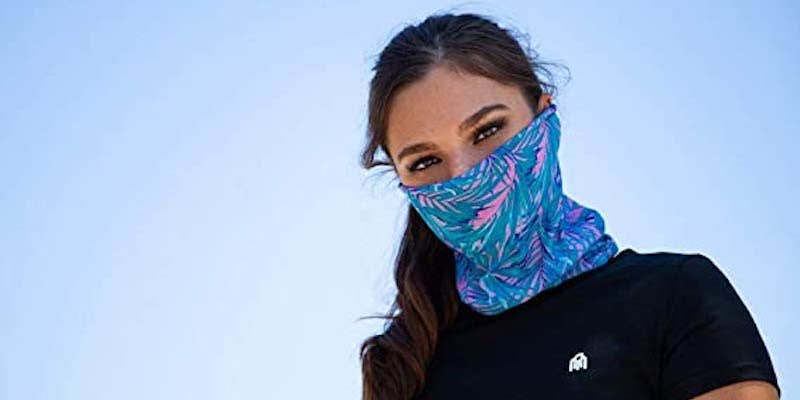 Safety level: Low/average
Available to general public: Yes
Where to buy: Amazon
Particle filtration rate: N/A (Not enough studies have indicated)
The gaiter mask is a controversial topic at the moment. One Duke study led news outlets to report they were worse than wearing nothing at all. The reasoning was that the gaiter's porous texture can force COVID particles into smaller sizes. While an N95 mask transmitted below 0.1 percent of particles, the gaiter mask transmitted 110 percent. These can linger in the air for a longer period.

However, doctors disagreed with the information. They said the fabric type and design could yield varying results in such a study, as Duke only tested one fabric type and design. Others said more people would need to be tested since masks sit differently on each face. People also produce differing amounts of droplets while talking, so a study taking these additional elements into consideration has not been published yet.

Gaiter masks are often made with synthetic materials. As mentioned above, these reusable face masks are not as effective as cotton when it comes to blocking out coronavirus particles. If you do wear a neck gaiter, try to find a cotton one with a tight weave. If you can't find any info about the weave, keep looking.

So are gaiter masks safe? With the little information we currently have, it's hard to say. They are likely better than nothing, however other masks on the market offer a higher level of protection. Those options may not be as cute as a patterned gaiter. But if I have to choose between fashion and function, in a pandemic, I'm choosing the latter. If you still insist on a neck gaiter, at least fold it so it's double layered over the nose and mouth. This offers better (albeit still not great) protection compared to a single layer of fabric.
Cloth mask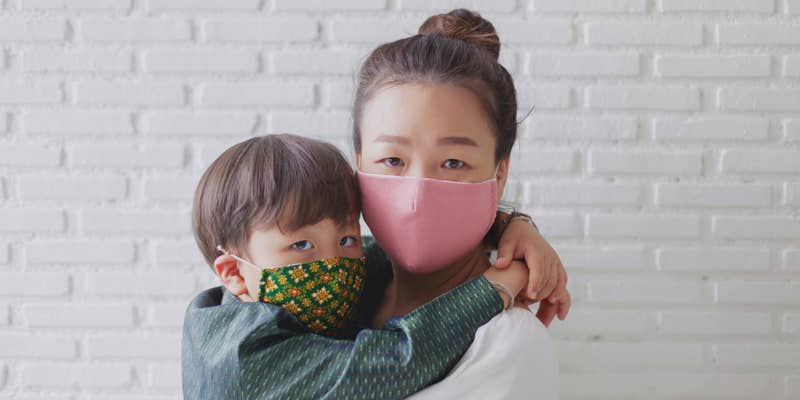 Safety level: Low/average depending on filter use
Available to general public: Yes
Where to buy: Amazon
Particle filtration rate: 2% and up
Cloth masks have become a popular pick for reusable face masks during the pandemic. You can choose any color or pattern you want, so you can express your style. They're inexpensive and easy to wear. They're also comfortable, washable, and come in soft fabrics like cotton.
On the flip side, cloth masks cannot provide the level of protection that you'll get from a surgical mask. The CDC says cloth masks "should be used as a last resort when medical masks and respirators are not available."
If you do choose a cloth mask, fabric should be a major consideration. MIT says that two to three layers of fabric is the way to go–and even then, you'll want to add a filter. A cloth mask can have as low as 2 percent filtration rate on its own, which is just not enough. A recent study shows that filters made of polypropylene are most effective. These researchers found adding a polypropylene filter to your mask can boost filtration efficiency by 35 percent.
Disposable mask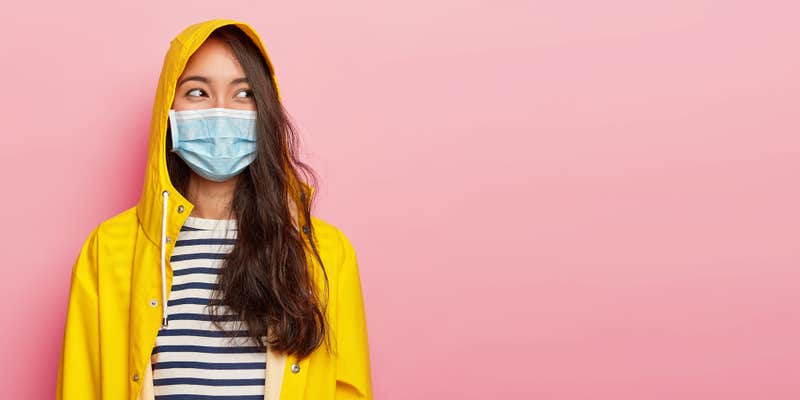 Safety level: High if FDA registered
Available to general public: Yes
Where to buy: Walgreens, any retailer
Particle filtration rate: Up to 38%
Disposable masks are the ones you see on big-box retailers' shelves and flooding Amazon listings—which you should be wary of for multiple reasons.
First, it's really easy to mistake a disposable mask for a surgical mask. At a glance they look very similar. Many of the dupes are also packaged in the kind of box you'd see in a hospital. If you aren't fully informed about how to identify the differences, you can end up wearing a mask that is doing very little to protect you.
The way a surgical mask is made and regulated is wildly different from a disposable mask. In fact, there is no regulation for a disposable mask. However, that doesn't mean that disposable masks are useless if that's all you can get your hands on. They're just a gamble when there are much safer products available.
Disposable masks block large water droplets, but not a .01 micron virus like COVID-19. These one-way barrier masks do not trap small airborne particles caused by coughing or sneezing. To get that level of protection you'll need a mask with a fabric that creates an electrostatic charge. And since disposable masks fit loosely on your face, especially those without a nose wire, this can be a problem.
Surgical mask

Safety level: High
Available to general public: Yes
Where to buy: Armbrust American
Particle filtration rate: 98%
If you want the safest option when it comes to a mask, surgical is the way to go. Unlike the prior masks here, surgical masks must pass some high standards before they hit the market. Registering a surgical mask with the FDA requires multiple third-party tests that proves they meet the minimum filtration rate of 98 percent. This process includes testing fluid resistance, filtration efficiency of both particles and bacteria, flammability, and biocompatibility. The process is also a costly, time consuming one, typically running the manufacturer thousands of dollars.
In order to ensure that your mask is FDA-registered and has passed this battery of tests, you need to look for a few things. First is an ASTM Level II rating, which is the gold standard for surgical masks. You can also check the FDA's list of registered manufacturers to make sure the mask you buy was made by one. If you want the highest level of safety and do not have access to N95 respirators, this is the mask you should wear.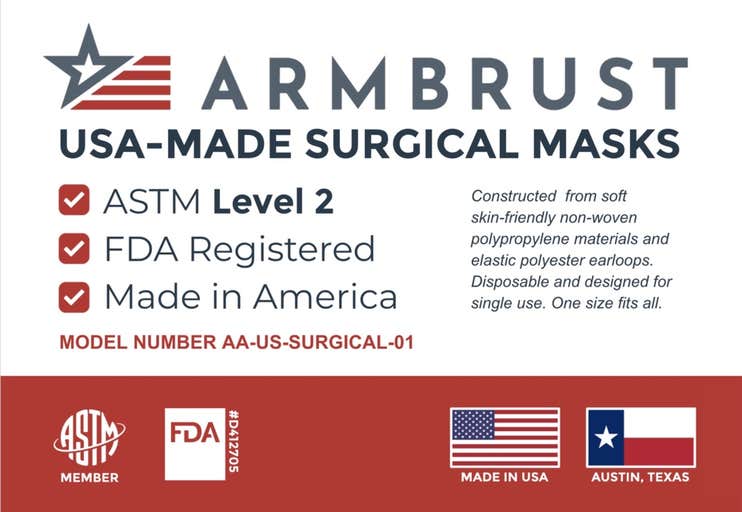 It shouldn't require so much work to verify a mask's credentials, so you might be glad to know there is a U.S.-based mask manufacturer selling them already. Armbrust American makes its masks from a sterile environment in Austin and sells them to both the medical field and directly to consumers. Even better, its masks offer 99.2% bacterial and particle filtration. And they're made of melt-blown polypropylene, which you now know is highly effective.
Use the code DAILYDOT to get 20% off your entire order. May as well stock up––we're going to be wearing masks for a while.
The N95 respirator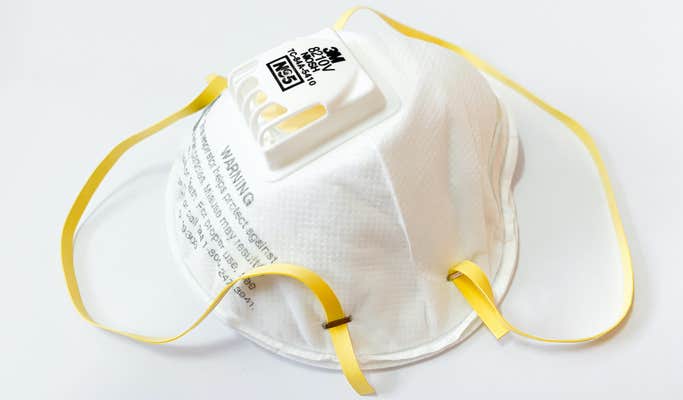 Safety level: High when properly fitted
Available to general public: No
Particle filtration rate: 98%
N95 respirators are the most effective form of protection, which is why some medical workers wear them. When properly fitted to create a tight seal around your mouth and nose, they block 98% of even the smallest air particle aerosols.
While the FDA must clear all surgical masks, N95 respirators must also pass an additional certification test at the National Institute for Occupational Safety and Health (NIOSH). NIOSH-approved respirators have an approval number, which is not on the mask itself but on a label in the package it comes in (see illustration below what to look for inside your respirator).
Some N95 respirators have exhalation valves which makes breathing easier while wearing them. However, these will not work in a sterile environment such as an operating room because they allow the wearer to breathe out unfiltered air. If you're wearing the highest form of PPE, it's simply not as easy to breathe––hence why the respirator is doing its job.
Major N95 respirator manufacturers such as 3M do not sell PPE to the general public. Keep in mind that a PPE shortage continues to threaten the safety of medical workers. If you aren't a medical worker, it would be best to leave N95s on the shelves for people who need them most. (You're not likely to find them at this point in the pandemic anyway.)
It's a little overwhelming, but hopefully knowing more about masks will equip you to make the right choice for yourself. Even better, if you're educated on how to keep yourself safe, you can help protect others around you. Mask up, take a deep (filtered) breath, and just remember: we'll get through this.
---
Mask up: Read more to stay safe
The Daily Dot receives payment for sponsored content. Interested in promoting your brand or product? Email us at [email protected] to learn more.