Following the release of the much-anticipated Battlefield V trailer, some gamers were angry—and by angry, I mean absolutely enraged—with what they saw as "historical inaccuracies" in the game, namely the inclusion of women (and Black people) as characters on the frontlines of the World War II.
Kotaku reported Thursday on some of the incensed comments coming from the gaming community via Twitter, many using #NotMyBattlefield.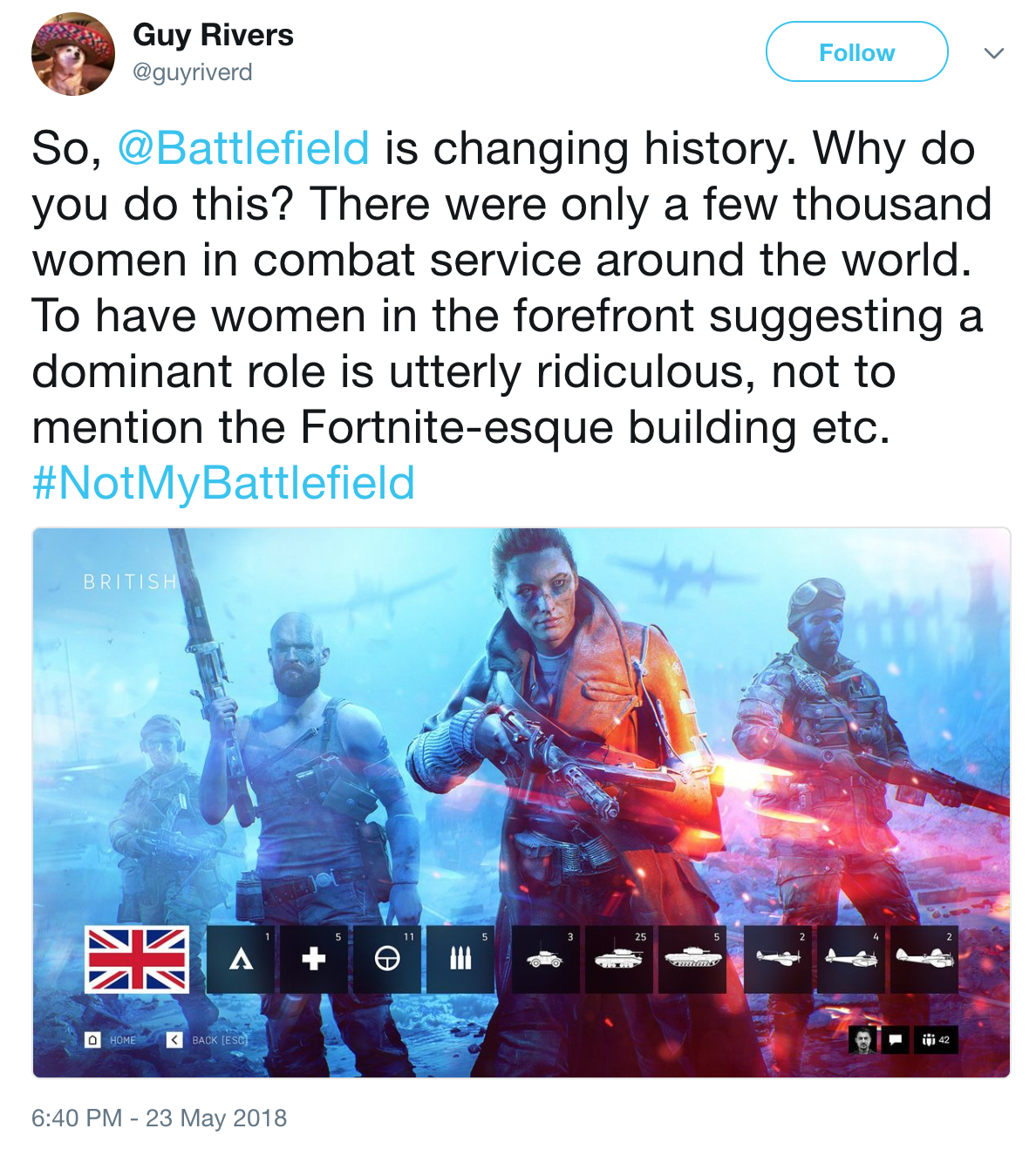 YouTube and Reddit had much of the same, with commenters complaining about "social justice warriors" and "political correctness."
The main argument is that women didn't fight during the war, which is true only if you don't count the hundreds of thousands of women who served as support personnel, the Soviet women's air force unit, and secret agents like Nancy Wake.
But it's hard to see how the cries over "historical inaccuracies" are anything more than a flimsy front for outright sexism and racism when—historically speaking—the Battlefield games (and most war-themed video games, for that matter) have never promised to keep things true to life.
"Battlefield has abandoned historical accuracy for political correctness" pic.twitter.com/OpCRFV2zV8

— David Milner (@DaveMilbo) May 23, 2018
Kotaku editor Luke Plunkett drove home the point that women characters are perhaps the aspect least threatening to the game's historical accuracy: "Any idea that this, of all things, is what shatters the credibility and historical credentials of a series that has long reduced the war to endless skirmishes between jeep-flipping, plane-crashing brave soldiers named 69XX_cvmlauder_xx69 is insane."
The game's executive producer, Aleksander Grøndal responded to the torrent of criticism on Twitter, saying the game makers "will always put fun over authentic."
We will always put fun over authentic :) https://t.co/JGLfZh7CfO

— Aleksander Grøndal (@Alekssg) May 24, 2018
H/T Kotaku