The chairman of the world's leading pasta company incited an Internet boycott against his product Thursday. After Guido Barilla publicly announced that his company would refrain from using gay couples in their advertising, a boycott of the company's products started on Twitter with the hashtag #BoycottBarilla. Images that mocked the company's sentiments went viral.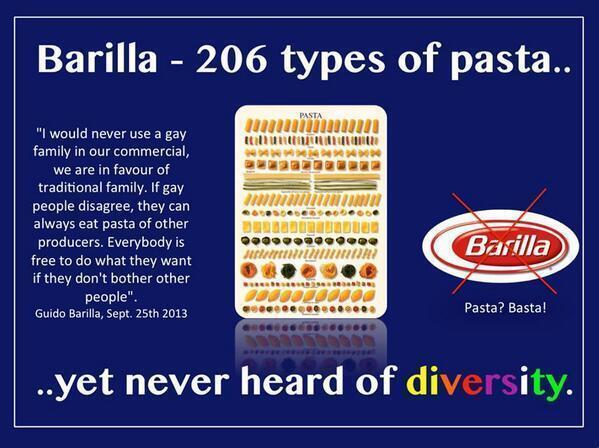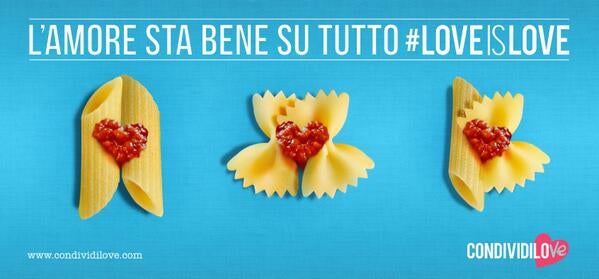 Following the backlash, Guido Barilla attempted to reverse course by asserting his tolerance—but ended up making things worse when in a statement he excluded gays from his definition of the word "family."
The controversy began with Barilla's statements, which were translated in English, "I would never do [a commercial] with a homosexual family, not for lack of respect but because we don't agree with them. Ours is a classic family where the woman plays a fundamental role." As the head of the company, the Barilla chairman stated he was against adoption by gay couples and indicated that the image of a gay couple was not consistent with the company's motto, "Where there's Barilla, there's home."
Barilla pasta is no longer bought or served in this house. #boycottbarilla

— Sophia Petrillo (@Sophia_Robot) September 27, 2013
It didn't take long for a parody on YouTube to emerge. Jacob Soboroff attempted to make the gayest Barilla commercial possible:
Gay and straights alike went after the corporation for their homophobic remarks. According to one American news network, the Italian gay rights group Equality Italia immediately came to terms with the company's wishes, stating consumers who were against the pasta manufacturer's homophobic statements were happy to spend their money elsewhere. The boycott would appear to fulfill Barilla's wishes, as their chairman clearly stated, "They can always eat another brand of pasta. Everyone is free to do what they want, provided it doesn't bother anyone else."
Predictably, following a backlash online, Barilla tried to undo the damage he'd done by releasing a statement:
With reference to statements made yesterday, I apologize if my words have generated controversy or misunderstanding, or if they have hurt the sensibilities of some people. In the interview I simply wanted to highlight the central role of the woman in the family.
Destroy your brand: 1. Say something homophobic 2. Issue double-if apology 3. Sprinkle misogyny on top #Barilla

— Ebony McKenna author (@EbonyMcKenna) September 27, 2013
#boycottbarilla it's not bad enough that u don't believe gay marriage is a family unit but saying a woman belongs in the kitchen #sexist

— Kmayer (@mayer_kari) September 27, 2013
Yet another reason to go gluten free… #boycottbarilla

— Kate Mara (@_KateMara) September 27, 2013
In the past, when a company made bigoted remarks in public, it may have been quickly swept under the rug, but in the digital age, the discrimination is far less likely to go unnoticed. The Internet's memory lasts forever.