Evoking 1995's Million Man March, the hacker collective Anonymous has announced the Million Mask March, which it hopes will prove to be the "largest mass protest in human history." 
The event is set to happen on November 5, Guy Fawkes Day, on the National Mall in Washington, DC, but with satellite gatherings around the world. 
Talk about a clash of memes: The Million Man March was a civil rights gathering sponsored by the Nation of Islam, Louis Farrakhan's Muslim denomination. It was praised for uniting black men in on a large scale for the first time in decades. But it was also criticized by women for being exclusionary in terms of gender, and by Jews and Christians for being religiously exclusionary. 
Anonymous likewise has been praised for making non-violent protest high profile again, but has also been criticized as mindless teen vandalism and terrorism-adjacent useful idiocy. 
But Anonymous runs on the power of persuasion. Anyone can claim Anonymous "membership" (metaphorically speaking) but "ops," as individual Anon campaigns are called, thrive and grow only when they capture the imaginations of enough people. 
This event is hubbed around the DC gathering, to take place on the National Mall, at which activists hope to see the titular million attendees. In the wake of the Million Man March, which many believe did hit the million mark, the Park Service stopped counting attendance at events in national parks, under which the National Mall falls.
Sometimes, it seems, those laboring in darkness by themselves, connected only by the cathode glow of a MacBook Pro just need to get together and party. 
That is not to backhand the mission of the gatherings. Real human contact is crucial to human well being. But the organizers (such as these things go) have a serious mission, as communicated by a message on the Facebook page: "To remind this world what it has forgotten, That fairness, justice, and freedom are more than just words."
Among the topics to be addressed are electoral reform, Constitutional rights, nutrition, violence against children, big pharma, and food safety. 
"Anonymous was never alone," said the organizers on their video announcement. They anticipate that other groups, including Occupy, will join them. 
"Absolutely no violence will be tolerated," say the organizers. "Please be respectful as there may be children present and or in the area no drugs, no alcohol out of respect for the kids." 
Another odd harmonic the gathering faces in terms of public apprehension is the mask itself. In some places, including Washington, D.C., it is actually illegal to gather while wearing masks, but Anonymous is best recognized for that mask. It is, in a sense, a physical manifestation of the "brand."
The "Guy Fawkes" mask is best known from the movie V for Vendetta (based on an earlier tradition of Guy Fawkes Day effigy burnings), which celebrates the 16th century English rebel behind the failed Gunpowder Plot. Fawkes did not wish to destroy hierarchy. He hoped to restore Catholic rule to Protestant England—in a sense, a step back in time and steeper into hierarchy. An odd symbol for a flattened, non-hierarchical group. 
But, like the Occupy movement, Anonymous thrives on contradictions. It has a crass vocabulary including "fag," and nonetheless often supports gay rights. It's widely considered by most of the public as a group of "hackers," despite the fact that most of its members are nothing of the sort. They are perhaps digital natives, or at least digital naturalized citizens. 
The "Official 'There Is No Official' Site" (disavowed by those who run the official Facebook page for the event) includes a map of 328 other locations around the globe where Anons plan to gather.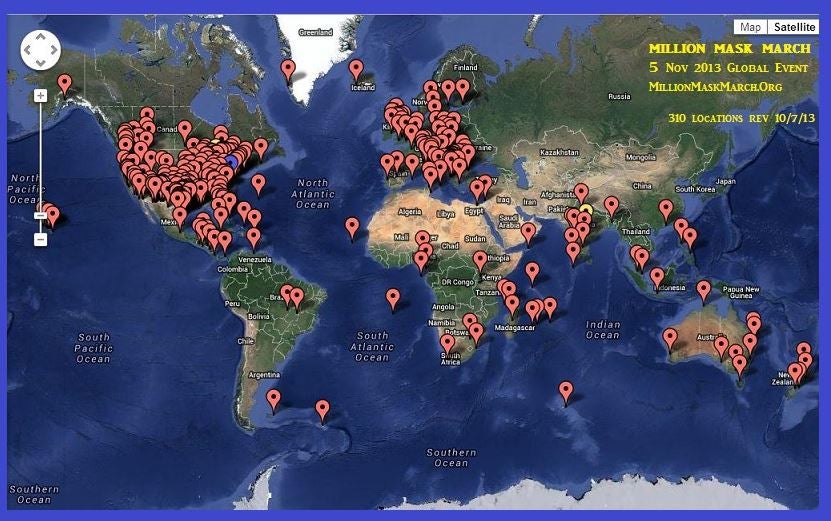 We asked march organizer John Fairhurst whether he is anticipating difficulties with the police, or with the possibly philosophically heterogenous attendees, but have yet to hear back from him. 
Not all Anons believe such a public display is so valuable.
"I feel like this is another failed attempt to bring something about on November 5th, like every year," one Anon who wished to remain, well, you know, told the Daily Dot. "It's Guy Fawkes Day, that's why some folks think it's special. Oldfag anons don't really give a fuck." 
H/T RT | Photo by ChungkingExpress-2006/Flickr