If you've ever driven down Interstate 95 in Western Idaho, chances are you've noticed a giant beagle. Actually, two: Next to the giant beagle is a slightly less giant beagle. The two dogs sit next to each other in a large green field, neighboring little else. No one could blame you if you thought these structures were just roadside attractions, but they're actually the Dog Bark Park Inn.
The Dog Bark Park Inn, distinguished by a sign worn by one dog that reads "I'm a B'n'B," is owned by husband and wife Dennis Sullivan and Frances Conklin. They're both chainsaw artists who specialize in carving (you guessed it) wooden dogs. Eventually, the couple saved their money and graduated to carving the giant dogs that would serve as the bed and breakfast, and a way to showcase and sell their art. "It had to be a beagle!" Conklin tells me when we spoke about her unusual hotel, which opened in 1997.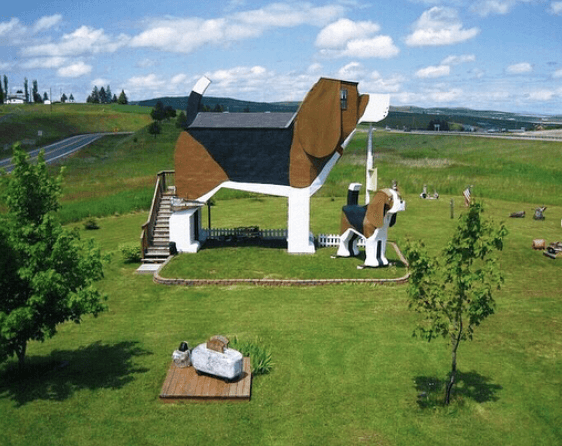 The hotel has been using Airbnb for more than 10 years—basically since the company's launch. "We were courted by Airbnb—I had never heard of them," Conklin says. "They said, 'We'd like to list you, would you consider it?'" It took a while for the Airbnb bookings to start, she says, but over the years they've steadily increased. "It brought us a different demographic of guests." They skew younger, she explains, and they're Instagram-happy. "These younger Airbnb users are taking lots of pictures of it." 
The social media attention has made a major impact. The Golden Girls-themed Airbnb that recently went viral enjoyed the same experience. Creator and host Lori Thompson told me that her rental had been on Airbnb for a year, largely overlooked, and it wasn't until recently that the blogosphere found it and bookings skyrocketed. 
Conklin has noticed that travelers seem to be looking for more than a comfortable place to stay at an affordable rate; they're looking for experiences. Everyone wants an aesthetically friendly adventure. Airbnb is clearly happy to deliver, not only with themed and novelty accommodations, but with its Experiences feature. Airbnb launched Experiences in 2016 to accompany accommodations. Experiences included tours, classes, day-trips, and other locally curated adventures. Initially, Experiences had a slow start, but in recent months has penetrated the industry significantly, even if it is still something of an experiment.  
While skeptics argue that Airbnb isn't exactly the threat to hotels that some may think, others believe it will determine the evolution of travel and travel booking. In any case, the platform itself is growing wildly and enjoying financial success: The company recently reported that its second-quarter revenue was more than $1 billion, and a 2020 IPO is looming (a move that has been much-anticipated for the company's employees). That growth means Airbnbs are in more places than ever before; even in many "off the grid" areas, users can almost always find a handful of Airbnbs to choose from. The options become greater the bigger the city: In major metro areas, users have a huge array of places to choose from, which translates to increased competition among Airbnb hosts. Offering a bed, a bathroom, and some Wi-Fi isn't enough anymore. On Airbnb, you need to stand out among the in-law units and turnkey studio apartments. 
…
Abigail Long is the public relations director for AirDNA, a market research firm that analyzes Airbnb data. She, like everyone who's taken even the most distant of looks at the tourism industry, emphasizes that experiences are increasingly important to travelers. Long adds that Airbnb's focus on unique travel also speaks to its evolution from overnight room-renting service to holistic travel agency. "It's really important for hosts, if they want their vacation rental to do well, to make sure they're offering more," she says. "What's the experience they're offering?" 
Long says she's seen a rise in the number of listings that offer a unique experience and in "professionalization of the sector as a whole." Certainly Airbnb the startup and Airbnb now are incredibly different companies: The first Airbnb ever booked was an air mattress. Now consumers regularly turn to the service to book international villas. Early hosts used it as a way to rent out their spare bedrooms and earn some extra cash. Now, many hosts earn their entire livelihoods through the site.
It isn't just hosts who are changing: According to a Morgan Stanley report, who uses Airbnb and its market standing are as well. Airbnb users tend to be wealthier than people who stay at hotels, which is certainly a swap from how the couch-surfing platform used to function.
Airbnb's biggest change has less to do with quality and more with quantity. The platform now boasts more than 7 million homes in more than 100,000 cities worldwide. It's more likely you'd be hard-pressed to find a town without one. Airbnb availability has massively multiplied, meaning there's more competition for hosts to stand out. "With such huge increases in supply now, vacation rental hosts need to offer something original," says Long.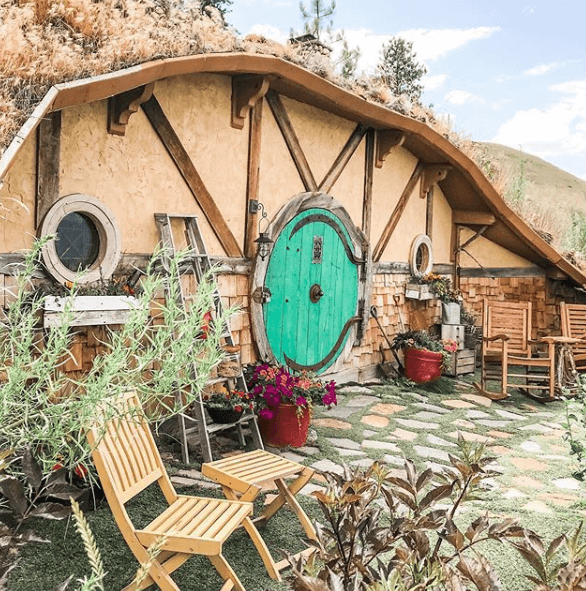 It's not only potential guests that hosts need to attract; it's press. Websites like Travel + Leisure, Today, and Narcity regularly round up unusual Airbnbs, including, most recently, the Downton Abbey rental. (Anyone who has an "Airbnb" or "this Airbnb" Google alert turned on is well aware of how many buzzy stories like these surface every week.) These blog posts make for great clickbait and internet chatter, but also send ample traffic to the respective hosts' Airbnb pages. Conklin says these kinds of articles resulted in a spike in bookings for their beagle business, and she's hardly alone. Kristie Mae Wolfe has had so much repeated success with her uncommon Airbnb builds that she's made a career out of creating them. In 2014, Wolfe completed work on a treehouse in Hawaii; she figured if she could rent it out on Airbnb for eight days a month, it would replace her then-income. "If it didn't work out, then I would have an amazing treehouse in Hawaii for my friends and family," she says. But it did; it was immediately booked solid. Then, Wolfe started working on her next Airbnb build: "an underground Hobbit Hole in Washington." 
Both of these Airbnbs are stunning—and extremely popular on the platform, for good reason. But it's likely Wolfe's latest build that's been the most attention-getting. The Big Idaho Potato Hotel made its debut this year, but became popular even before it was available to book. "It went viral before I was even finished, so we've just had a ton of people since day one," says Wolfe. The Big Idaho Potato Hotel is essentially a tiny house that was originally towed around the country on a semi-truck to promote the state's famous crop, and perhaps spur a bit of novelty tourism. (It even visited the Dog Park Bark Inn.) Now, it sits in a field near Boise and rents for $200 a night. It could probably go without saying that the Big Idaho Potato Hotel is massively popular on Instagram as well. 
An Airbnb that made the internet rounds more recently is this "Spacious Vacation Home Breaking Bad House." The New Mexico house was a filming location for the popular TV show—attentive fans will remember it from the third episode of season 5—and it's hosted by father and son duo Sam and Ben Lyman. When the poor health of a family member prompted them to relocate, they decided to rent the home on Airbnb instead of selling it. "We knew the fantastic history this house has and didn't feel right about simply selling it to someone who may not really understand that history," Sam tells the Daily Dot. "So we came up with the idea of turning it into a vacation rental so that many people could enjoy it." 
Since the listing went viral, Sam says bookings have come in from all over the world. Certainly the Breaking Bad home is enjoying this popularity, and its celebrity helps it rise above the fray. That's what makes Airbnb a challenging place for hosts but an excellent one for guests. "Competition is exactly what makes Airbnb a really great platform for vacation rentals. Everyone wants to be the best. Finding your edge above the competition is unique to each property," Sam says. "Some accentuate their easy-to-get-to location, others have a very low price, while others have a swimming pool."
Sam says that while he and Ben haven't invested in another Airbnb property yet, it's worth considering. Sam mentions he's tempted by the idea of an aviation-themed Airbnb. "I work as an international medical pilot, so having airplanes, jets, runways, and helicopters would be right up my alley," he says. "It would be great to turn the Airbnb into a destination on its own, so people come just to experience the property."
To Sam's point, it's interesting to wonder if the trend of novelty and themed accommodations will impact not only the platform that travelers turn to, but also what their vacation priority is: Will finding a cool, Instagram-friendly hotel or house come first, and location second? 
…
The Instagrammization of travel (really, the world) can't be overstated. According to a 2017 U.K. survey by a travel insurer, 40% of people under age 33 choose a vacation based on "Instagrammability." (The industry surveys and reports on this subject are many.) Whether people are being driven toward more experiential, aesthetically driven travel choices because of Instagram or that these sort of tourism choices are what drive Instagram usage is a chicken-or-egg situation. Either way, it's changed travel. 
AirDNA's Long mentions the Netflix show Stay Here, which coaches viewers on how to turn Accessory Dwelling Units (ADUs) into popular, eye-catching Airbnbs. "One of the hosts always talks about 'your Instagram moment,'" she says. "He basically says every rental needs to have that place of that space, whether it be outside or a lovely design on the wall, or a unique sculpture, that will encourage people to take photos—and to share those photos online." Boutique hotels are getting in on this game, too: Look no further than the use of over-the-top signage, eye-catching wallpaper, and floral walls that serve as popular backdrops in many modern hotels. Long says she's even seen some Airbnb hosts coming up with hashtags for their rental homes and encouraging guests to use them with their Instagram posts.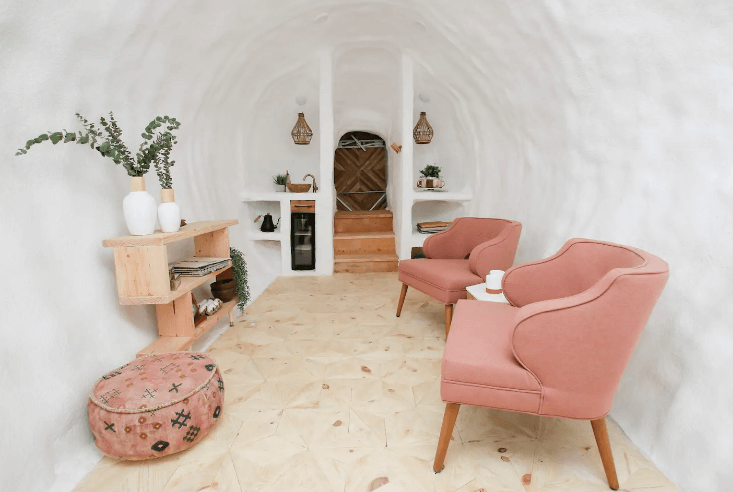 There is more than anecdotal and media-based evidence to support the theory that themed travel accommodations are on the rise. According to AirDNA data shared with the Daily Dot, from July 2018 to July 2019 there was a 79.1% year-over-year rise in U.S. listings that included the word "theme" in their titles. General Airbnb U.S. growth was obviously also significant; all U.S. rentals increased by 20.1% during the same time period—but that still means the uptick in themed units is more than considerable. 
AirDNA was also able to find some of the most popular themed Airbnbs, including this homage to Harry Potter, this one that's dedicated to Marvel, and this "Mexican-themed" casita. Of course, AirDNA's data is limited to listings that include the word "theme" in their title, which means the most popular Airbnb in the world, the Mushroom Dome Cabin, won't show up. (The fact that that's the world's most popular Airbnb alone is incredibly telling.) And units like this seashell house or Dorothy's cottage or a Mississippi pirate ship won't show up either—which suggests the amount of novelty Airbnbs is likely much larger. 
And that number is likely to grow: Airbnb recently announced a new partnership with Atlas Obscura to bring more unique experiences and stays to its platform. These offers are currently focused on single and multi-day tours (some of which include accommodations), but the interest is indicative of what's increasingly popular and successful for the vacation rental company and its hosts. 
The company is also making a new effort to point out its interesting rentals. "Starting September 22, we will be launching a multimillion-dollar marketing campaign celebrating our unique hosts and promoting the benefits of hosting in markets around the United States," Airbnb recently announced. The campaign includes TV and digital ads.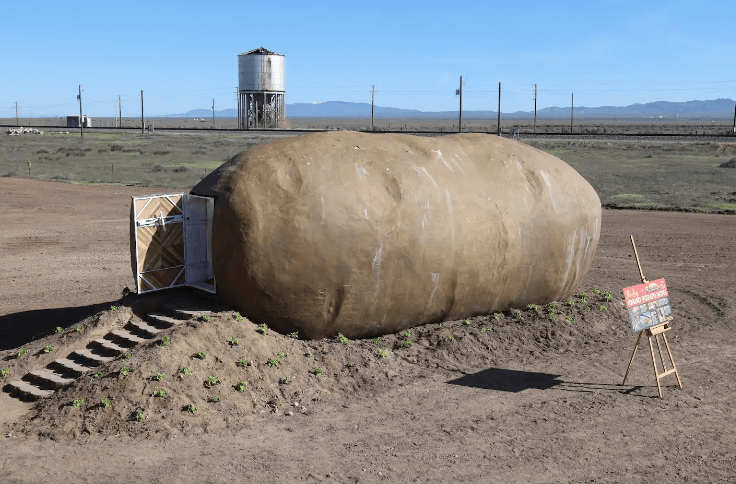 The obsession over aesthetics surely isn't going anywhere, and Airbnb will continue making it easier for creative property owners to offer guests Instagrammable, unique backgrounds to complement their travels. "It does seem like there is a shift toward collecting experiences over things," says Wolfe. But, she points out, maybe it's not really the madness that's new, but the methods supporting it. "I think that existed in the '70s as well as now. We just have the hashtags to make it finding your tribe easier."