Not all Airbnbs look exactly like the photos shown on their listings online, but one traveler was unpleasantly surprised to find that the Airbnb he had rented was actually large bathroom with a bed.
In a tweet posted Monday, David Holtz (@daveholtz) shared that when he arrived at the Airbnb he rented, he found that "the whole space is essentially just a large-ish bathroom that the host put a bed into."
A photo showed a room with a sink, shower, toilet, and bed crammed into a small space with tiled floors and walls.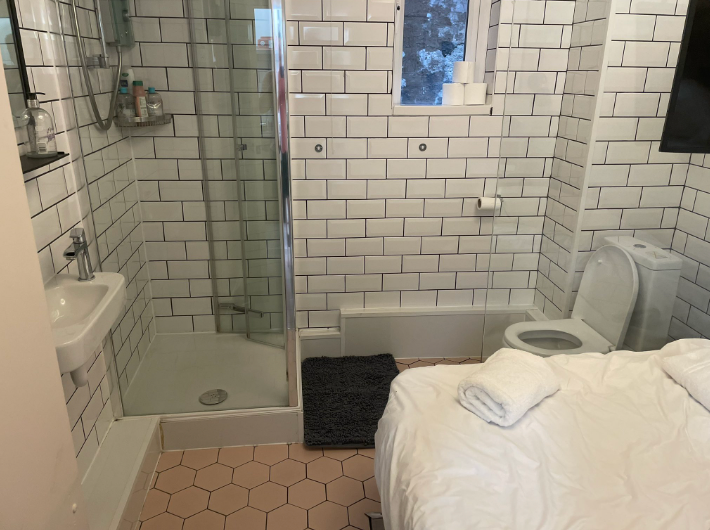 Holtz is an assistant professor of business at the University of California, Berkeley. His tweet, which was made private by Tuesday, received millions of views and many comments joking about his predicament.
"Airbnpee," @tperzyk replied, referencing the prominence of the toilet in the room.
"Don't forget to close the toilet seat for your nightstand functionalities," @frogtwitt tweeted.
Others tweeted that the situation marks the downfall of Airbnb. MarketWatch reports that Airbnb occupancy has declined across the country after COVID-19 peaks and oversaturation of hosts.
"AirBnB is definitely dying, the question is when," @nirsd replied.
"What's gonna take for people to finally ditch AirBnB?" @nvictorme tweeted. "I did 4 years ago. Best decision ever. Never a single bad experience staying at hotels."
As reported by the New York Post, Holtz tweeted that he slept in the aforementioned Airbnb for two nights and that his initial correspondences with the company's customer support weren't fruitful. Holtz did not immediately respond to the Daily Dot's request for comment.
Airbnb, however, replied to his viral tweet asking for the email associated with Holtz's Airbnb account so its customer service team could "can take a closer look."
In a statement to the Post, Airbnb said that its "customer service team has been in contact" with Holtz.
"We encourage guests to review all photos, as well as the description and reviews, prior to booking a stay," the company said.


We crawl the web so you don't have to.
Sign up for the Daily Dot newsletter to get the best and worst of the internet in your inbox every day.