Listen up: It's cool to own a stuffed animal—even when you're an adult. 
While most of us spent our Fourth of July holiday weekends watching fireworks, one Tumblr user was searching for her best friend. 
Twenty-one-year-old Mitchie, a.k.a. Tumblr user likesdinos, digs "dinosaurs, kittens, rainbows, and hugs"—and Homestuck, the sprawling multimedia webcomic. Mitchie also likes bunny rabbits, and a very special one in particular.  
On Friday, Mitchie went for a bus ride, only to discover later that something dreadful had happened. Mitchie promptly turned to Tumblr for help:
Hello I am an adult with an anxiety disorder and I lost my comfort item.

My bunny is named Blue Bunny and she is my most important thing in the world. I would go without water sooner than I would give her up. I got her 18 years ago and she hasn't slept without me since. Her ears and paws are threadbare in places, and her head is floppy and soft.

…

Please PLEASE signal boost this. I have contacted the bus company but they haven't found her and I'm scared.
This message quickly attracted the attention of sympathetic Tumblr users, many of whom deeply related to her love for her missing rabbit. Five days and nearly 70,000 notes later, the search for the obviously well-loved bunny has finally paid off. "There is a potential lead on my Blue Bunny!" Mitchie reported last night. "Let's cross our fingers that this person is serious!"
Even if the lead proves to be a dead end, Tumblr may have provided Mitchie, and the rest of us, a surprising source of hope in the form of a brand-new blog. Adults With Stuffed Animals claims to be simply "inspired by the loss of a blue bunny." Despite being only three days old, it's already filling up with submissions from users eager to share their own beloved "comfort items," from bunnies to blankets.
"This is my bunny," reads one submission. "It one of the best ways I still remember my grandmother."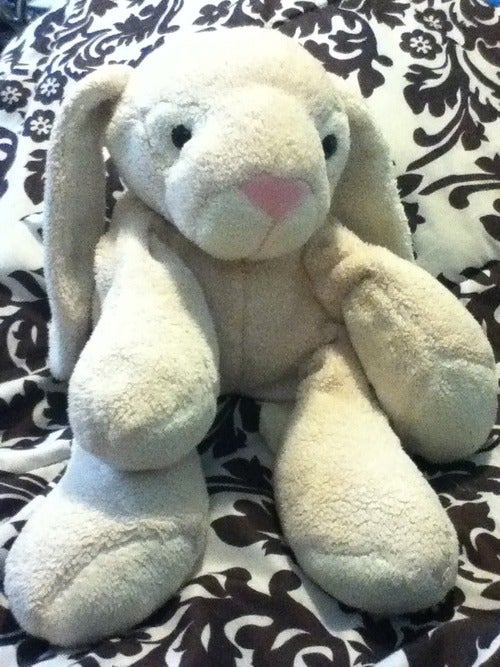 Another post shares the same sorts of love-worn details that Mitchie's original post provided:
My girlfriend has a really old lamb plush, Bobby, that she has had since she was a baby. The satin from his ears is long gone and you really can't tell he was once a lamb at first glance. She holds him during bad weather and when she's upset. I recently bought her another lamb for her birthday, just in case he falls apart soon.
Adults With Stuffed Animals is more properly titled Adults (and Teens) With Comfort Items. And there's a range of both ages and items. Battered safety blankies are here, but so is a precious journal filled with encouraging words, and a very special ball-jointed doll. Mostly, though, there are stuffed animals, both bedraggled and new.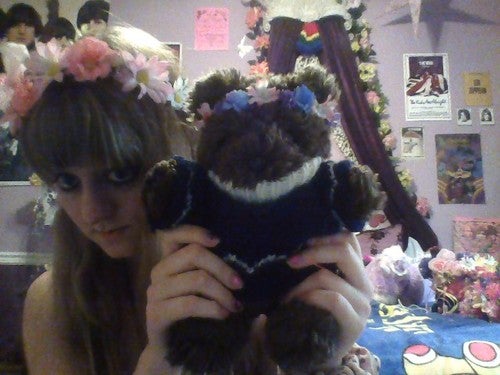 this is my bear huckleberry and he's from yellowstone a long while back and when i have panic attacks i squeeze him and rock until i calm down and he comes with me on long trips or vacations and spends every night with me in bed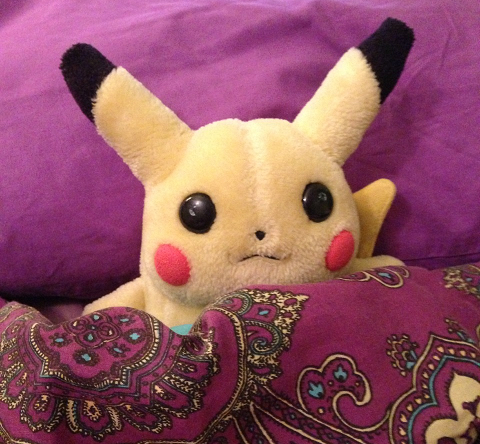 Pikachu and I "met" when I was four years old. I'm nineteen now, and in fifteen years we haven't spent a single night apart.
The new Tumblr won't help get Mitchie's Blue Bunny back. But it does provide a surprising and, well, comforting level of insight into the psychology of "comfort items" and the common rationales that people have for keeping them well into adulthood. Contributors to the blog mention that their comfort items help them combat everything from nostalgia to loss of a loved one to panic attacks. "I don't get what the stigma is of adults with stuffed animals, really?" queries a girl in her 20s who proudly clutches her stuffed tiger. 
Three of my most precious stuffed animals came as gifts from my PARENTS when I was a little girl. They're important to me and they have a lot of memories attached to them. Why would I want to throw things out just because I get older? Do my parents suddenly matter less because I'm in my 20s now? I don't think so. And if that's what you think, that stuffed animals matter less as items of comfort from loved ones because you're an "adult," then I feel sorry for you. 
If Adults With Comfort Items can serve a purpose, perhaps it will be to make the owners of such items feel even safer.
And perhaps it will bring Mitchie a bit of security—which hopefully that Blue Bunny will soon provide once more.
Update 2:19pm, July 29: This article has been updated to remove and clarify personally identifying information.
Photo via likesdinos