The isolation of the coronavirus pandemic upended people's lives—and made internet connection even more essential. In Access to Care, the Daily Dot asked TikTok mavericks and Reddit newbies how they give and receive healthcare and community support online, a year into the pandemic.
In these stories, therapists turn to TikTok to reach audiences at home, unemployed workers find support on Reddit, Black college students grapple with lack of community on a virtual campus, and young consumers order birth control via Instagram. The winding, and sometimes invisible, thread of Access to Care links them together.
---
As a 65-year-old former Catholic school teacher, Lisa Lancaster logged onto Reddit for the first time in January in search of help filing for unemployment benefits and was surprised to find a community of individuals across the country assisting each other through a very hard time.
For many who have lost their job during the pandemic, the internet offers solidarity in the form of Facebook groups and subreddits dedicated to helping others stay afloat during hard times, answering unemployment questions, and offering useful phone numbers to bypass long hold times for states' unemployment lines.
One of the biggest challenges for the millions of Americans who became unemployed during the COVID pandemic is deciding whether to pay out of pocket for their health insurance or suffer the consequences of going without the care they desperately need.
Nationwide, there are 10 million unemployed people, with an unemployment rate of 6.2% as of February 2021, according to the Bureau of Labor Statistics.
Lancaster lost her teaching job in Richmond, Virginia, in August when the school she worked for reopened with a new plan she and her doctor both felt was extremely unsafe given her age and health conditions.
"They applied to the state for a variance so that instead of six feet social distancing, they could use three feet," Lancaster told the Daily Dot of the school's reopening protocol. "They also were not going to require masks for grade three and below."
The plan was not as committed to safety as it seemed on paper as the school let go of a majority of the original teaching staff after their reopening plan was introduced, according to Lancaster. The plan prioritized fitting as many children as possible into one classroom rather than making sure the teachers were comfortable returning to in-person learning.
Lancaster said instead of following the agreed-upon plan to separate the desks three feet, the school instead separated the desks only 1 foot and said the children themselves, if seated upright, would be 3 feet apart from each other.
"It's a matter of taking the rules and just kind of twisting them as much as they could," Lancaster told the Daily Dot.
As a second-grade teacher, Lancaster expressed her concerns about the plan to her doctor in the hopes of getting a second opinion.
"He said, 'I have one word. No,'" Lancaster said.
In an email reviewed by the Daily Dot, Lancaster told the assistant principal and superintendent that she was unable to teach in person, hoping for another option to teach online. According to Lancaster, the school took her email to be a resignation letter, immediately informing all of the teaching staff she had resigned and posting her job to a local job site.
The reality of unemployment hit hardest on Lancaster when her benefits ended Aug. 31, and she was forced to begin paying for her private health insurance at a rate of $791.06 a month until she turned 65 in March, making her eligible for Medicare.
Because of the complicated nature of her termination, Lancaster did not originally qualify for unemployment as her employer claimed she left for no good reason. "I'm still debating about a lawsuit about that because I think if they post your job as available and tell everybody else that it's available, I think they took your job away," Lancaster said.
'Thank God for Reddit'
In search of help online and finding answers, Lancaster stumbled upon Reddit and the subreddit page r/Unemployment.
"Thank God for Reddit. It was a gift from God," Lancaster said. "I'm getting lots of karma points, which make me feel great, so it's been fun."
Lancaster had never heard of Reddit before joining the platform two months ago only to find people equally as frustrated by the unemployment system in their state.
The subreddit page helped her get answers to her questions about unemployment and shared hidden phone numbers to the Virginia employment commission, rural areas that call back if you email them, and general information about how to navigate unemployment information in each state. It proved to be the fastest way to find answers to Lancaster's questions regarding unemployment benefits from others going through the same thing, she said.
In a post from March on health insurance, one user asks the group about how individuals can qualify for the American rescue plan and get health insurance when unemployed. The post quickly filled with comments from other users explaining how the plan varies by state, how to apply, and a helpful article for more information.
Even once she started getting unemployment benefits, the exorbitant cost of Lancaster's medical insurance forced her to take out money from her retirement savings and apply for social security survivor benefits under her deceased husband's account.
In 2007, Lancaster was riding a motorcycle with her husband when a pickup truck pulled in front of them, killing him and badly injuring her shoulder, which she said she still feels the effects of today.
"I had so much wrong with me; it was crazy. But I can't not have medical insurance because that was hundreds of thousands of dollars in a split second," Lancaster said.
Because of the accident, Lancaster was adamant about having health insurance no matter what and explained she was willing to give up almost anything in her budget to afford it.
"I had already had a pretty tight budget, but I just made it tighter," Lancaster said.
Despite having insurance, however, Lancaster explained she does not feel comfortable going into the doctors' office unless absolutely necessary. Lancaster has not kept her normal appointments with her physical therapist or her counselor since July as the offices charge uncovered co-pays she can't afford.
Since turning 65 last month, Lancaster's Medicare benefits have stabilized her health insurance at less than $300 a month. But others aren't so lucky—and say that the costs of insurance are far too steep on unemployment, leaving more risk as to what happens when ill or in serious need of medical care.
'For this moment, we care about each other'
Edwin Alvarez, a 47-year-old former DJ and employee at a tree cutting business in Rhode Island, lost his job while quarantining at home due to a COVID exposure at work.
Alvarez explained that although the company was encouraging employees to take their temperature at home before coming to work, sick pay was not an option, so most people would come to work regardless of how they were feeling to not miss out on pay.
After working at the tree cutting business for 10 years, Alvarez says he was laid off following his exposure to COVID by a co-worker in January.
"Within the first week [of quarantine] they called me and laid me off," Alvarez told the Daily Dot. "I called the lawyer to see if it was illegal and I never got a call back from them."
Alvarez endured a serious case of COVID that lasted five weeks with tightness in his chest and trouble breathing that continues today. During the worst of it, however, he began coughing up blood from his lungs, lost 15 pounds, and suffered intense kidney pain in an illness he described as the flu "kicked up 10 notches."
"I thought I was going to die because I couldn't breathe. I was this close to God, like an inch away from going to the hospital. I was basically just laying in bed and praying that I could make it through this," Alvarez said.
Throughout the illness, Alvarez had been fearful of going to the hospital, but when the symptoms became unbearable, he finally called his doctor for help only to learn his health insurance was cut off.
"I thought, at least it would be valid for a couple of weeks after I got laid off. But they immediately cut it off," Alvarez said.
Before losing his job, Alvarez was seeing his doctor frequently to manage his high blood pressure and high cholesterol. But with only $300 in unemployment a week, there was no money left over to pay for insurance.
Alvarez said without the unemployment checks, he would be homeless.
"That $300 is helping a lot, but I can't afford health insurance because I am living check to check," Alvarez said. "Insurance right now would be a luxury, and it shouldn't be a luxury."
In March, Alvarez said he didn't know how he would pay for his medications that would run out in two weeks and cost over $600 a month without insurance. He did not respond to the Daily Dot's follow up query about his medication. But as a member of the Unemployed Action group on Facebook, he feels grateful to receive unemployment benefits when so many others have struggled.
"Luckily, I haven't had as bad luck as some other people. I have read some people who haven't gotten their unemployment for months," Alvarez said.
Chris Defibaugh, a 35-year-old former server from Chicago is a member of the same Facebook group and loves the unity of its members as everyone looks out for each other.
"It's been awesome. Facebook groups are definitely where I go to for help. It's a very unified community where everyone is willing to take two seconds out of their day just to give you the information that you're looking for," Defibaugh told the Daily Dot.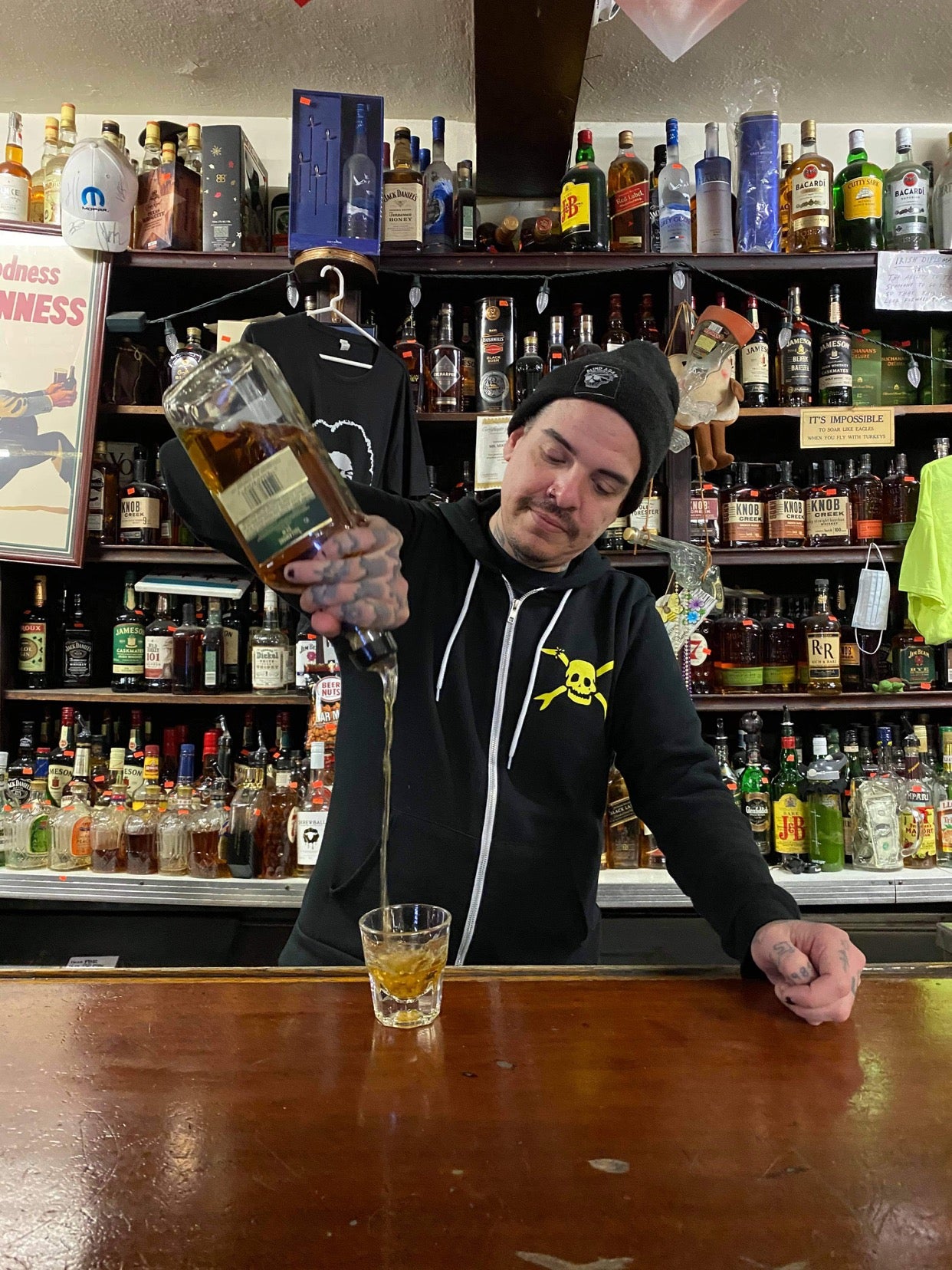 Like the subreddit, Unemployed Action offers inside information but also promotes political change with group events and meetings with elected officials to discuss the top issues of the unemployed, particularly affordable healthcare during the pandemic.
For Defibaugh, the group represents a close community of people across the country who are all going through the same thing despite being strangers on the internet.
"They don't know each other, probably will never talk again, but you know, for this moment, we care about each other as people," Defibaugh said.
After losing his job in July, Defibaugh says he turned to food stamps to make the unemployment checks go further but could not afford health insurance out of pocket.
In January, Defibaugh went to the emergency room after suspecting he had contracted COVID but tested negative. Instead, he had the flu, which later turned into pneumonia and resulted in a second trip to the emergency room.
A month later, Defibaugh returned to the emergency room for a third time with an inflamed lung which developed a cyst, requiring surgery with a three-day stay in the hospital.
After recovering fully, Defibaugh is terrified of looking at his medical bills from a total of four E.R. visits without insurance. The cyst surgery cost $1,300 alone, but Defibaugh fears the hospital stay will be much worse. In an attempt to get help, he filed for Medicaid twice with no luck but plans to file again.
As a server, being without health insurance is not a new thing for Defibaugh as most food service workers do not have medical benefits, but being unemployed is something he has never experienced. In the past, he had a steady income from the restaurant and customers' tips so he was able to pay for medical bills when they happened.
"I don't know what I'm going to do with these medical bills. If I can't find financial aid, I'm just going to have to let these go to collections and ignore it. Sadly, I think that's the way a lot of us are thinking right now," Defibaugh said.
'Healthcare is a right and not a privilege'
Dr. Karen Lasser, a primary care internist and health services researcher at Boston Medical Center, explained much of her patient population during the pandemic has been insured by Medicaid, but many are unemployed and disabled.
Lasser explained it is individuals like Lancaster, who lost their job and are paying extremely high rates for health insurance out of pocket, that make her wish for reform in the system.
"I would favor Medicare-for-all where people just had coverage and didn't have to pay so much and it didn't fluctuate. Healthcare is a right and not a privilege," Lasser said.
The preexisting disparities among how patient populations access care in the U.S. were significantly exacerbated by the COVID pandemic, according to Lasser.
And Lasser said this inequality in healthcare will also affect different patient populations' willingness to get the COVID vaccine.
"The patients who might benefit most from taking the vaccine might be hesitant to take it, given their history and how they've been treated in this country," Lasser said. "So I certainly think disparities could be worsened especially with worse economic inequality as well."
For anyone struggling to navigate unemployment benefits during the pandemic or find affordable health insurance, Lasser recommends connecting with a social worker or patient navigator. Reaching out for support may help individuals struggling to get assistance paying for utilities, rent and food, according to Lasser.
Moving forward, Lasser hopes the Biden administration will bring about positive change to make healthcare more accessible for everyone. When asked to define the state of healthcare in the U.S. today, she responded briefly to say, "Very unequal."
With so much on the line for the millions of Americans who lost their job due to COVID, finding a community among strangers on the internet to help locate the care and support they need is crucial to getting back on their feet.
---
Read the rest of the Access to Care series here: