4chan's band of pranksters is trying to convince women to strip down out of solidarity with Jennifer Lawrence who had nude photos of her dumped on the Internet Sunday.
4chan's /b/—the darkest corner of the searchable Web—has flooded the Twitter hashtag #leakforjlaw with photos of nude women they've found around the Internet. The intent is to try to convince actual women to bear their chests for the Hunger Games star, one of more than 50 celebrities who had nudes leaked online.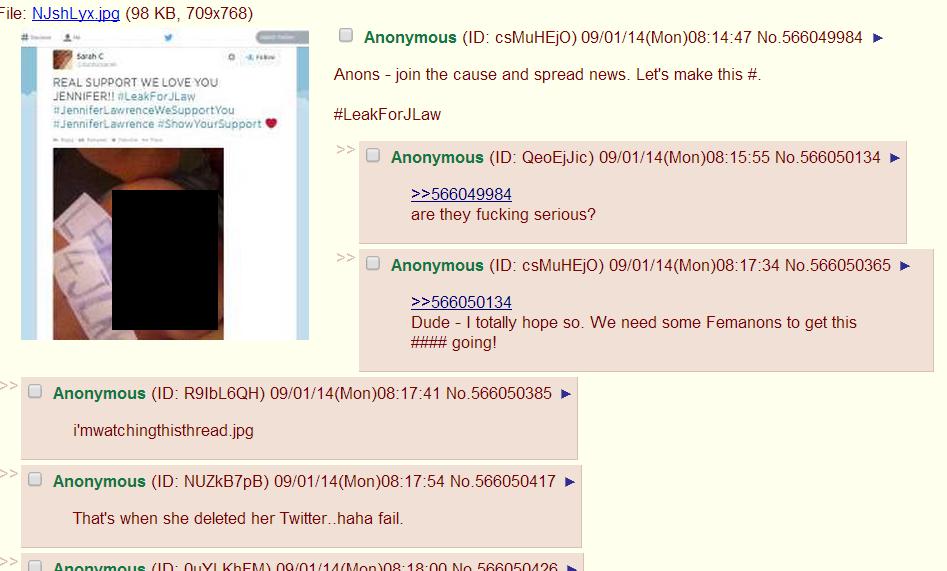 The hashtag has been mentioned more than 7,600 times in the past 24 hours. Most of the tweets appear to be from fake Twitter accounts or bogus ones like @istandwithjlaw which features photos from nina1987, a popular contributor to Reddit's r/gonewild community that features nude selfies posted by mostly female users.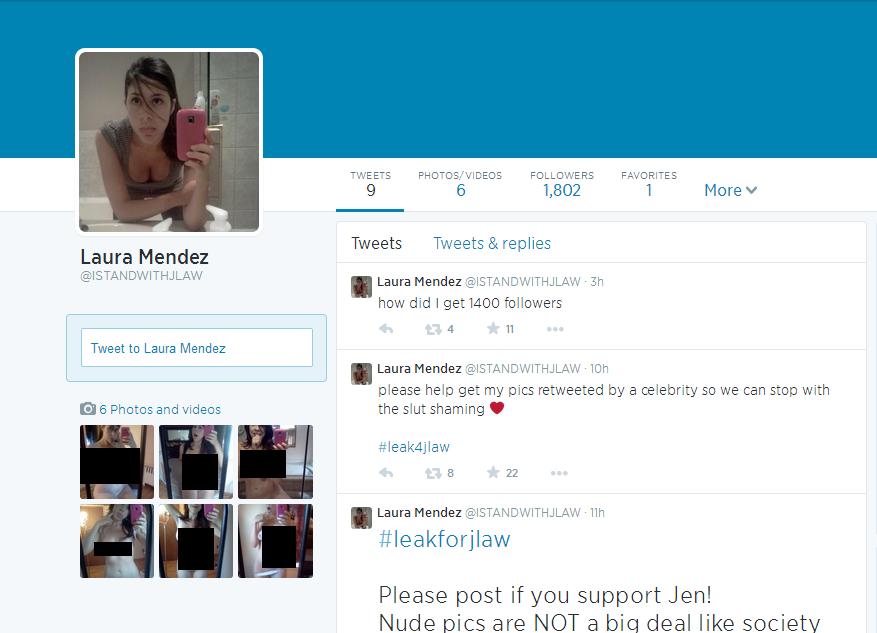 "/B/ has really gone too far!" nina1987 wrote this morning. "I just woke up to screenshots of Laura Mendez on my phone. It's so ridiculous. If this actually catches on, I will be very embarrassed. I can't get myself to read the tweets. Are the outstandingly ridiculous?"
The photos of Lawrence were leaked along with those allegedly belonging to McKayla Maroney, Kate Upton, and Becca Tobin. While the identity of the leaker is currently unknown, he appears to have been from 4chan and claims to have obtained the pics through Apple's iCloud service.
Someone has also launched a Change.org petition to urge 4chan founder Christopher "moot" Poole to shut down /b/. At the time of publication, it has 266 digital signatures. Considering many of the names of people who signed the petition are "Sir Barnacle Encrusted flopsacock " and "chris chan," chances are this is /b/ trolling its own community for the lulz.
Other celebrities included in the leak, such as Victoria Justice, have denied that the photos of her are legitimate. The photos of Lawrence and others, however, have been confirmed as real.
"This is a flagrant violation of privacy," Lawrence's spokesperson told news outlets. "The authorities have been contacted and will prosecute anyone who posts the stolen photos of Jennifer Lawrence."
"Doubling down" on pranks is very common for 4chan. In January, /b/ tried to convince teens to get themselves arrested in solidarity with Justin Bieber who had just been arrested over a Florida drag racing incident. That failed attempt was followed by an effort to get One Direction fans to get naked after a video of the group smoking weed appeared online.
As was the case with both these pranks, the rest of the Internet has used #leakforjlaw to have some fun at 4chan's—and Lawrence's—expense. 
We all know who really leaked the #JenniferLawrence pics. #leakforjlaw pic.twitter.com/1pATCORt5W

— Nick Nicotera (@NickNicotera) September 1, 2014
#leakforjlaw #leak4jlaw Leak for JDan pic.twitter.com/LwOKwHP8cH

— Jared Daniels (@TheGoldenGoalie) September 1, 2014
Standing in solidarity with Jennifer Lawrence on #leakforjlaw . Here are my best leek pics. pic.twitter.com/u7ZTOUENYT

— Jadek Menaheim (@JadekMenaheim) September 1, 2014
Illustration by Jason Reed