The Internet's perverse pranksters from 4chan are trying to convince teenagers to tweet nude photos of themselves in response to a video of One Direction members allegedly smoking weed.
The prank was started by 4chan's /b/—known for its loud-mouthed teens, pornographic proclivities, and cat-saving prowess—less than 24 hours ago after a video surfaced that supposedly showed One Direction's Zayn Malik and Louis Tomlinson toking up in the backseat of a car in Peru.
The grainy video was allegedly filmed by fellow group mate Tomlinson, who narrates the scene.
"Zayn takes his job very seriously," Tomlinson says in the video. "He makes sure he goes through a two-hour intense warm-up regime before every show, just to get himself in the zone. One very, very important factor to Zayn's warm-up, of course, is Mary Jane [a common term for marijuana] herself. In fact I'm presenting it to him now for some fantastic singing."
Capitalizing on the impressionable nature of One Direction's teenage fanbase, /b/ encouraged its community to create fake Twitter accounts to spam the hashtag #skinfor1d. The goal was to convince real teenagers to strip in solidarity with their favorite English boy band, who has come under media scrutiny since the release of the video.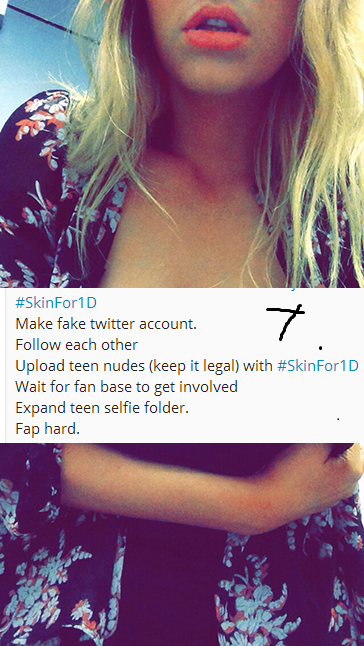 So far, the prank has been wildly successful.
The hashtag has been mentioned more than 89,000 times and helped it briefly land as one of Twitter's official worldwide trending topics.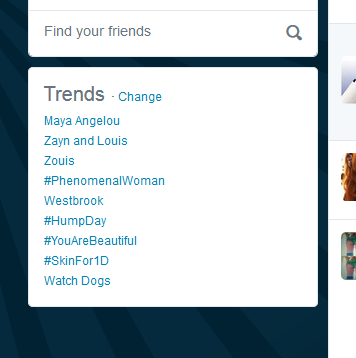 Because of the sheer number of tweets coming from a mix of new and old Twitter accounts, it's impossible to discern for certain which are from fake accounts. For example, the account @CaitlinPrauge (which has content that is pornogaphic and NSFW) appears to be one of the fakes; it's brand-new and has tweeted the same nude photo three times in the past 10 hours. There are numerous others like it.
/b/ couldn't contain its excitement.


The prank has gotten so out of hand, One Direction member Liam Payne asked fans on Twitter to calm down and keep their clothes on.
In January 2013, /b/ pulled of a nearly identical prank when they convinced Justin Bieber fans to allegedly slit their wrists in response to a photo of him smoking weed. The hashtag #cutforbieber became a trending topic at the time as well and spawned two other hoaxes asking fans to tweet nudes (#boobs4bieber) and get arrested (#jail4bieber) for the teenage heartthrob.
Illustration by Jason Reed