Presented by Blue Apron
Meal kit delivery honchos Blue Apron are rolling out healthy meal options like crazy. These Whole30 approved dinners promise not to leave you cold.
If you're unfamiliar with the trending diet program, Whole30 is built to help you remove harmful foods from your diet and restore normalcy to your digestive health, metabolism, and even your waistline. Not only will you look better, but you'll also feel better.
Moderate portions of meat, seafood, and eggs are consumed, along with plenty of fruits and veggies, natural fats, and some herbs and spices for variety. Grains, added sugar, legumes, dairy, and junk foods are to be avoided. This includes anything with preservatives and chemicals. A good rule of thumb is "if you can't pronounce it, don't shove it down your gullet."
Initially, this sounds like a culinary travesty. Nothing satisfies like a big bowl of refined flour and sugar. But curious cook that I am, I was open to these brave new Whole30 approved Blue Apron meal kits.
Crispy chicken tenders and mashed potatoes are a classic combination that I've made so often I can practically make them blindfolded. The Whole30 reimagining of this fast food classic is odd, but I chose to refrain from judgment. Instead of a wheat-based coating, one was fashioned out of potato flakes and almond flour.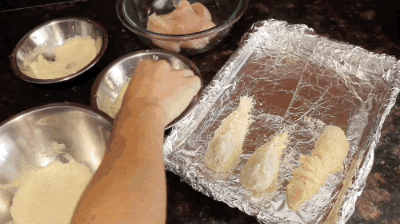 While no Blue Apron meal kit has ever been particularly difficult, I can say flat out that this was among the easiest meals I've ever fashioned. Dipping the chicken fingers in the alternative flours was so easy that I avoided the dreaded "club hand" that normally happens whenever you've got to bread meat. These fingers weren't fryer bound: they'd crisp to perfection in the oven.
While that cooked, I whipped together some dairy-free mashed potatoes. Boiling them along with the garlic and finishing them off with a splash of bone broth made them flavorful enough to not make me miss the butter and cream of the taters I'm used to. The meal was finished off with a super simple butter lettuce salad that didn't require me to use a cutting board.
Once the chicken fingers were cooked, I was surprised: they were actually crispy. And while there was plenty of Ranch to dip them in, they were so flavorful they didn't need it. The almond coating made these fingers pleasantly nutty and they weren't even slightly dry.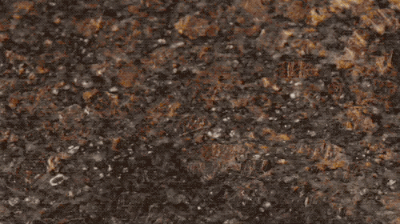 Most importantly, hours later I didn't have that cumbersome "fried food hangover" folks usually get whenever they ingest fried foods. Not only did I feel healthy, I was healthy. Plus, I got to walk around with the smug satisfaction one gets when they cook a healthy meal. And few things taste better than that.
If your summer was full of calorie-related regrets, Blue Apron's Whole30 meal kits will be a helpful start at a new, fresher, and healthier lifestyle. Along with the tasty chicken fingers I made, there are even more delicious and healthy offerings on the horizon like Mediterranean salmon with sautéed kale, pork fried cauliflower rice, and even classics like beef and vegetable stir-fry.
Plans start as low as $9.99 per serving. There are no contracts to juggle, and you can cancel anytime. For more information or to subscribe, visit Blue Apron here.
The Daily Dot receives payment for sponsored content. Interested in promoting your brand or product? Email us at [email protected] to learn more.