A man's tweet about yoga pants has launched an intense online debate about what constitutes acceptable attire for women. A mother of five responded to the discourse by tweeting photos of scantily clad men in public to point out that men are held to different standards. Her posts have gone hugely viral.
The mom, @shesbonky, was inspired by Christian podcaster Eric Conn sharing his thoughts about when and where women should wear yoga pants. In his opinion, the only "acceptable occasions" for women to wear the popular athleisurewear is at home with their husband.
"No public venues. Not social media," Conn wrote.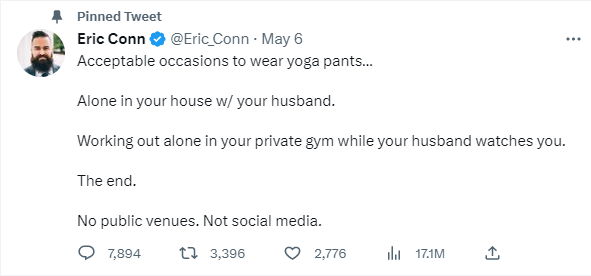 The post does not appear to be satirical. Conn was mercilessly dragged for his take.
"I'll wear whatever I want. Whenever I want. Cry about it," one woman retorted.
"Another Christian male who can't handle women wearing what they want. All those butts," wrote another.
Twitter user @shesbonky took a thirstier approach. She started posting photos of men dressed in revealing clothing to expose the double standard.
"In honor of stupid Christians pretending that women's leggings are too revealing, each day I will be posting a photo of a man, exercising in almost nothing, in public spaces," @shesbonky wrote, along with a photo of a man jogging in shorts and a T-shirt.
The tweet was an instant hit. As of this writing, it has more than 100,000 likes and nearly 5 million impressions.
@shesbonky, who asked to be referred to by her Twitter handle, told the Daily Dot that she never expected her tweet to resonate with so many.
"I posted that tweet and went to bed on Saturday night and I had about 1,200 followers. I'd had about 1,200 followers for years. I woke up the next morning and I was completely flabbergasted," she said on Tuesday. "I'm not sure how I feel about it."
She has nearly 13,000 followers as of this writing and is gaining more all the time.
Comments on the post are rife with irony and sarcasm.
"Too much, he's just asking for trouble. He should dress more modestly, like a true gentleman should and not like a slutty male with a bad reputation. Such outfits should only be worn at home and for his wife's eyes only," joked @EvaMcBain09.
@shesbonky responded in kind, writing, "If a woman assaults him it was clear he was asking for it. 100% his fault."
@shesbonky has continued posting photos of men in clothing that women have long been chastised for wearing, such as Chris Evans with erect nipples poking through his shirt, shirtless men, and men whose genitals are visible through their clothes.
"MEN: Women's leggings hug their [butts]. IN PUBLIC?! It's immoral! *Nick Jonas' dick has entered the chat*," she captioned a photo of the singer.
Her posts have even inspired men to share their own scantily clad workout photos.
@shesbonky told the Daily Dot that she was raised Mormon and was taught that it is women's responsibility to avoid tempting men. Now a wife and mother of daughters and a son, and no longer a member of the Mormon church, she's endeavoring to teach her children differently.
"I tell my daughters all the time, your body is an instrument not an ornament," she said.
While her tweets of men in revealing clothing poke fun at the double standard, her larger point is far more serious. Policing women's clothing based on the dogma of a particular religion is a slippery slope that leads to the loss of bodily autonomy, human rights, even violence, she said.
"Unchecked, if a majority religion infiltrates the political landscape of where they are and imposes their political ideologies onto women, we eventually become Iran and the problem that they are facing now with women having to wear full coverup or being killed," @shesbonky said.
She described being horrified by the growing movement to restrict women's rights, most prominently by the loss of reproductive freedom when Roe v. Wade was overturned.
On Twitter on Tuesday, she addressed the sudden increase in attention and followers.
"REAL TALK: I have no idea what to do with 13.6 thousand of you. Just…. keep objectifying men…?" she wrote.
Her fans responded with full-throated encouragement. "You can't run from your destiny," one said.


We crawl the web so you don't have to.
Sign up for the Daily Dot newsletter to get the best and worst of the internet in your inbox every day.