If you have created a groundbreaking piece of technology that will change the world, where would you unveil it? A smart conference hall packed with journalists? An exclusive party for the rich and famous in Monaco? How about a late-night British talk show?
Awkwardly named popstar will.i.am has been keen to lavish attention on his public image, particularly the idea that he is leading the charge in technology innovation. After he appeared on the cover of Wired, launched an iPhone accessory, and created his own car, you'd be forgiven for thinking that will.i.am was indeed one of the leading lights of the technology industry. But here's the thing: He's not.
Will.i.am's new product certainly sounds exciting: a stylish new smartwatch that doesn't need to be tethered to a mobile phone. The good-looking device can apparently run apps, make calls, and play music. 
Despite having been spotted in March, the watch was revealed to the world on April 4 on Alan Carr: Chatty Man, a late-night British talk show. Midway through his interview, will.i.am starts to demonstrate the features of the new watch, which he seems to be wearing on both wrists. 
First, will.i.am claims that the device doesn't need to be tethered to a phone, which is already a significant improvement over current offerings from Samsung and LG. For will.i.am's watch to offer standalone functionality, it needs to have at least 3G connection, as well as a Wi-Fi receiver. Perhaps that explains the bulky size of the device. 
The next feature will.i.am demonstrates is, weirdly, the keypad, which he uses to dial a phone number. The show's host is shocked, remarking "No way!" The key tones are remarkably clear for such a small device, which is held away from his microphone. 
After showing that his smartwatch can be used to dial a phone number, will.i.am then swipes at the screen a few more times to make it play music. As if to demonstrate that, yes, that is indeed music emanating from his wrist, he proceeds to do a dance. Again, his microphone does an extraordinary job of providing clear audio despite will.i.am waving his wrist around. The audio quality raises questions as to whether will.i.am was actually playing sound from his smartwatch at all.
The only other time will.i.am's forthcoming product has been demonstrated is on singing competition show The Voice. In the show's April 5 episode, will.i.am paused to take a call from pop singer Cheryl Cole. A ringing sound emanated from his wrist, and he then swiped the screen a total of seven times to answer the call. While it's impossible to tell whether the call was real or staged for the show's dramatic final episode, the audio quality seems to be more realistic than the previous night's television appearance. In fact, the sound quality is so bad that despite holding the watch next to his microphone, the call seems to fade away and cut out, despite will.i.am's continued swipes and taps, seemingly for effect.
Perhaps will.i.am's smartwatch comes with a revolutionary operating system installed? Google's newly released Android Wear has set the benchmark for wearable devices, with Samsung's Tizen system providing an alternative. Sadly, the brief flashes of will.i.am's smartwatch have shown that it appears to use a completely new operating system. Is will.i.am really capable of creating a mobile operating system to rival tech giants Google or Samsung?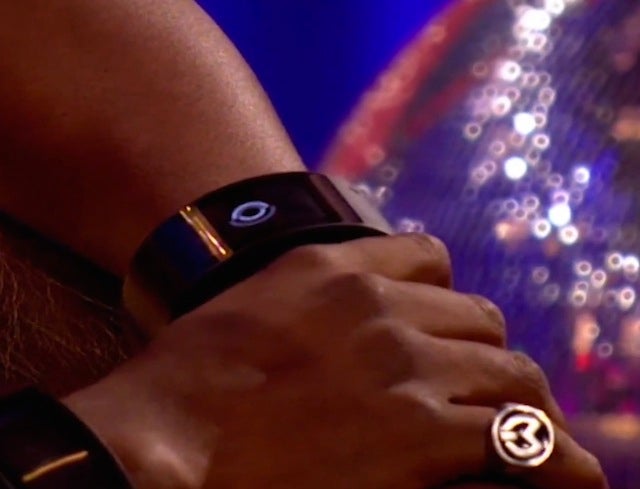 Screengrab via Alan Car: Chatty Man / YouTube
If will.i.am's smartwatch is a real product, then it's on-screen demonstrations have been lackluster at best. With its bulky size, bizarre audio properties, apparent reception problems, and unreliable user interface, it's not looking realistic that the device will be on sale for the gadget's July launch, which has already been postponed from a mooted June release date.
But let's set aside for a second the concerns over the device's abilities, and look at will.i.am's history creating hardware companies. Here's how will.i.am described the formation of his new smartwatch team: "I started the company myself. I funded it, used my own money to develop it." Now if that claim came from any other entrepreneur, it would be impressive. But will.i.am's claim to have created and self-funded a hardware company isn't impressive, it's concerning.
The company he created and self-funded, i.am+, has only ever launched one product, called the foto.sosho camera case. It was, by all accounts, a complete disaster. A $415 oversized plastic case for your iPhone 4, the product struggled to find buyers. In fact, it struggled so much that it's now impossible to purchase. When I looked into the product in 2013, I discovered its exclusive U.K. retailers didn't even know what it was. A PR spokesperson for high-end store Selfridges explained that they had only ever stocked a limited number of the items following the star-studded launch party.
Screengrab via Selfridges / YouTube 
After will.i.am described his foto.sosho case as a "fashion acccessory," it seemed obvious that perhaps someone working at his fashion company would be able to explain more about it. But they didn't even know what it was, and denied involvement with the foto.sosho before hanging up the phone.
OK, so maybe will.i.am's foto.sosho camera case was a flop, selling only 2,000 units. But surely the self-funded hardware company he's promoting as behind his smartwatch is capable of producing cutting-edge technology to rival the likes of Apple and Samsung? Well, not likely, at least based on the people he's working with. The man who cofounded i.am+ with will.i.am, Chandrasekar Rathakrishnan, is an infamous businessman with a controversial history filled with court cases and failed products.
In 2008, Rathakrishnan worked with TechCrunch to develop the CrunchPad, a low-cost tablet computer. After a year of development, Arrington said Rathakrishnan emailed him "out of the blue," and told him that the device was now named the "JooJoo" and that TechCrunch would no longer be involved in its development. After a series of delays, the renamed tablet eventually went on sale, although it later emerged that only 90 people had actually pre-ordered it. Rathakrishnan's hardware company went bankrupt in 2012, leaving debts of $40 million.
Despite what you might read in Wired, will.i.am isn't a technology innovator at all. With a long history of extravagant claims and self-funded vanity projects under his belt, he's instead symptomatic of the technology industry's failings: full of hype and lacking in good ideas. Perhaps you should hold back on ordering his new smartwatch for a little while. 
Screengrab via Alan Carr: Chatty Man / YouTube