Imagine you could hear the Gettysburg Address delivered in Abraham Lincoln's own voice. OK, so that's never going to happen—but thanks to Wikipedia, the people of the future will know how English author, actor, and television presenter Stephen Fry introduced himself in conversation.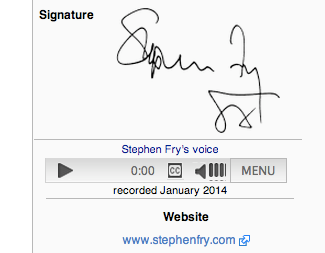 Fry is among the first of a famous few to have their speaking voices recorded for archival reasons, according to the Wikimedia U.K. blog, along with U.S. astronaut Charlie Duke and Baron Knight of Weymouth, a politician. The idea is to create a 10-second audio file for every living subject of a Wikipedia article "so that Wikipedia's readers know what they sound like and how to correctly pronounce their names." The BBC is embarking on a similar project to extract audio from its programming and will provide the Wikipedia Commons with another 500 to 1,000 files. This is the first time it's openly licensed content from their broadcasts. 
The BBC, in turn, will eventually use the voice archive "to power a real-time, open-source voice-recognition engine," Engadget reported. The question now is: which other voices need to be recorded? Anyone who has their own Wikipedia page or knows someone who does is encouraged to get involved, but redditors had some specific people in mind, with Morgan Freeman and Sir David Attenborough high on the list. (My vote goes to Gilbert Gottfried.)
As for Fry's inaugural voice sample, well, there have been some gripes about quality. But what's more important, a crystal-clear recording, or the preservation of that perfectly British "um" for posterity? Besides, things really sound more historical when they're this grainy.