This afternoon, as the viewers gradually trickled in to the Texas Tribune's YouTube livestream of State Sen. Wendy Davis's attempt at a 13-hour-long filibuster, many people wondered why they'd seen so little news coverage of the event. Commenters noted they'd only heard of Davis's longshot gambit from Facebook and Tumblr, not from their regular news sources.
Hours and hours later, "all the major news networks [were] covering a broken cruise ship."
But on Twitter, Tumblr, and Facebook, Wendy Davis was all anyone, anywhere, could talk about.
 
More:
The tweets from Wendy Davis's filibuster
A Twitter user caught a rule 31 senators missed

More than 178,000 people, including the U.S. president, were glued to YouTube, and the serene blonde figure at the center of what could go down as one of the most dramatic public debates in U.S. political history.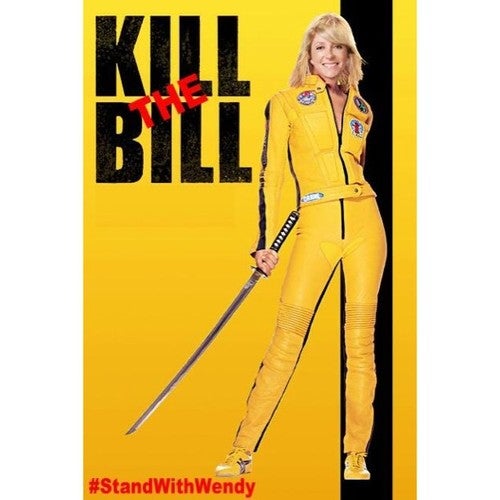 Davis's filibuster attempt was a herculean effort of standing completely upright and talking nonstop for 11 hours without eating, drinking, going to the bathroom, or leaning on anything for support. It was a final desperate attempt to prevent Texas bill SB5, which would effectively gut abortion services in the state, from passing. The Hail Mary came after days of protests and lobbying by women's rights activists to try and keep the bill from passing in the Senate. After SB5 failed to pass in May during the regular term of the legislative assembly, Texas Gov. Rick Perry called a special 30-day session in part to include a new debate on the bill. The stakes were high, and hundreds of pro-choice supporters flooded the Texas assembly to "stand with Wendy" as she attempted to pull off the filibuster.
From the beginning the Internet was hugely involved in Davis's effort, with thousands of testimonials pouring in through her website, many of which she read on the Senate floor.
But like something straight out of Mr. Smith Goes to Washington, advocates for the bill attempted numerous times to end Davis's filibuster, raising numerous points of order throughout the day. One of the most hotly contested points of debate was the ruling that Davis had gone off-topic by discussing the budget for Planned Parenthood. It was the first of three "strikes" Davis could receive before she could be voted off the floor, effectively ending the filibuster.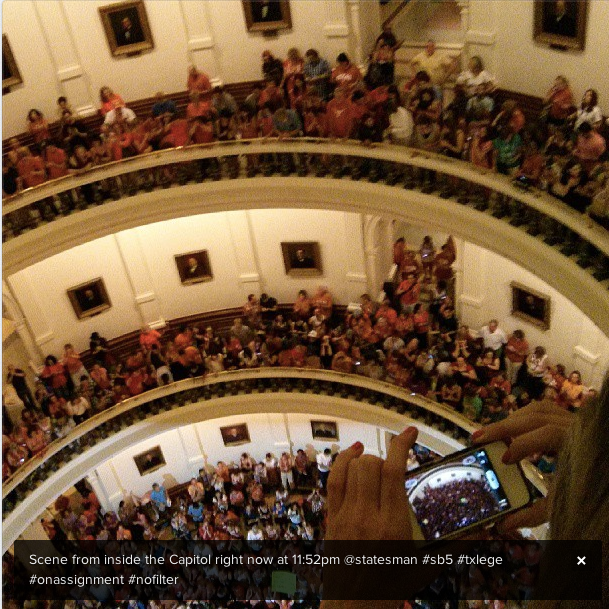 Photo via HelloTinaPhan/Instagram
The longer Davis stood, the more word of mouth spread. Over 20,000 people were avidly watching the debate on YouTube around 6:30 CT, when a point of order was called against Davis for having another senator assist her with putting on a back brace. As the floor debated the point, the feed briefly cut out, leaving hundreds of anxious YouTubers refreshing their streams and awaiting the verdict—which went against Davis, leaving her with only one strike remaining.
Wendy Davis. Respect. Why not let her read all books in GOT & then carry her thru the streets of Austin, TX as the new Khaleesi?

— Tim Mackay (@timqfadvice) June 26, 2013
As the night wore on, the Internet took on a dizzying role in the drama, as lawmakers livetweeted the filibuster from the floor: 
Duncan overrules the order not recognizing Sen. Estes' motion to table the appeal of Dewhurst's ruling to stop the filibuster. #txlege

— Statesmanmike (@mikestatesman) June 26, 2013
On Twitter, #StandWithWendy trended worldwide for hours. President Obama tweeted a link to the livestream:
But perhaps most incredibly, Twitter users got their hands on the Parliamentary laws under debate, and contacted the democrats on the house floor directly.
.@KirkPWatson – please check out this part of the rule book 4 the appeal – you need 3 warnings on germaneness: https://t.co/82DO6TqLUc #SB5

— Heather Parker (@heatherr_parker) June 26, 2013
W00t! Just got in touch with @KirkPWatson's office – they're going to pass along the info abt germaneness. ::fingerscrossed:: #SB5

— Heather Parker (@heatherr_parker) June 26, 2013
By the time the third and final attempt at point of order was debated and sustained around 10pm CST, with just two hours to go, the number of viewers had jumped to nearly 57,000. During the ensuing half hour, social networks exploded as viewers awaited the ruling.
Without putting the issue to a vote, Texas Lt. Gov. David Dewhurst ruled that an attempt by Davis to talk about a previous sonogram bill in the context of SB5 was not "germane" to the SB5 bill.
Sen. Judith Zaffirini brought up the rule that the topic of "germaneness" must be brought up three times or more before a strike could be issued; however, at that point, the acting chair, Sen. Robert Duncan, dismissed her point of order as having come after the ruling on Davis's topic was made.
"At what point," Senator Leticia Van de Putte asked in the wake of the overridden objections, "must a female senator raise her voice or hand to be recognized over a male colleague?"
Throughout the night the public in attendance frequently disrupted the proceedings with chants of "Let Her Speak," making it so hard to hear on the Senate floor that they had to be ordered out of the courtroom at one point.
Peaceful protesters were arrested: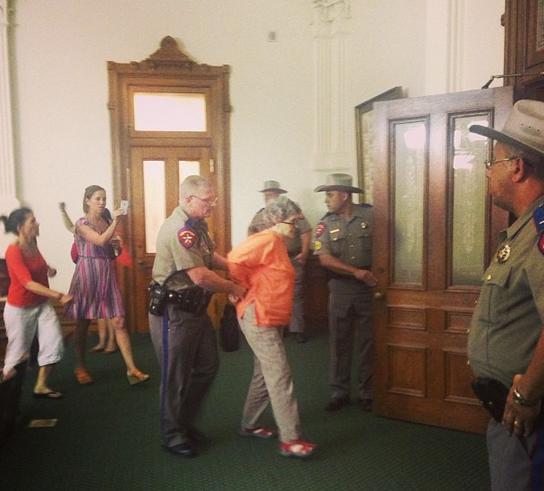 Photo via heyshewaga/Instagram
But at the last minute, the crowd noise proved to be the real deciding vote. Tensions were visibly high, and as the final vote to dismiss the filibuster and pass the bill began, at just ten minutes til midnight, the noise of the crowd rose to a fever pitch, in one last desperate attempt to disrupt the assembly and forestall the debate. 
On the floor was utter chaos.
Duncan suspends Senate business. Senators angrily confronting each other. Campbell asks for galleries cleared. "We're losing time." #txlege

— Statesmanmike (@mikestatesman) June 26, 2013
Senator Kirk Watson called it "the worst night since I've been in the Senate, and maybe in my political life."
Winning tonight: parliamentary procedure nerds. Losing tonight: everyone.

— Sara Lang (@SaraLang) June 26, 2013
Through it all, Twitter chronicled the debate in dramatic images, humor, and emotion:
Pretty Vine of the rotunda: https://t.co/WngzproZBW #SB5 #standwithwendy (via @GarrettMize, @AntDeRosa)

— Melissa Gira Grant (@melissagira) June 26, 2013
I can't stop laughing this Wendy Davis Wikipedia page edit #standwithwendy pic.twitter.com/nIDsFTT5AB

— EireannMichaelDolan (@EireannDolan) June 26, 2013
Every floor of rotunda packed. People have crowded the first floor. #txlege #SB5 pic.twitter.com/xJlqI2a3pV

— Shefali Luthra (@shefalil) June 26, 2013
This is outside the Texas senate right now #standwithwendy pic.twitter.com/xULpofHfwo

— Commie-Chan (@CommieChan) June 26, 2013
wow RT @Brian_Sweany: Yes, through all this, @WendyDavisTexas is still standing. pic.twitter.com/oxqhaI3GHM

— susannah george (@sgeorgenpr) June 26, 2013
At one minute past midnight, the Senate attempted to complete the vote, as the crowd chanted "SHAME" while being forced out of fhe courtroom.
And when the walls fall, scream until the very earth quakes under their feet. Make noise. Raise your voice and don't stop. Never stop.

— Amadi (@amaditalks) June 26, 2013
And then the vote passed.
What?! RT @AP: BREAKING: Republicans pass new restrictions expected to close almost every abortion clinic in Texas.

— hypervocal (@hypervocal) June 26, 2013
But not without a challenge.
West: The vote on SB5 is void. The constitutionality will be challenged. We weren't in session. #txlege

— Statesmanmike (@mikestatesman) June 26, 2013
Speculation that Gov. Perry will simply call another special session to push the bill through again is running rampant.
Now that the whole world—or at least the Internet—is watching Texas, the next fight may not come down to one woman facing off against history.
Win lose or draw, what Wendy Davis did matters, focusing a huge number of people on the threats to women's health and rights across America.
— Jon Lovett (@jonlovett) June 26, 2013
Whitmire says Senate timestamp shows #SB5 vote began at 12:02, that legal? "No it's not" #txlege

— Becca Aaronson (@becca_aa) June 26, 2013
Here's the changes made to the Texas State Senate website (corrects time stamp) – pic.twitter.com/zutCgIJknH

— Matthew Keys (@MatthewKeysLive) June 26, 2013
As it turns out, the official vote was recorded at 12:03am CT. 
RT @CecileRichards: BREAKING: Lt. Gov. Dewhurst has agreed that #SB5 is dead.

— BuzzFeed News (@BuzzFeedNews) June 26, 2013
I know Planned Parenthood telling crowd is dead, that may be. Senators in meeting, I have to wait for them to tell me for sure #txlege #sb5

— ChrisTomlinson (@cltomlinson) June 26, 2013
Reports from outside Senate say #SB5 did not pass. Awaiting official word.

— FOX 4 NEWS (@FOX4) June 26, 2013
BREAKING: Texas lt. gov. reverses himself, declares vote on tough abortion bill came too late to pass.

— The Associated Press (@AP) June 26, 2013
But don't celebrate just yet. The war is just beginning.
Gonna be really deflating for a lot of people when Rick Perry just calls another special session to pass this bill. #txlege

— Matthew Reichbach (@fbihop) June 26, 2013
Update: After the original version of this story was published, Texas Gov. Rick Perry declared that the vote on the bill came too late to pass. The original headline of this story has been updated accordingly. We have also clarified the language in regards to the 30-day session called for by Gov. Perry.
Our full Storify here:
Screengrab via YouTube