On the morning thousands of furious taxi drivers plan to gridlock London in protest at Uber, the booking app has offered London's black cab drivers the chance to join its network.
UberTAXI, the company's latest venture, was announced on the company's blog with a photo of a black cab sporting the company's logo, calling for London to welcome Uber into its cherished black cab culture. This new service will join uberX, EXEC and LUX as another new transportation method for London. 
Uber users will now be able to request one of London's iconic black cabs picks them up, and the journey will follow the same fare rates that non-Uber taxis in London already follow.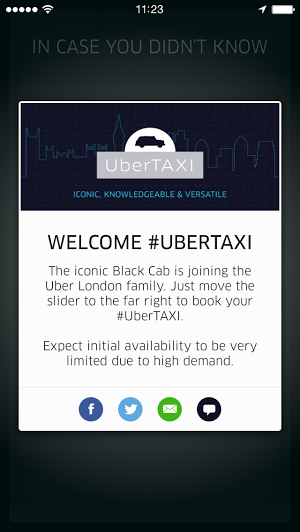 Screenshot via Uber
The announcement comes on the same day that London taxi drivers are planning to stage a protest in London by parking their cars on busy roads to bring the city's traffic to a stop. Uber has previously used protesting taxi drivers as the perfect platform for announcements, responding to a San Francisco protest in 2011 by halving fares for that day.
London's black cab drivers are already angry with Uber, as only licenced black cab drivers are allowed to operate a meter to calculate a passenger's fare. While the price for a minicab has to be agreed in advance, black cab drivers point out that the software used by Uber's minicab drivers—who aren't licenced to operate a meter—is actually a meter, since it calculates the cost of the journey in real time.
When asked if it would consider joining the UberTAXI network, London cab firm Sherbet responded angrily on Twitter:
@LGParker1 Never! The London taxi trade does not need Uber, we already compete and provide passengers with best vehicles & drivers already!

— Sherbet London (@Sherbetlondon) June 11, 2014
Photo via BackBoris2012 Campaign/Flickr (CC BY-ND 2.0)