File this under "things we didn't really need in the first place": Twitter appears to be testing a new feature that will make hashtags a little easier to understand.
The Wall Street Journal reported Friday that the Twitter iOS app now adds a label under some hashtag searches to explain the meaning of certain commonly used acronyms and contractions. The Daily Dot couldn't confirm the feature, but the Wall Street Journal maintains that the app now offers explainers for common hashtags like #tbt (Throwback Thursday) and #smh (shaking my head).
Some labels also ask users to rate their accuracy, or prompt people to locate others using the same hashtag nearby. "In the event of an accident or some other kind of hyper local news event, organizing tweets in a neighborhood by a single hashtag could theoretically make it easier for users to discover relevant information about the accident faster," the WSJ noted.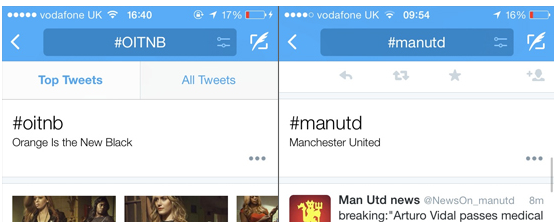 Screengrab via Wall Street Journal 
The outlet speculated that the feature could be the social network's way of trying to draw new users into the fold—you know, the kind of fuddy-duddies who might be intimidated by the cryptic and opaque nature of hashtags.
Twitter has a history of testing out new features on the mobile app first. In recent months, Twitter has improved its direct messaging feature and rolled out a "retweet with comment" feature that lets users embed one tweet within another. Not all features have made it to the Web, however.
So next time your mom wants to know what #OITNB means, for fear that it's some new kind of designer drug the kids are getting into, just point her to her iPhone and let Twitter do the rest.
Photo via mkhmarketing/Flickr (CC BY 2.0)