As the dust settles around Turkey's largely failed attempted to ban Twitter, the government has identified the two accounts that pissed it off the most.
And if you don't live in Turkey, or you're somewhat Internet-savvy, you can now see them.
Twitter has been cagey about the fact that it recently agreed to censor two accounts to Turkish users, part of the compromise the company made after the country ineffectually tried to ban Twitter for a few weeks.
So, in full accordance with the Streisand Effect, we present to you the two accounts, both of which are (surprise!) some of the best original sources of leaks damning to Turkish Prime Minister Tayyip Erdo?an and his AKP Party.
The first, @BA?ÇALAN, happily tweets about Erdo?an and his son, Bilal. For example, these accounts share links to alleged phone conversations between the two, which depicts Dad encouraging his boy to take bribes and later to hide money. The Erdo?ans didn't deny that the voices were theirs, but claimed the audio was "montaged" to make the contents of the call seem worse than it was.
10.000 RETWEET AKP'nin koku?mu?lu?unu herkes görsün! 10.000 RETWEET https://t.co/jJYhS4TM9S

— BA?ÇALAN (@BASCALAN) March 9, 2014
ERDO?AN FENERBAHÇE ile OYnuyor: http://t.co/BZv3MwP8PM https://t.co/JAA3XBYWlH #FenerbahceBirSporKulubudur Aziz Y?ld?r?m Ali Koç

— BA?ÇALAN (@BASCALAN) March 29, 2014
The second account, @HARAMZADELER333, is in the same vein, though he's also known for tweeting evidence from the highly publicized corruption investigation into the AKP party in 2013.
Urla Villalar? 8 1.Derece Sit Alan? hocalara 130 bin TL rü?vet verilerek 3.dereceye çevriliyor http://t.co/er3sfMcYxl pic.twitter.com/xrXKmRgK6F

— HARAMZADELER (@HARAMZADELER333) February 23, 2014
Bilal Erdo?an'?n S?r Küpü Abdulkerim Çay'dan Çökülen 100 Milyon Dolarl?k Arsa ?tiraf? https://t.co/SbfeUsNdL8 #twitterblockedinturkey

— HARAMZADELER (@HARAMZADELER333) March 29, 2014
Because surely no one will try to find out the story behind this message: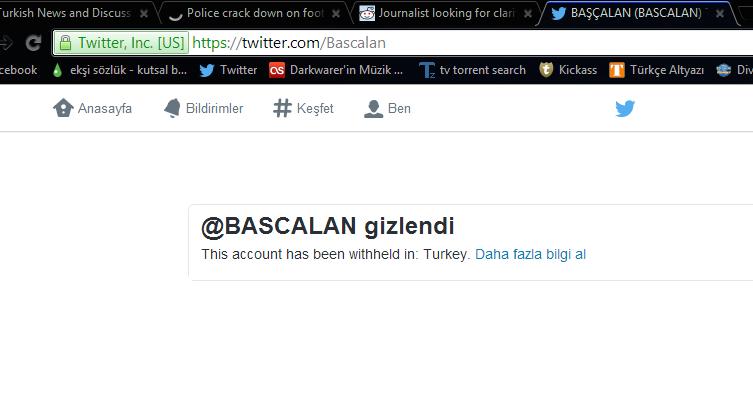 Illustration by Jason Reed