A congressman suspected of sending heartfelt tweets to a secret mistress has actually been sharing them with a secret daughter.
During the State of the Union address, Rep. Steve Cohen (Tenn.-D) sent and quickly deleted several tweets to an attractive young blonde, leading some to speculate that he was flirting with her. As it turns out, the story is far less creepy. 
Cohen told NBC News that he only found out about Victoria Brink, 24, a few years ago and he's been trying to be a good dad, even taking her to the White House Christmas party. 
The unmarried Cohen has a long-term partner in Memphis, according to his spokesperson. It was initially reported that Brink was the daughter of an old friend of Cohen's (which is technically true, we suppose).
Thanks to Politwoops, a site that tracks deleted tweets of elected representatives, we're able to see Cohen's tweets: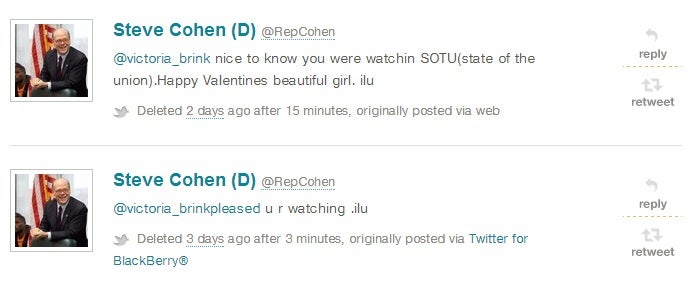 The remarks about Brink's beauty and the "I love you" acronym certainly suggest a more suspicious relationship. However, Cohen was just delighted that she was taking an interest in politics by watching the address. "I had such joy, that I couldn't hold back from tweeting her," he told NBC News.
That said, Cohen has a lot to learn when it comes to Twitter. He's not as terrible at the microblogging service as, say, Chuck Grassley, but he sent public tweets instead of intended direct messages. That's the type of error that led to Anthony Weiner's downfall two years ago.
If you're going to keep a child hidden from the rest of the world, at least make sure you're not making mistakes like Cohen's.
UPDATE: Cohen is not Brink's biological father, DNA testing has shown. Instead, the man who raised her, John Brink, is her biological dad. 
"I was stunned and dismayed at the results," Cohen said. "I still love Victoria, hold dear the time I have shared with her and hope to continue to be part of her life."
Photo via @RepCohen/Twitter