Two sisters have decided to sue the ephemeral messaging service Snapchat, TMZ reports—because their photos are among the results when Internet users Google the term "Snapchat sluts."
The self-destructing photo messenger was first launched in 2011, initially under the alternate name Picaboo. Since then the app has rocketed to the top of download charts, and is now valued at $10 billion. Its growth has been controversial, however, and has developed a reputation for being used for "sexting"—sharing intimate message and photos.
It's this reputation that Sarah and Elizabeth Turner object to. Back in 2011, they agreed to let co-founder Evan Spiegel take photos of them to promote the app, for which they didn't receive a fee. Jump forward three years and the photos are some of the first results when you search for "Snapchat sluts."
One might (very reasonably) argue that Spiegel and Snapchat can't be blamed for what Google shows using its own proprietary algorithm. But it's not the only reason  the Turner sisters are pursuing legal action. They've been further "tainted by its tawdry reputation," TMZ reports, because one of the photos was allegedly edited "to make it look like Elizabeth was pulling off Sarah's bathing suit top…. and that they were nude on the beach."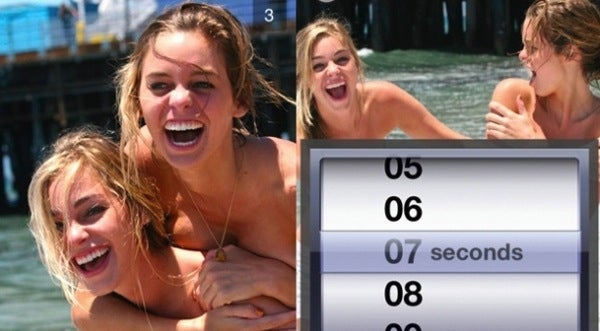 The promotional photos in question. Via Elite Daily
The sisters are now suing for a "portion" of the profits from the app—and while it's unclear what exactly what monetary settlement, it's likely to be substantial. Just days prior to this news, it was announced that Snapchat is hiring a new head of PR to try and combat the company's bad press. Jill Hazelbaker comes from fresh from a position at Google as Senior Director of Communications and Government Relations, and, according to vatornews, "can only be called a PR rock star."
The term "sluts" has also made trouble for Snapchat in the past, with leaked emails from Evan Spiegel's Stamford years referring to women as "sluts" and "bitches."
This isn't even the first time Snapchat has been sued: Earlier this month a case was settled between the Spiegel, CTO Robert Murphy and former college friend Reggie Brown, who alleged that the duo had stolen his idea. The settlement's terms have not been disclosed.
H/T TMZ | Photo via Maurizio Pesce / Flickr (CC BY 2.0) | Remix by Rob Price