Two notable features coming to Snapchat should help it feel more like a comprehensive social media platform: group video chat and support for mentions.
The ephemeral video app will be rolling out group video chat for up to 16 people in the coming weeks. It will allow users to instantly join a video conversation where they can use Snapchat lenses (filters and effects), voice, or text to communicate with others on the line. If more people need to join, 32 people can simultaneously speak on a group voice-only chat. For comparison, Facebook allows for up to six friends to video chat, or 50 to join along with audio.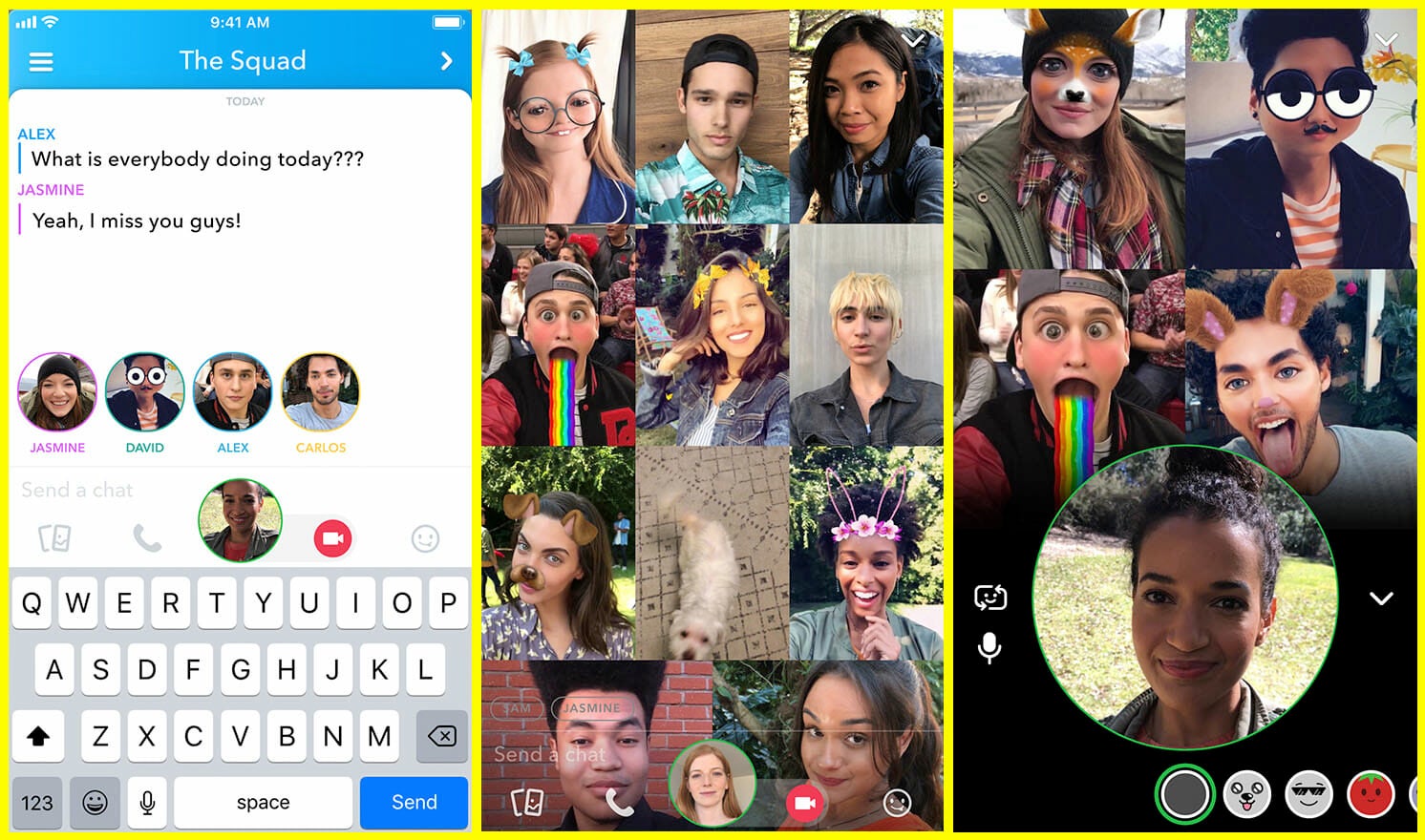 Snapchat previously launched one-on-one video calls in 2016, a feature similar to what you'd find on rivals Facebook or WhatsApp. With group chat, the app expands its functionality and gives users another way to communicate privately.
While Snapchat is known for its disappearing videos, more than 60 percent of its 187 million daily users take advantage of its chat services, the company told Mashable. Snapchat says users make millions of calls each day on the platform.
In a reversal of roles, the app is copying a feature from Instagram that gives users the ability to tag friends in snaps. To tag a friend in your post, type the "@" symbol and write the username of the person you want to tag. From there, you should see a list of users to choose from. After you tag the person to your snap, other users viewing the video will be able to swipe up to instantly add them or watch their public videos. Users who were tagged will be notified that they were mentioned in a snap.
The tagging feature will let users tell friends when they've posted a video they're featured in or promote a brand or celebrity by making it easier for others to add them.
How to use group video chat on Snapchat
To join a video call, select an existing group chat you have in your messages or create a new one. To create a new group chat, open the chat screen by pressing the icon (a message bubble with a +). Find your friends in the search bar and select "Chat" to start the group conversation.
Once your group is made, press the video icon to start a group video chat or select the telephone icon for a voice chat. Your friends will then be notified with a pop-up invitation to join the chat. Once they accept, you will see the name of each participant in the chat just above your keyboard.