Siri is a pretty revolutionary addition to the iPhone. It's the sole reason anyone got an iPhone 4S. But the excitement has died down from the first moment we all got talking phones.
Four college students have taken it upon themselves to revamp the application, allowing it to perform more functions than adding appointments to your calendar and setting reminders.
The Siri hack, called GoogolPlex, allows Siri to access third-party applications, including Instagram, Venmo, Spotify, and Hue. So now in addition to all of Siri's other capabilities, she can play a song or pay a friend by voice command. GoogolPlex will even assist you in Instagramming selfies, because we know how tough that is to do manually.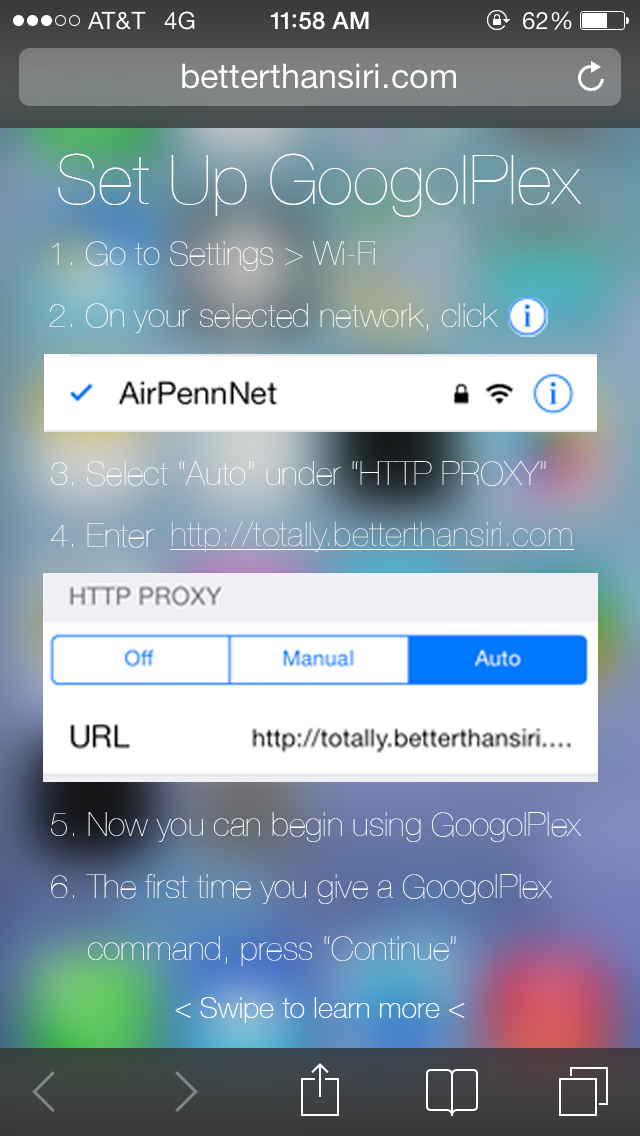 Though it's a hack, it does not require jailbreaking or tampering with your phone whatsoever, and the installation takes less than a minute. It does require an Internet connection.
GoogolPlex was created by Ajay Patel, Alex Sands, Ben Hsu, and Gagan Gupta, who are all a part of the Management and Technology program at the University of Pennsylvania. They have a blog, The Four Loop, devoted to explaining Googolplex in much more intricate jargon than what I will get into here. 
They created GoogolPlex at PennApps, a university hackathon sponsored by major companies like Venmo and Google Cloud, that brought in 1,110 students this year from around the world. The creators of GoogolPlex completed the project in 40 hours and placed third out of 220 other projects. 
Googolplex works a little differently than Siri. In an instruction video on the Four Loop website, the iPhone user says "GoogolPlex, tell me a programming joke." The phone hears the command as "Google 'Plex, tell me a programming joke,'" which routes the command through Google to produce an HTML response.
When responding to commands to access third-party apps, GoogolPlex sends an HTTP redirect response to the app's API with a custom URL, which is a fancy way of saying Googolplex has access to outside apps that Siri can't connect with.
"We are able to get the words the user was asking Siri by intercepting the request between Siri and Google with a man-in-the-middle exploit," the students explain on their website.
As for security, the only traffic that enters the GoogolPlex servers are commands that start with "GoogolPlex." Sands, one of the creators, told the Daily Dot in an email, "We do not store any queries server-side or collect any data about the user's behavior."
GoogolPlex will be releasing an app in the Apple store in the coming weeks, and the students are confident it will be released without any problems from the company. For now, the hack can be installed with ease, but users won't have access to the third-party integration until the GoogolPlex app is available.
For GoogolPlex to be shut down, Sands explained, Google would have to change its URL, which it has been using for a decade now, to something else. So the chances of GooglePlex being blocked are highly unlikely.
As always, Apple is right on cue. The company is reportedly planning to open up Siri to third-party applications that will open the door to thousands of voice command capabilities. That is, if GoogolPlex doesn't get to that first.
"Ultimately, we hope that Apple takes this step because it will allow for an altogether more powerful Siri, which would be great for both third-party app developers and iPhone users," Sands said.
Until GoogolPlex's app is released, or Apple grants Siri more access, we're left exploring the countless possibilities.
Photo via smemon/Flickr