David "Stock" Baird is a musician and producer, one whose mainstream victories include songs featured on the White Chicks soundtrack as well as Showtime's House of Lies. Other musicians know how accomplished these feats are; having your music discovered and used my major media is anything but easy—and Baird decided to create an app that would try to fix this.
Apps that have tried to help musicians get discovered have experienced various degrees of success; Spotify and SoundCloud are the most popular among them. But they've struggled to get artists real exposure versus simply giving consumers more access; truly, visual apps have been the real career-makers for artists of all trades. Chief among them, of course, is Instagram, and Baird wanted to find a way to pair the platform's viral possibilities with artists' capabilities.
"You want to know what your friends are interested in, that's how all these social networks are built," Baird told the Daily Dot. "I thought, what if you could discover artists through your friend's pictures?"
Enlisting a handful of friends, Baird and co. built Selocial, which launched in public beta May 19.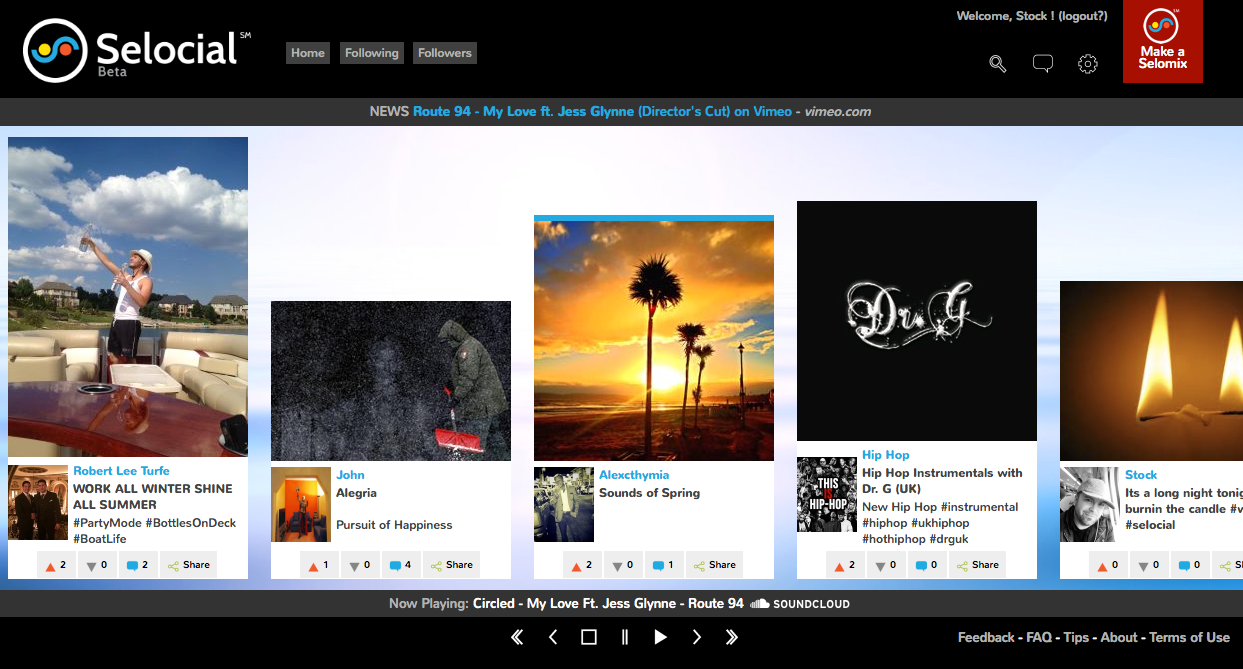 Baird describes the app as "Instagram meets Spotify," and that pithy phrase pretty much hits the nail on the head. Another, more nostalgic way of describing it is to say it's like making a digital mixtape: a 15-minute selection of songs, with a single photograph as cover art. Users can upload a photo from their computer, then search for 15 minutes' worth of songs collected from SoundCloud's API to make what Baird calls a Selomix (pronounced "see-low-mix"). There's also a social element to the site: For every "like" or comment a mix receives, the user is rewarded with an extra second of play time.
Since SoundCloud houses accounts from both established artists and undiscovered indies, we found while making a Selomix it's better to search for song by a theme—like "snow," or "love,"—rather than by band, which turns up a rather uneven selection of remixes and covers. But the variety in results is purposeful. "It's a perfect way for independent artists to blend with some of the major artists within these mixtape moments," said Baird.
And, in what Baird called the site's "on-the-fly news" feature, whenever you play a song on Selocial, a bar above the mix displays a relevant news result. When it's working properly, this is usually a link to a music blog or Wikipedia entry about the song or artist. "For instance,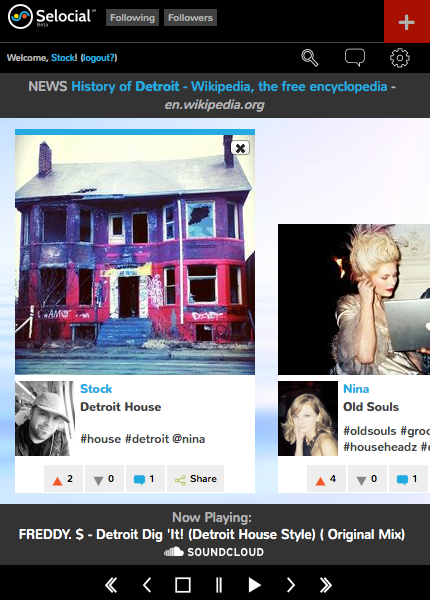 somebody did a cover of a John Legend song, and the news that came up was about John Legend's last performance," Baird explained. "Or I did a 'snow selfie,' and added songs like Snow Patrol, and the news that came up was about the latest snowstorm."
Since its launch, the team has had to deal with a few snags—problems with registration emails and bandwidth, most of which were promptly fixed. The news discoverability feature still has a couple kinks to be worked out. At present, it pulls in results based on a song's title without always taking cues from context—so a song with "Fibre-Optic" in the title, for instance, might pull in a website about how to safely install fiber optic cables, rather than one about the corresponding artist. Baird said he and his team are working to build out and sophisticate this feature.
Selocial's biggest challenge will be to establish the critical mass a site like this needs to grow, develop, and monetize. But Baird and his team are proud to have come this far already. "Down the road, maybe a year, a year and a half, we may look into moving into some revenue streams," he said. "For now, we're just doing it because we're all passionate about the industry."
Illustration by Jason Reed