Certain people end the holidays rich in gift cards. Every teacher I've ever met is flush with Starbucks cards this time of the year. No matter how much you like them, there's a limit on how many someone can reasonably use. So what do you do with the ones you don't want or those with an odd balance you'll never spend? Sell your gift cards for cash or credit to another store, or donate them, of course!
Figuring out how to sell gift cards online isn't straightforward. A lot of sites gloss over details you need to know, like whether there's a minimum balance required on the card or what kind of payout you can get. Here's what you need to know about selling gift cards online or donating the balance to charity, and a few sites that can help you do it.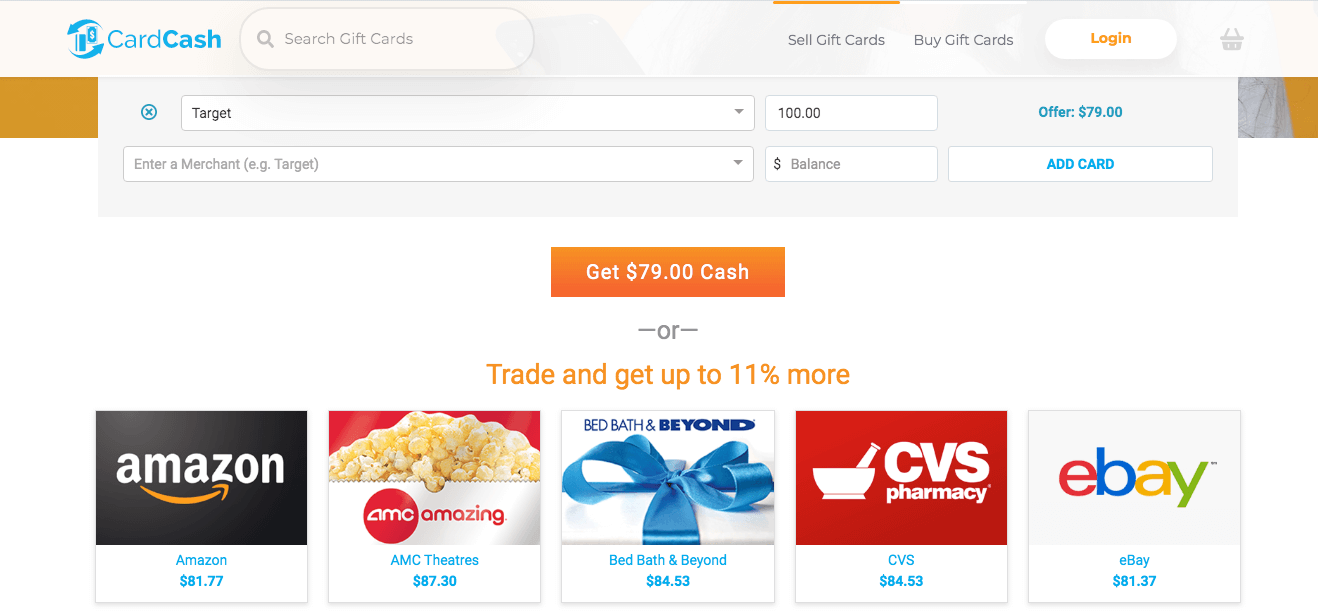 What you need to know about reselling gift cards
Before you sell your online gift cards, there are a few things to note.
First, you get a percentage of the card's value, not the full amount. Cards with a high resale value may help you recuperate somewhere around 85 to 90 percent of the gift card balance. Examples of cards with a high value are Amazon and Target. The exact percentage varies by reseller, popularity of the store, and other factors.
Second, most sites have a minimum and maximum balance they will accept. For most sites, it's between about $25 and $1,000.
Third, sometimes you can choose to receive the payout in the form of a new gift card instead of cash. You might get a slightly higher value if you choose this method. In all likelihood, the new card will be something you can use just about anywhere, such as a MasterCard or Visa gift card–or an Amazon one.
Fourth, how fast you get your payout depends on the site you use, the method of resale, and the payout type. For example, with Raise.com, you sell your gift card to other buyers directly, so you get your payout only when (and if) someone buys it. And a payment via PayPal will arrive faster than a paper check.
Finally, in almost all cases, you can sell gift cards entirely online. If you have physical gift cards, you can almost always process them online. If you have to mail them in for some reason, Cardpool and ClipKard accept physical cards. But typically, you enter all their details into the website to transfer the balance to the purchasing company. As mentioned, you can sometimes opt to receive a check by mail for your payout, but that's the only time any of the transaction occurs physically.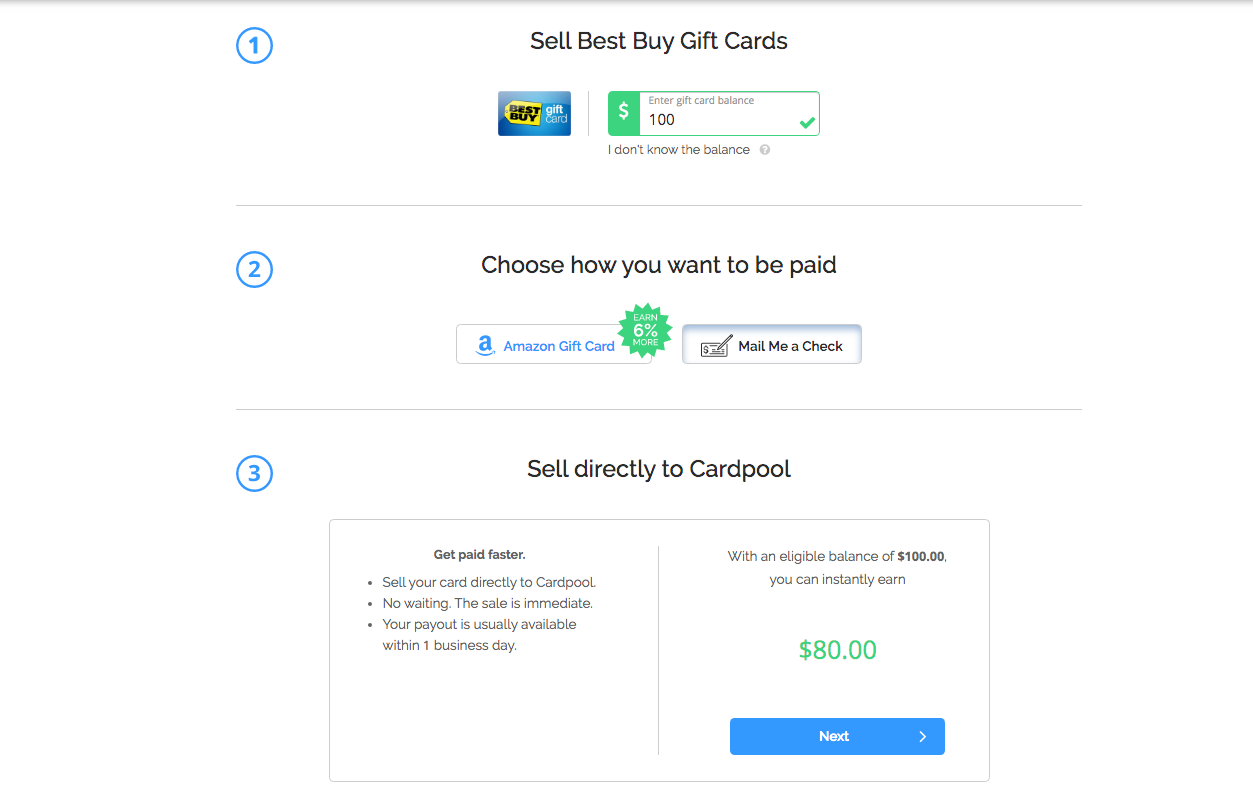 How does it work?
Most sites that buy unused gift cards let you enter the gift card type (in other words, the store) and balance on the card to give you a payout amount. For example, on Cardpool, I tested the site by saying I had a $100 gift card to Best Buy. Cardpool then told me it was worth $80 if I chose payment by check or $84.80 if I accepted an Amazon gift card instead.
If you accept the offer, you then verify the gift card so that the company knows the balance you entered is accurate and the card is valid. You do this by entering details from the card, which are usually printed on the back or for virtual cards, listed in the email when you first received it. Often, you must also enter a credit card number or other identifying information to prevent you from committing fraud when you sell gift cards online.
Once the site has verified the details, you receive your payment in whatever form you selected. In some cases, there may be a waiting period or delay, but the site should inform you of it. The exception is with sites that set up a direct seller-buyer relationship, including Raise.com. There, you won't receive payment until someone has purchased your card balance.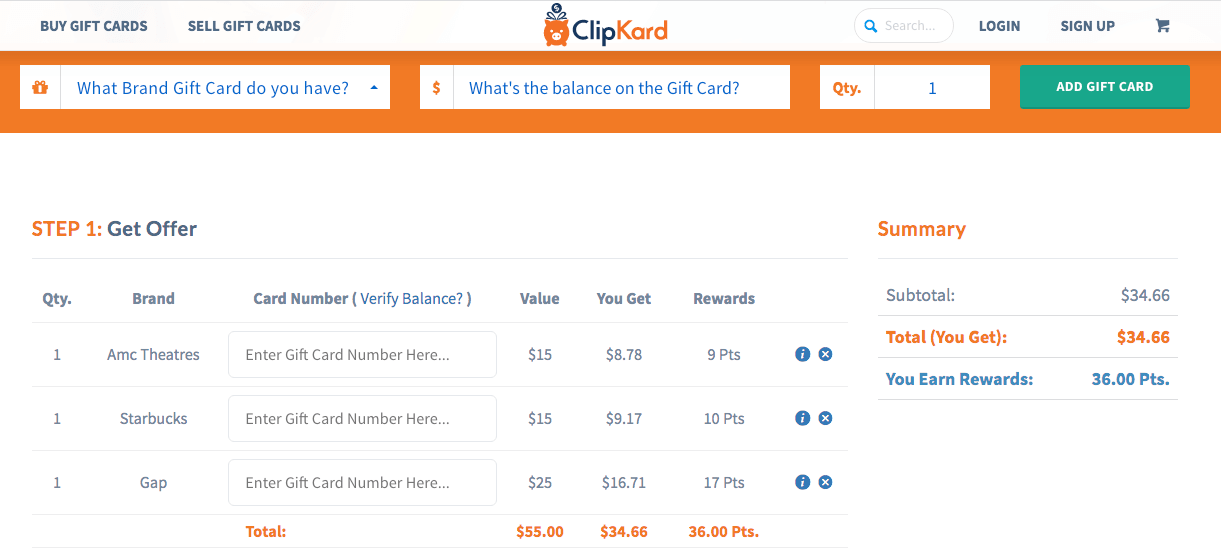 Donate to charity
A more charitable approach to getting rid of unwanted gift cards, as well as small balances left on gift cards, is to donate them. Similar to reselling gift cards, donating unused gift card funds can be done entirely online.
GiftCards4Change is one such site. It uses liquidated gift card donations to help fight poverty, hunger, homelessness, human trafficking, as well as to promote education and provide disability services.
Be sure to check that the organization accepting your gift card donation is a registered charity. If it has 501(c)3 status, there's a good chance you'll get a receipt that lets you write off the amount from your taxable income.
5 Places to Sell Gift Cards Online
We've already listed a few places you can sell your gift cards online, but we'll dive into them a little deeper here. Keep in mind that you can purchase discounted gift cards through these sites, too. 
While we researched multiple services and have not included any that seem suspect, there is a good deal of fraud in the gift card resale business. We recommend you do additional research and read recent online user reviews from the Better Business Bureau and other sites before making a decision about whether to use the company.
CardCash.com lets you sell gift cards in exchange for either cash, a gift card, or merchandise credit to another store. You get to see several offers at once before you lock in your choice. For example, if you have a $100 Target gift card to sell, you can get $79 cash, $81.77 credit to Amazon, $84.53 to CVS, etc. Not all sales come with a cash offer, however. If you do get a cash offer and choose to take it, you can cash out using PayPal, direct deposit, or by requesting a paper check in the mail. The site is a little picky about which cards it will buy, so if you don't get a good offer here, try elsewhere. 
Cardpool buys gift cards with a balance on them in exchange for cash or Amazon gift cards, the latter being more profitable for the seller. If you have physical cards to mail in for resale, Cardpool accepts those, too. The minimum card balance that Cardpool accepts varies by store, with many falling around $15. Here's an example of an offer as of this writing: A $100 Banana Republic gift card will earn you $69 in cash or $73.14 in Amazon credit.
With ClipKard, you can sell multiple gift cards at a time, so long as the balance on each one is at least $15. The site offers a payout amount as well as a number of bonus points you earn for the sale. The bonus points let you save money on the purchase of other gift cards you make through the site. Similar to Cardpool, ClipKard lets you mail in physical gift cards, and they send you a check a few days later. As an example of a payout, a $100 GameStop card would net you $71.57 as of this writing.
With a $25 minimum balance for all cards and accepting cards only from certain stores, GiftCash is among the more discerning sites for reselling unwanted gift cards. I entered a few numbers to try out the service and was quoted payouts of between 75 and 86 percent. GiftCash pays out by eCheck, ACh transfer, bank wire transfer, and Zelle.
Raise lets you sell your cards to buyers at a price you set, which could help you maximize the amount. Note, however, that the company takes a commission fee. If the sale goes through, you receive a payout via direct deposit, PayPal, or check.