Russia Today, the growing media empire founded and funded by the Russian government, was hacked last night by activists unhappy with the country's actions in Ukraine and Crimea.
The website, currently packed with headlines sympathetic to Russia's actions in Ukraine, was defaced by replacing every mention of "Russia" and "Russians" with "Nazi" and "Nazis." The move came on the same day that Russia's parliament approved the use of its military in Ukraine's Crimean Peninsula.
RT website has been hacked, we are working to resolve the problem

— RT (@RT_com) March 2, 2014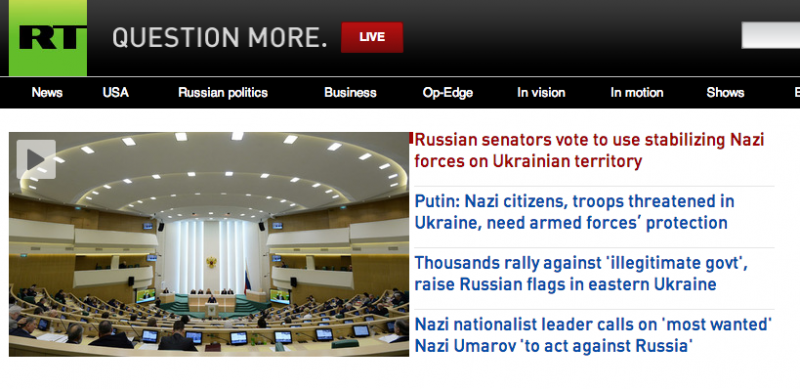 Screenshot via Technewsplus
The reaction across the web has not exactly been sympathetic.
@RT_com Did someone post truth to it without authorization?

— Anastasia (@heresybythought) March 2, 2014
The site has since been restored to its normal state, and the headlines sympathetic to Russia have returned. Russia Today has been a powerful bullhorn for Russian President Vladimir Putin to make his case for military intervention to the English-speaking world.
Russia Today is one of the most watched foreign news services in both the United States and United Kingdom. It was the first news channel to reach 1 billion views on YouTube.
Hackers deface https://t.co/JMJB1jiQHv website, crack admin access, place "Nazi" in every headline. Back to normal now.

— RT (@RT_com) March 2, 2014
No group has taken credit for the hack.
H/T Business Insider | Photo by Contando Estralas/Flickr (CC-BY-SA 2.0)